Whether it's to create GIFs, discover new ones, or to share them, GIPHY is the place for "all the GIFs." Last year the company launched GIPHY Cam on iOS, to enable you to create GIFs from videos you record on your devices.  Now, in its latest update, the app allows you to add IRL augmented reality stickers and custom stickers to your GIFs.
GIPHY Cam was launched on iOS last summer and just a few days ago updated to version 2.5.1, adding some cool new features. With the latest update GIPHY Cam seems to have jumped on the augmented reality train, allowing you to add IRL stickers and custom stickers to your footage. Then you can turn it into a GIF and share with everyone on Instagram, Google Hangouts, etc.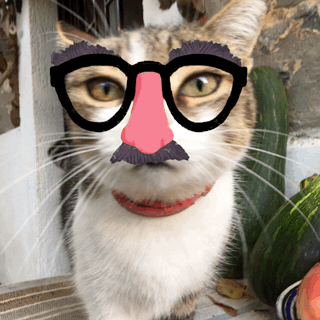 The stickers use 3D space, and can be applied to moving objects, just like on Snapchat – they zoom in and out depending on the object's location in 3D space, move around, and rotate accordingly. For example, a moustache sticker follows a face around, as do some sun glasses.
This is not the first time we've seen this technology before. On Pokémon Go, users view and catch Pokémons by looking through their phone camera. Snapchat also has a similar functionality, with stickers following objects around within a Snap. But the difference here is that Snaps disappear. GIFs are meant to stay and be shared.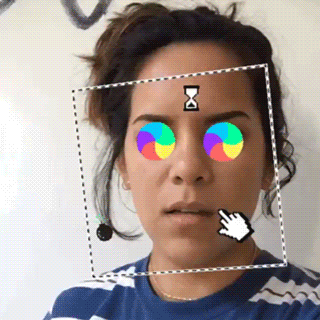 Version 2.5.1 also brings Apple Live Photos to GIPHY Cam, as well as the ability to convert PNGs into stickers. Problem is, GIPHY doesn't actually tell you how to do this…
Finally, according to GIPHY Cam's Version 2.5.1 changelog, you can also take advantage of all the new features below!
– Decorate your GIFs with our first Sticker Row ever… The Super Internet Sticker Pack!
– Use any GIPHY GIF as a Sticker by using the GIPHY KEYS app to paste it into a Text Box… OR just search GIPHY for "sticker" and copy/paste
– Copy & paste ANY GIF, PNG or JPG from the web to make your own custom Stickers
– Drag rotate and resize up to 50 Stickers at once and double tap to flip them
– All filters in the Accessories Row now automatically follow your face
– Clay Faces Claymation Overlays
– Move and adjust overlays while recording to animate them moving around, zooming in, rotating or just peeking into your GIF
– Toggle new Looping Modes on the Share screen: Forward, Reverse and Ping-Pong
– Layer an infinity of effects on your GIFs using the new "+" Add More button on the share screen
– Move, resize and rotate Text to make amazing layouts
– Drag stickers and Text while recording to make them move
– Live Photos can now be imported from your Camera Roll
– Move, resize and rotate images and video in your Camera Roll to get the perfect fit
– Tap and hold or swipe on a group of photos in your Camera Roll to make flip books and stop motion GIFs
– Force Touch the App Icon to jump right into 3 shooting modes: Back facing camera, Selfie mode and Random filter mode
Additional to the update on iOS, GIPHY Cam version 1.0 is now available on Android! Yay!
---
You might also like
---
More from Tech
---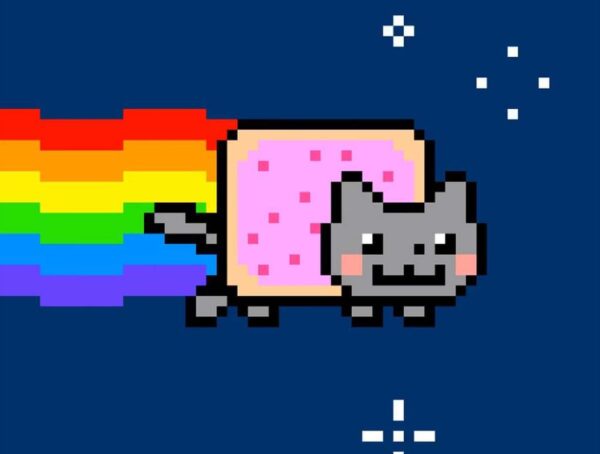 The creator of the Nyan Cat meme has confirmed the sale of the digital artwork for 300 Ether (ETH) - …