If you've been using the typical ad formats such as images or carousels to promote your products on Facebook you may have hit a wall; how do you make sure you that your ads promote products relevant to your audience?
One way to go about is a tedious one; create a set of creatives for some of your products and display them to your target audience. The other way is to use Dynamic Ads. In this tutorial, we'll show you how to do the latter.
Facebook's Dynamic Ads have been available to advertisers for more than three years now. They allow you to display the right products to the right people as Facebook's algorithm will find people who have expressed interest in your website or any related websites across the Internet, and show these people your product ads.
Advertisers can now use Dynamic Ads for the automotive industry, flights, destinations, hotels, and products.
How To Set Up Dynamic Ads
To get started with Dynamic Ads you need to have the following in place:
A Facebook Business Manager
A Facebook Pixel set up on your website
A Product Catalog connected to your Business Manager
Setting Up The Facebook Pixel
To be able to create Dynamic Ads you need to create and track additional conversion events. For example, if you're setting it up for an e-commerce website, you will need to be able to "listen" for the following events:
ViewContent
AddToCart
Purchase
For these events, you need to pass the content type and content ID parameters to Facebook. The above events will help you segment your audience to people who viewed a product, added one to the cart, or purchased one, and retarget them with the most relevant product(s).
When done, you need to verify that the Pixel is implemented properly, so you might need to add the Facebook Pixel Helper Chrome Extension.
What Is A Product Catalog And How To Set One Up
To set up a product catalog, you need to visit the Catalog Manager tool under the Assets section of your Business Manager menu.

Click the "Create Catalog" button, choose e-commerce and fill in the necessary details.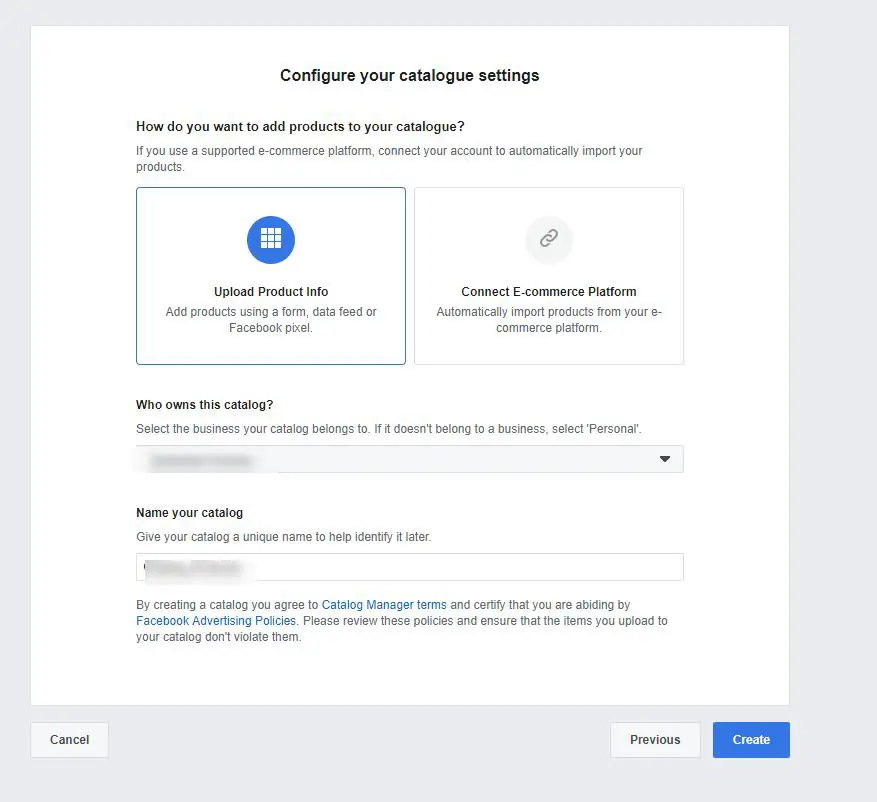 Be sure to choose the creation method that suits you best (Upload Product Info or Connect E-commerce Platform). Now that you have successfully created the product catalog, you need to add the product feed.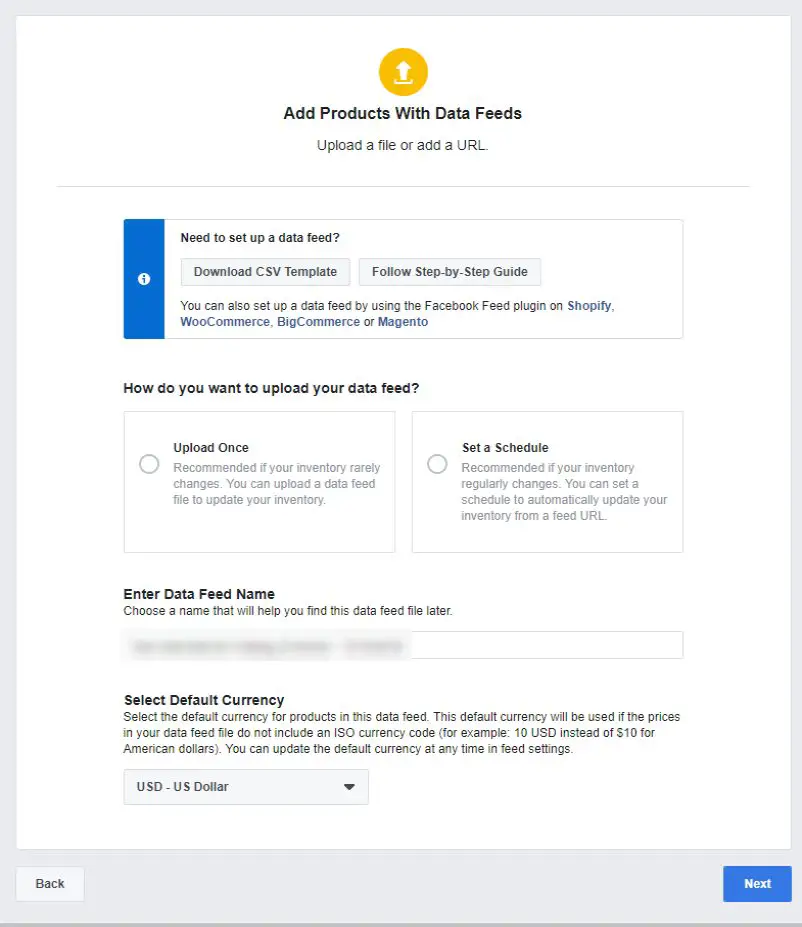 You can do so by choosing to Download a CSV Template or Follow the Step-by-Step Guide. If you are more advanced, you can move to the next step, where you'll be prompted to provide a URL for your data feed (in this case there is no need to choose any of the previous options).
In the schedule section, choose Upload Once if there are rarely any changes to your feed (i.e. adding or deleting products), or Set a Schedule, if there are constant changes to your feed. Fill in the rest of the fields, and click next.
This is where your data feed is uploaded to your product catalog.
Click "View Products" to verify that everything is in place. You should be able to see the products that your connected Product Catalog shows Facebook. You can also search through various options to see that your categories and other product characteristics are working properly.
Taking Dynamic Ads To The Next Level
Now that you've created your Product Catalog and Events, the next step is to create you Dynamic Ads. To do so, you need to create a new Campaign under the Catalog Sales Objective. Create your Ad Set the way you normally do. One thing that's different from the typical Ad Set creation process, is that depending on the type of campaign you create, you need to make some "adjustments" to your audience.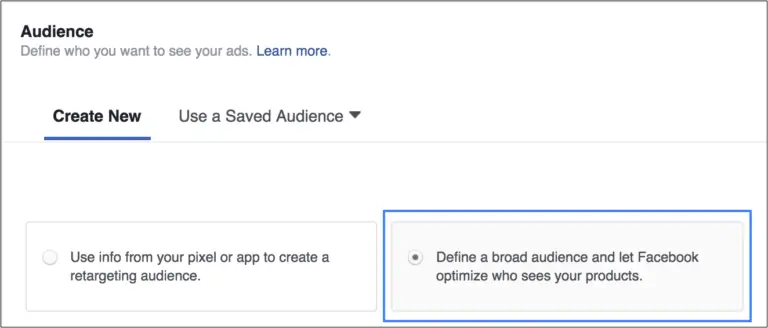 Dynamic Ads For Acquisition
To create Dynamic Ads targeting people who have never been to your website, use the targeting settings you usually use, such as interests or Lookalike Audiences. Be sure to exclude people who have already made purchases recently.
Dynamic Ads For Remarketing
To create Dynamic Ads to retarget people who have been to your website, you can use the "Use Info from your Pixel or app to create a retargeting audience." This allows you to show your ads to people who have viewed a product, added one to the cart or purchased one (to cross-sell) on your website.
Depending on the audience size, you may want to choose
Viewed or added to the basket but not purchased
Added to the basket but not purchased
Up-sell products
Cross-sell products
Custom combination
Using Dynamic Ads Across Countries
Facebook recently introduced an interesting feature that allows you to create Dynamic Ads in many languages that sit in one Ad Set. It is a kind of a combination of Dynamic Ads with Dynamic Language Optimisation. With this new feature, you will be able to show the right product to the right person in the right language.

---
You might also like
---
More from Experts Talk
---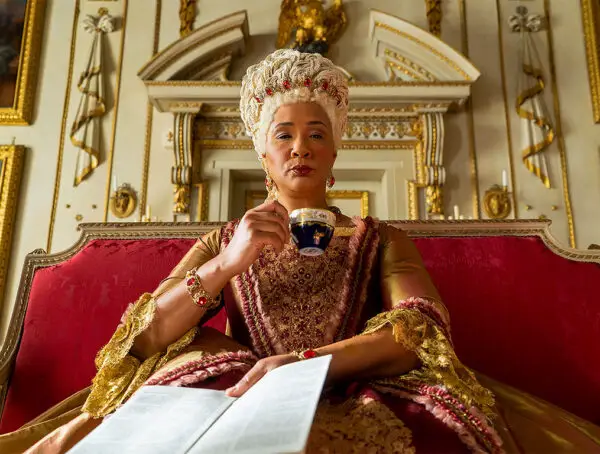 A new musical could soon come to life on TikTok, WhatsApp users are flocking to Signal and Fiverr will run …