Ok so don't be too jealous, but I have just finished work, and have hopped straight into a two-week holiday. To Cuba. With all the warmth and the sun and the sand and the Caribbean. Yep.
In other news though, this week saw yet another Southern train strike here in London, and I enjoyed all the fun and games of no drivers, no trains and no room and plenty of human closeness. I now feel like I deserve this holiday for just being a Southern passenger. If only Southern Rail paid for it all! Although it has to be noted that my delay repay vouchers did pay for a nice dinner for two the other night. Yes, that's how often they're late.
But let me leave you with some laughs so you don't miss me too terribly whilst I'm away!
No Context Louis

So, we all know and love Louis Theroux and his extremely interesting documentaries, affable persona and at times cringeworthy lines of questioning. Now a Twitter account was created on Friday the 13th (ominous), dedicated solely to snapshots from Louis Theroux documentaries. And it's taken twitterdom by storm.
Amassing almost 60,000 followers in just 7 days, @NoContextLouis screengrabs funny one-liners from Theroux's documentaries and presents them, as you might have guessed, totally out of context. When Theroux himself tweeted that he found the account "kind of" funny, the follower floodgates opened!
This is kind of funny… @NoContextLouis

— Louis Theroux (@louistheroux) May 15, 2016
You also get plenty of stills of Louis just looking plain awkward, including one which shows him drinking a fizzy drink in the back of a car and another where he's posing with a helmet and a gun…
If you like our stories, there is an easy way to stay updated:
Follow @wersm
— No Context Louis (@NoContextLouis) May 14, 2016
Other gems include the following:
— No Context Louis (@NoContextLouis) May 15, 2016
— No Context Louis (@NoContextLouis) May 13, 2016
You get the picture – see what I did there….
Maybe She's Born With It…
…maybe it's Maybelline; with some vintage clothing and you can transform anyone into a classic Hollywood icon.
Instagrammer Annalies Maria Francine is recreating some of the most iconic beauty looks from famous vintage photographs. The 17-year-old has imitated everyone from Audrey Hepburn to Vivienne Leigh and even Girl with a Pearl Earring (yes, the painting).
If you like our stories, there is an easy way to stay updated:
Follow @wersm
Her recreations are so realistic, you'll most likely have to do a double take – especially Vivienne Leigh! She is now at just under 27,000 followers and planning a tutorial YouTube channel to help us all achieve these stylish looks. I think maybe bone structure might also play a part.
Here are some of her best looks:
https://www.instagram.com/p/BFJeZvOG3PY
https://www.instagram.com/p/BE_sFA9G3AB
She even did Harry Potter!
https://www.instagram.com/p/4pPlF0G3IG
Not For You, YouTube
Remember how I told you the Ghostbusters remake trailer was the most disliked movie trailer EVER on YouTube? Well, the new longer trailer for Paul Feig's film was released on Wednesday morning, and it was shared on pretty much all the big platforms except… you guessed it: YouTube!
If you like our stories, there is an easy way to stay updated:
Follow @wersm
The second trailer for the starring Melissa McCarthy, Kristen Wiig, Kate McKinnon, Leslie Jones and Chris Hemsworth was launched via Facebook and Twitter on the basis of an exclusivity agreement. When that deal ends, the new trailer will also appear on Sony's official YouTube page.
With over 550,000 views already, the new trailer has done much better than the first one. So far, on Facebook it has earned over 10,000 Likes, 1,100 Loves, 287 Hahas and 79 Wows with just under 900 Angrys and 96 Sads.
We'll have to see how it fares when and if it's released on YouTube… wonder if Sony will just skip that potential #fail and go straight to cinemas. Release date is the 15th of July.
Selfie Sticks Not Guns And Rock'n'Roll
Hold the press, this is an excellent Tumblr alert! Guns Replaced with Selfie Sticks is a simple yet extremely effective little Tumblr. It pretty much does what it says on the tin: iconic scenes from classic movies such as "Full Metal Jacket", "Terminator 2", "The Deer Hunter", and even "The Hateful Eight" are edited to replace the gun in the shot with a selfie stick.
Some of the best creations are:
If you like our stories, there is an easy way to stay updated:
Follow @wersm
Pinterest TV
No, don't worry, it's not another channel to add to the endless list of pointless, mindless, drivel that is daytime TV. This is the news that Pinterest aired its first ever TV ad on Monday. The ad ran on Channel 4 in the UK and was created by Stinkdigital Agency. The commercial is part of seven-month campaign that will pick up lines from the shows the ad is broadcast around.
If you like our stories, there is an easy way to stay updated:
Follow @wersm
Monday's ad used a line from "Eating Well with Hemsley + Hemsley," about a "one pot meal," and showed viewers how they can use Pinterest to search for recipes. The campaign, set to include TV, outdoor, and digital ads will include more than 100 different scenarios. The aim of all this, according to co-founder Evan Sharp, is to increase levels of understanding around what Pinterest is really useful for.
"What's different about Pinterest is that it's not a social service," Sharp told Business Insider back in April,
[quote]It's not really about sharing with friends at all. It's a personal service. It's about ideas for your future. What do you want to eat? Where do you want to travel? What do I want to do in my life?"[/quote]
See the full ad here
I actually do use Pinterest for recipes, usually by typing what's in the fridge before I shop for food, and find some sort of concoction to silence grumbling bellies.
Right, I'm off to bask in the sun now (well… in a couple days time). Hasta luego, baby!
---
You might also like
---
More from Social Fun
---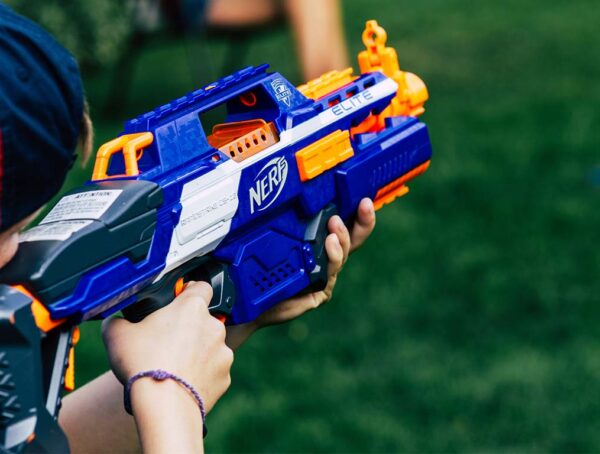 Most people have probably grown out of their Nerf obsession; if you haven't, you could become the new NERF Chief …