Oh, hi! I didn't see you there, the sun was in my eyes! Yes, we are back on track weather-wise, people. Although I do keep forgetting this every single morning, and keep sitting on the bright and sunny side of the train – and slowly cooking on my way from Brighton to London.
At least they've stopped pumping heat into the carriages… And in case you're wondering… No. The service hasn't improved. Don't be silly.
Right, enough about trains, snails and automobiles (no, I know there weren't any automobiles), let's have some mash!
#MayThe4thBeWithYou
On Wednesday it was the 4th of May… or shall we say, May the 4th Be With You Day on Twitter. Big brands jumped on the hashtag, the same like every year! To kick it off this year we had Mark Hamill posing with his children to mark the occasion…
If you like our stories, there is an easy way to stay updated:
Follow @wersm
May the 4th be with you! #StarWarsDay #MTFBWY pic.twitter.com/BtHwPKvBRI

— The Hamills (@hamill_kids) May 4, 2016
Then Darth Vader joining in
https://twitter.com/isDARTHVADER/status/727652486887051264
Brand-wise, from Nando's to Amazon, and even Sesame Street and PG Tips, everyone was at it! My favourites however were Airbnb, Salesforce and Boing Boing. Oh and Huffington Post had a BB-8 cupcake recipe. Weekend dessert, sorted.
PepsiMoji
Ah, emoji! Love 'em or hate 'em, they are part of our system of communication now, and brands absolutely love them. I use them as often as I can, both in my personal and in my brand comms. I personally tout them as the new hieroglyphs. Yes, you heard it here first! Pepsi seems to have the same idea! The brand has launched PepsiMoji in prep for the summer. The campaign, created by Lloyd&Co, has seen the creation of more than 600 proprietary PepsiMoji designs which will be placed on over 1 billion bottles and cans, in 100 markets over the summer.
They'll also pop up on anything from sunglasses (in collaboration with designer Jeremy Scott), all the way to stadiums, as Pepsi seeks to have a "provocative and fresh take on the cultural phenomenon of emoji."
If you like our stories, there is an easy way to stay updated:
Follow @wersm
"Say It With Pepsi" and "Live for Now" are the slogans of the campaign, and for Instagram, the company chose street photographer Daniel Arnold for an intimate series of candid street shots that integrate emoji.
[quote]I was after clean, graphic, candid photos that immediately communicated a feeling or an idea—essentially candid emojis,[/quote]
Arnold said. The images have started to appear on Arnold's Instagram first, before hitting Pepsi's accounts. Here's the first one
Keep your eyes peeled, but also… Live for Now!
Personal Snapchat Geofilters
It's true – you can now create your very own geofilter on Snapchat. Yes… you as a person, not a brand. You can pretty much create any filter you want, but if you struggle at choosing, Snapchat will provide a few handy template options to get you going. You can find these by pressing the "Download Templates" button on the same page you upload your customised geofilter.
Change colours, add some text, sprinkle some confetti, and you're done! Then pick when and where you'd like to launch your filter. You can make it available for one hour, or 30 days, or anything in between. Your… where… can be anywhere in the world. Draw a fence around your target area, and you're all set!
If you like our stories, there is an easy way to stay updated:
Follow @wersm
Of course, they are not free… you're talking Snapchat here, money-making machine! The more extravagant your filter, the more it'll cost you, so if you find that your original design is TOO much, play around with your when's and your where's until you get within budget. The longer you keep it up, and the broader the area, the more expensive it gets!
Ghostbusters Thumbs Down
The promo for the new Ghostbusters film has set a new YouTube record…and it's not a good one! The trailer – which Melissa McCarthy herself called "very confusing", has amassed more thumbs down than any other movie trailer shown on YouTube. Ever.
At the time of writing, the trailer for this much commented on franchise "reboot" had more than 700,000 "dislikes", compared to just about 229,000 "likes". That puts it at number 18 on the YouTube's list of most disliked videos – higher than any other non-music type content.
If you like our stories, there is an easy way to stay updated:
Follow @wersm
Speaking about the trailer drama on The John, Jay & Rich Show, McCarthy said:
[quote]It's a reboot, not a remake. I know it's weird that they say [in the trailer] '30 years ago', but in this movie it's like the first one didn't happen. It's a great story but it's told totally differently. It's four unlikely heroes, it's in New York City, ghosts are taking over; it's that same classic story but it's not 30 years later … it's not dependent on the first one.[/quote]
McCarthy also said that she raised the issue of the trailer with the studio but her queries were ignored. "Believe me the question was asked," she said. "I think that it's very confusing. But then everyone said we don't care what you think." Yikes!
Right, I'm off to make a geofilter with the cat.
---
You might also like
---
More from Social Fun
---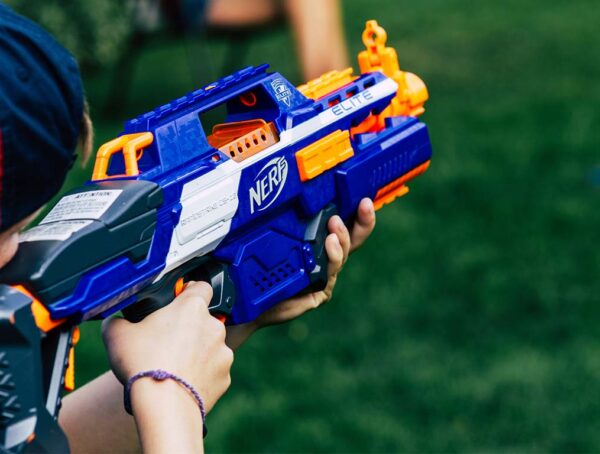 Most people have probably grown out of their Nerf obsession; if you haven't, you could become the new NERF Chief …