Well, this has certainly been an interesting week here in the UK! I am mainly referring to the roller-coaster weather that had people laughing, crying, shivering, and/or sweating and/or all four in quick succession.
I've been armed with shades, an umbrella, a t-shirt and a wooly coat all week. I can't wait until this whole thing stops being a Vanessa Williams song. I even walked past a coffee shop in Shoreditch that had put "Sometimes the snow comes down in April" on its sign… we were ALL thinking it. Admit it.
Also, NOTHING rhymes with April. But enough weather talk, let's get down to this week's mash.
Rainbow EVERYTHING
So last week I showed you the delights of rainbow toast,  but if you thought rainbows were just for skies and cheese, you have a thing coming. And that is… the rainbow latte!
If you like our stories, there is an easy way to stay updated:
Follow @wersm
A barista in a Las Vegas-based coffee shop has pretty much come up with social media's FAVOURITE thing ever… a coffee art & rainbow combo. The creation of Mason Salisbury, a barista who works at Sambalatte, has been delighting his almost 20k strong Insta-audience with the most intricate and colourful designs.
Here is a video montage of his work
https://www.instagram.com/p/BEqsMpPwBxc
and he promises to teach us all how to "to do rainbow coffee so you all can do it just as good as I can and train with your latte art so you aren't wasting coffee!!!" Errr… who's going to be first to bring this fad across the pond then? Anyone? The coffee shop with the snow in April gag? You know who you are!
Cheese Head
Ah cheese… that delightful culinary joy destined to improve everything it touches. Ok, maybe not ice cream. Or maybe…? Did you know that cheese is also a great material for sculptures. And not just any sculptures – sculptures of Shaquille O'Neal! I think I thought and wrote the word sculpture more in this paragraph, than in ever before in my lifetime.
GoDaddy (the website people) always aims to equip small-business owners with all the tools they need to be successful, even if it means supporting the dreams of a cheese sculptor. This week, the company and its new agency, TBWA New York, launched a new digital and TV campaign called "Heads of Cheese."
If you like our stories, there is an easy way to stay updated:
Follow @wersm
As part of the campaign, we get to know Fred, an artist who runs HeadsOfCheese.com and loves to sculpt Shaquille O'Neal. "Fred's works of art are the product of a lifelong passion for all things aged dairy," reads Fred's website. But cheese is a temperamental muse. It's taken years of dedication to the craft of 'cheese mongering', as well as a mastery of his tools to perfect this medium. Here's the full ad on YouTube.
https://www.youtube.com/watch?v=482Oq9Wg27s
As part of the campaign, they have also setup a Twitter account for Fred. It's private for now, and with just under 30 followers, make sure you get in there before it becomes TOO popular…
Snapchat Movies
If you happened to be on Snapchat over last weekend, you may have seen a new channel showcasing the 10 best Snapchat stories in the US. The short films were part of a Snapchat-sponsored competition in partnership with the Tribeca Film Festival (Robert De Niro's gig), and the winners were chosen by celebrity judges like Jessica Alba, Steve Buscemi, and best of all ever, Snapchat king – DJ Khaled.
If you like our stories, there is an easy way to stay updated:
Follow @wersm
The rules were simple: all stories had to be shot exclusively on Snapchat, and be no longer than a couple of minutes. The two winners of the competition were announced at a pretty swanky party during the Tribeca Film Festival in NYC. High school students, Kat Vlasova and Brandon Miller spent just six hours making their Snapchat story called "Pencils".
The two-minute story begins with Kat studying maths. She loses her pencil and starts chasing a thief, played by Miller, into space and then underwater to get it back. This was the first such competition for Snapchat, but I am pretty sure it won't be the last… The app's profile keeps growing and once you're rubbed shoulders with De Niro (or De Niro's festival, ya' know) everyone knows you're going for gold.
Tinder Social
Now, we all know Tinder… and the "swipe" that it introduced to our cultural and social psyche. Keen to broaden its app horizons, Tinder has just launched Tinder Social. It's still on a trial in Australia this week. The move wasn't met with that much delight as it was with alarm, after users realised that the new feature has the power to expose all Facebook friends each other by using the app.
In the blog post published to accompany the launch of Tinder Social, the company sees the function as a platonic thing, weirdly promising to take "an average night out with your friends to the next level"… errrr… ok… whatever?
If you like our stories, there is an easy way to stay updated:
Follow @wersm
Users included in the trial, can join public groups made up of Facebook contacts, and others can add them to these groups without asking for permission. Most worryingly, the features are opt-out rather than opt-in. Users could face being "outed" as using the app before they get the chance to change their settings.
Another worry, is of course Facebook friends accessing each other's Tinder profiles and the embarrassment (or hilarity…) that might come of this little exercise!
On that note, have a great bank holiday weekend but please be careful when taking "an average night out with your friends to the next level"…
---
You might also like
---
More from Social Fun
---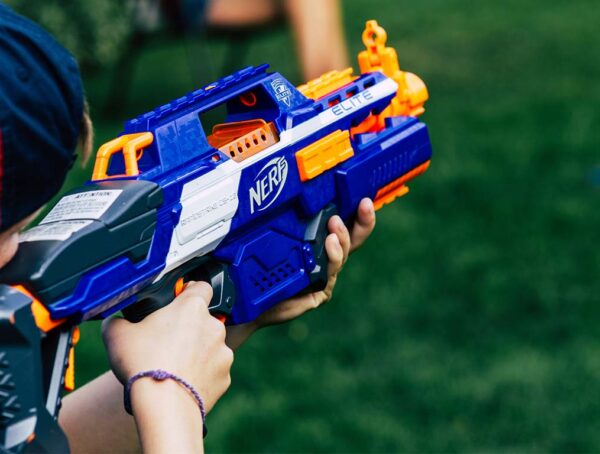 Most people have probably grown out of their Nerf obsession; if you haven't, you could become the new NERF Chief …