So this week I've been watching (in order): The Unbreakable Kimmy Schmidt (Netflix), series 1 & 2 of Silicon Valley (in prep for season 3) and Judd Apatow's series, Love (Netflix again). All totally recommendable to a friend, and you should all watch them. Immediately. I pretty much watched "Love" in a couple of days, almost at the speed at which I usually go through a season of House of Cards as soon as it launches. Kevin Spacey, you shark-eyed, wondrous actor, you!
In other news, I have worn shoes without socks this week and it has been marvellous. Although I have been cold on a couple of mornings and wished I had some emergency socks with me. But I do not carry emergency socks.
Let's get to the mash now because it's so, so delicious!
Rainbow Toasties
Yes, we are going straight for the gut. Instagram has discovered the unicorn of cheese sandwiches. It's made by a company in Hong Kong, and for the equivalent of just under £4, you can enjoy gooey rainbow cheese toasties. Kala Toast makes this delightful melty concoction, and they pretty much became famous overnight, thanks to user hkfoodiexblogger who posted a photo of the cheesy wonder (complete with English caption) on Monday.
https://www.instagram.com/p/BES-1FUrNDP/
According to our foodie adventurer, the toastie contains four types of cheese (mozzarella, cheddar, emmental and gruyere) but the colouring is also flavoured! What?! Lavender, basil and tomato flavours are some of the additional flavours you might taste when biting into this crazy treat.
The overall review is
[quote]I would say the quality is rather average but we all CAN NOT deny that IT IS photogenic.[/quote]
Ticket to HK, anyone?
Vine Wilson
Who here loves Owen Wilson… with his wayward nose, shaggy hair and oddly hypnotic whispery voice? I loved him in the Wedding Crashers, it has to be said. Peter Gilroy over on Vine and YouTube loves Owen even more. He must have watched all of the movies and all of everything because he sounds JUST like Owen himself.
If you like our stories, there is an easy way to stay updated:
Follow @wersm
Wearing a blonde wig and posing as Owen talking about the most curious things, from Voodoo, to being a road lizard, and even reviewing the movie Speed… I know! See for yourselves:
https://vine.co/v/iniOZx1IEOm
https://vine.co/v/egLDn0HjniJ
And my favourite…
https://vine.co/v/eXudXanpuuh
Snapchat Hot List
So, Wednesday landed Snapchat in deep water for the Bob "blackface" Marley filter, which coincidentally launched for 4/20… international Weed Day. If you didn't read about it, see the filter for yourselves here. Yeah.
If you like our stories, there is an easy way to stay updated:
Follow @wersm
But on the same day, Condé Nast Traveler gave Snapchat the exclusive for its annual hotel "Hot List". Starting with 9 AM on Wednesday, 13 winning hotels across the US were exclusively revealed on Snapchat, with all 60 winners which were then published on CNTraveler.com at noon. The Condé Nast snaps lived in the magazine's Snapchat story for 24 hours. I have to point out that CN Traveler has a social media team of four – three of whom focus on Snapchat. "We don't want to play catch-up," said Traveler's digital director, Brad Rickman.
[quote]The fact is, the landscape is changing. I don't feel like we have the luxury of waiting until the business model is solidified. Facebook has been shifting for a decade. It's not just FOMO, although that's very real as well. We are genuinely intrigued to see where it goes and where we can develop relationships and conversations.[/quote]
Back in February, Vanity Fair made Snapchat the exclusive channel for an hour-long behind-the-scenes special with footage from its widely anticipated Hollywood cover. The cover lived on Snapchat for 36 hours in total!
Yup! The times, they are a'changing.
---
You might also like
---
More from Social Fun
---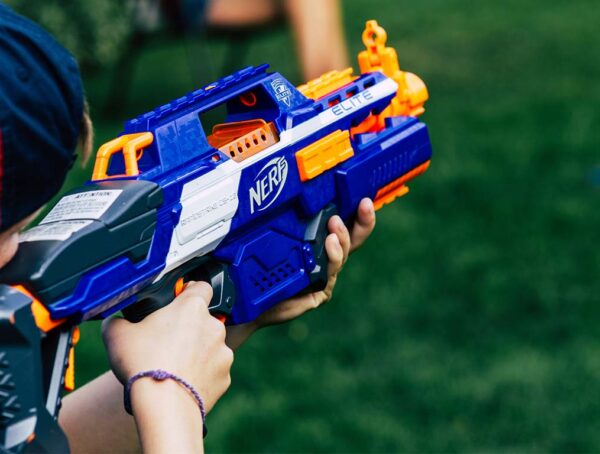 Most people have probably grown out of their Nerf obsession; if you haven't, you could become the new NERF Chief …