That's it, it's official, Spring is here. April showers or not, I switched from coat to jacket and even took said jacket OFF on Wednesday. I know. Shades were firmly out too so this week has pleased me greatly. Except today is raining so that's annoying but let it be the exception that confirms the rule!
Now, to continue this joyful pattern, let us browse the social fun bounty of the mash!
Nerd Wars

Ah "nerds"… a term once mildly offensive on school playgrounds is, now a badge of honour! And this week saw the "nerdiest" Twitter spat in the tweet history. Early in the week, Dictionary.com tweeted a quote from author Abigail Reynolds, next to a photo of a woman holding a cup of coffee.
If you like our stories, there is an easy way to stay updated:
Follow @wersm
The quote read: "I like my coffee with cream and my literature with optimism." Like so…
— Dictionary.com (@Dictionarycom) April 11, 2016
Well Merriam-Webster, its dictionary rival, did not agree! Like so…
.@Dictionarycom There's no cream in that coffee.

— Merriam-Webster (@MerriamWebster) April 11, 2016
And that's all it took, for Twitter to go to town:
https://twitter.com/MilesKlee/status/719940795587952640
https://twitter.com/kenan917/status/719627133753106432
.@MerriamWebster @Dictionarycom pic.twitter.com/qkqHvlV3bU

— Miguel (@miggiesmalls) April 11, 2016
https://twitter.com/RuthieFri/status/719885669808545793
Finally, Dictionary.com came back, conceding that MW was, in fact, on point with that retort.
@MerriamWebster Abigail Reynolds wrote variations of Jane Austen novels. So, this image is a variation of her quote. pic.twitter.com/YmalztcNZL

— Dictionary.com (@Dictionarycom) April 11, 2016
and
@MerriamWebster #YouAreAbsolutelyRight ;)

— Dictionary.com (@Dictionarycom) April 11, 2016
Hey, if you haven't been following dictionaries on Twitter…you have NOT LIVED
Instahotels
Algorithms may have changed, but Instagram's appeal for e-commerce, is ever-growing. This week, Starwood Hotels & Resorts announced they're enabling bookings via content on Instagram, for the two newest Tribute Portfolio hotels in Paris — Le Metropolitan and Le Dokhan's.
If you like our stories, there is an easy way to stay updated:
Follow @wersm
Tribute have partnered with online shopping service Liketoknow.it and will enable the booking feature on posts from some of Instagram's top fashion influencers. It works like this: in order to access the booking link, users have to register with Liketoknow.it first. Once registered with the site  – currently 1.7 million Instagram – they are able to buy the items featured in photos posted by the influencers.
When these registered users then double-tap on an Instagram photo tagged with @tributeportfolio, #independentmoments, and a Liketoknow.it-enabled shopping link, they will receive an email with a link to book a stay at one of the two Paris hotels. The influencers, all of whom have a particularly Parisian sense of style, are: Alex's Closet; La Revue De Kenza; Elles en Parlent; Marie Luv Pink; and J'aime tout Chez toi.
This is the first Instagram campaign to combine the amazing powers of fashion and travel, in one!
Shorties
Now in their 8th year, The Shorty 'Influencer' Awards took place on Monday. They essentially recognise talented folk who manage to create short form content on social media that we all want to see. Over and over again…
If you like our stories, there is an easy way to stay updated:
Follow @wersm
Of course, we have the required celebrity nominations; some of the winners at Monday's show were Adele, actor Dwayne (The Rock) Johnson, Kevin Hart, and Jimmy Fallon. But let's look at the "normal" winners and some of the best social media revelations we've had the joy of following. Going from unknown to superstar with a smartphone and a mission is the right kind of attitude so here are the best of the bunch:
Baddie Winkle  – Instagrammer of the Year
Baddie is 87, from Knoxville and has made her mark on Instagram with her body-positive anti-ageist alter ego, Baddie Winkle. With just under 2 million followers, she hangs out with the likes of Rihanna and Miley Cyrus.
Zach King – Best Vine Artist:
With 3.9 million followers on Vine, he is a true magician of the short video. You can see him generally defying the laws of nature – oh, and he's funny too! He's already landed deals with HP and Best Buy, and he's even been featured in Tribeca and London Film Festivals.
Matija Erceg – Best in Art
Artist Matija Erceg has turned taking photos of food on its head. She mixes cheese and floppy disks, cheetos and lightbulbs, staplers and meat… I know! Follow and join the 41k users delighting in the appealing oddity of it all.
Bill Wurz – Best in Weird
Bill Wurtz creates six-second jingles with '80s-inspired animations designed to get stuck in your head. Covering everything from "Monday Candle Trivia," to "Is It Legal to Make Laws", Bll has something for everyone and if you want to ask him anything, you can find him on Ask.fm although the answers he gives won't actually match your question. Yep.
If you want to see the fill list, have a look here.
Have a go at creating award winning social content this weekend, ok?
---
You might also like
---
More from Social Fun
---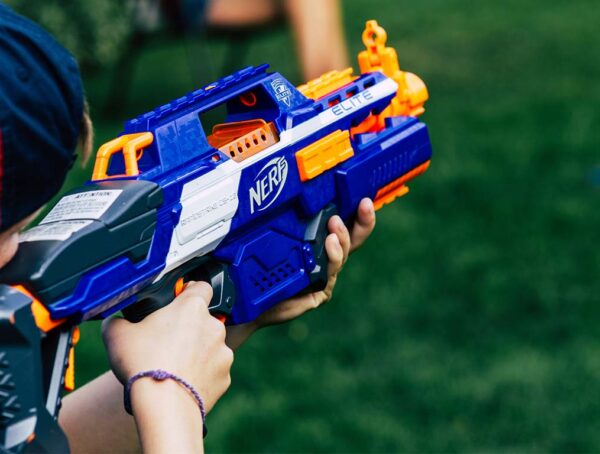 Most people have probably grown out of their Nerf obsession; if you haven't, you could become the new NERF Chief …