Hello there! How amazing was the four day weekend, eh? That's it, I believe we have reached the perfect work/play ratio right here. Go home everyone, we have peaked. Short weeks, long weekends and lighter evenings – this pleases me greatly. Also, we are just TWO weeks away from #BeatTheBuzz, so if you haven't already got your tickets yet, sort it out!
#BeatTheBuzz:
The world's greatest agencies and most exciting brands gather in London, on April 14th.
Book your place now
!
Until then though, let's just dive into the mash, and see what went on whilst we were sleeping late and toasting springtime.
Feel The Bern
The US presidential race was yet again in the Twitter limelight but this time, it wasn't because of Trump or his ill-advised, ill-mannered antics. It was Bernie Sanders who owned our Twitter feed this time round. Late on Friday, at a rally in Portland, Oregon, Sanders was right in the middle of a speech when a small bird flew over the stage, then rested on his podium.
If you like our stories, there is an easy way to stay updated:
Follow @wersm
The bird was completely unphased by the loud crowds, and perched for a good few moments before flying off. Here is the video of it…
Bernie's genuine amazement and broad smile at the sight of the bird were just what the crowd and the Twittersphere had hoped for. Sanders himself said "I think there may be some symbolism here." And Twitter quickly created the hashtag #birdiesanders and started created some true gems:
BREAKING: Twitter officially endorses #BirdieSanders pic.twitter.com/YXWJP52jxL

— WDM2.0 (@Skyneye) March 25, 2016
You're never too small to make a difference #BirdieSanders pic.twitter.com/cNHirScarV

— Revolt Politic (@RevoltPolitic) March 27, 2016
And indeed it seems to have been a lucky sign as on Saturday, Sanders won almost 73% of the Democratic primary vote in Washington, and recorded similar victories in Alaska and Hawaii.
Feel the Bern!
Turn On Notifications
Now, we've all heard that Instagram is probably changing from a chronological feed to an algorithmic one. Tuesday this week was meant to be D-Day for this seismic change, and EVERYONE in the fashion, blogging, brand world panicked. And they ALL started posting about "turning on post notifications".
A variety of plays on the notification activation sentence, all pointing to the three little dots in the upper right hand corner of the screen, came from fashion brands like Net-a-Porter, Gucci, and Max Azria and pretty much every blogger, influencer, and quite a few musicians too. Many of them, British singer Ellie Goulding for example, deleted the posts once Instagram (and everyone under the sun) told them to calm down.
If you like our stories, there is an easy way to stay updated:
Follow @wersm
My favourite thing about all this were the reaction memes that came out of it!
https://www.instagram.com/p/BDgBOq0Smx0/?taken-by=_theletterg
Instagram user @_theletterg even made it on to BuzzFeed for his!
https://www.instagram.com/p/BDhoGr3Sm31
Friends, Netflix And YouTube
So, Netflix has started showing all 10 seasons of Friends, and to promote the launch of every season, and prove that the show is still relevant, Ogilvy & Mather Paris created a YouTube campaign by tagging thousands of videos with Friends clips.
Essentially, no matter what you search for on YouTube, there is something in one the 236 Friends' episodes related to it. Search for cute cats – you'll get a pre-roll clip of Rachel's hairless cat for example. Looking up search terms and digging up particular scenes from the show that are related, is the whole basis of the campaign. Here's what it looks like
Snapchat HR
Forget CVs, Skype interviews, face to face interviews or LinkedIn job posts. Snapchat is where HR is going!
US digital Agency Space150 is all about using Snapchat custom filters and making them available at various US college campuses in the hope of attracting the latest and greatest new talent. They will be hiring 10 interns for each of their offices in New York City, Los Angeles, Minneapolis and Burbank.
The idea behind this novel recruitment-drive is to get candidates to follow Space150 where they will be given a task, which will constitute their application. They will need to create a Snapchat story for one of the agency's clients with the theme 2020 in mind.
If you like our stories, there is an easy way to stay updated:
Follow @wersm
Those agency clients are Sony, Disney, Nike and many more, so students will need to be on top form, especially since Snapchat has over 100 million daily active users… Snapchat's geofilters became available a month ago, but this is the first time they've been used as a hiring tool.
I myself am ALL for a novel take on the ancient, tiresome and bloody dull "fill in the form", "create an account on our stupid HR platform, come to 10 rounds of interviews recruitment process" Yawn! Let's get social!
Have a spectacular weekend and enjoy springtime!
---
You might also like
---
More from Social Fun
---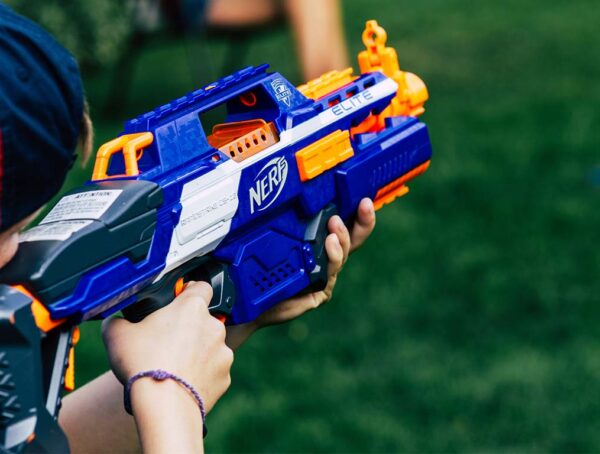 Most people have probably grown out of their Nerf obsession; if you haven't, you could become the new NERF Chief …