So listen, I have a confession, I've started snoozing on the train. I've never been a train snoozer…or a plane or car snoozer for that matter. Always awake whilst travelling, me. But the time has clearly come for me to join the dream transport brigade. It's like "Planes, Trains and Automobiles"  for the narcoleptic. I knew that mechanical rocking would get me one day…So if you are a train snoozer, I salute you.
Fully awake for the weekend now though and nothing boosts energy like a good dollop of mash and a hearty laugh. Let's do this!
Tinder Tirade
It's pretty safe to say that Tinder has become a staple of modern day romance and pretty much everyone knows of it, uses it or knows people who use it. So it's no surprise publications might write mention it or write about it.
But when Vanity Fair published a little article this week focusing on Tinder and its impact on long term relationships – basically arguing that it promotes short term affairs through the illusion of a permanently available pool of mates – Tinder threw a Twitter tantrum. It consisted of 31 consecutive tweets.
The account went from this:
https://twitter.com/Tinder/status/629731266271641600
(which I totally agree with by the way) to this:
The Tinder Generation is real. Our users are creating it. But it's not at all what you portray it to be.

— Tinder (@Tinder) August 11, 2015
>and this
Tinder users are on Tinder to meet people for all kinds of reasons. Sure, some of them — men and women — want to hook up.

— Tinder (@Tinder) August 11, 2015
and even this
Talk to our many users in China and North Korea who find a way to meet people on Tinder even though Facebook is banned.

— Tinder (@Tinder) August 11, 2015
Twitter quickly noticed, and reactions to the "Tin-rade" were, of course, priceless:
Someone walk over to the social media manager of @tinder and tell them "shhh, it's okay. Step away from the keyboard…"

— Elon James White (@elonjames) August 12, 2015
@Tinder are you ok?

— Nancy Jo Sales (@nancyjosales) August 12, 2015
Hillary Tries Instagram Again…And Fails…AGAIN
Oh Hillary…you really need to change that social media team because it'a not getting any better. Donald and Jeb are doing Instagram better and that's with snaps like this:
or this:
Basically, the Hillary 2016 camp thought this would be cute, yet strike a chord with students across the US and receive a lot of great comments and get all those millennials voting Clinton…NOT the case.
Some were pretty pissed off and took it to Twitter:
https://twitter.com/LouisatheLast/status/631547549459988480
https://twitter.com/BklynMiddleton/status/631549921036886017
https://twitter.com/nicolettemason/status/631597729110749184
But it's fine as she posted this catstagram yesterday so for me, all is forgiven.

Tumblr Time
Since my love of Tumblr is clearly not a secret affair any longer, I've decided to include a little Tumblr Time section within the Mash. Think of it as an extra knob of delicious butter contributing to the overall flavour and texture of your favourite Friday food.
If you like our stories, there is an easy way to stay updated:
Follow @wersm
Nasa has conquered a new social media galaxy and setup its official Tumblr: nasa.tumblr.com. It's going to give you "a regular dose of space" to go with the Instagram and the Twitter accounts and help us put it all in perspective when we concern ourselves with "the small things in life".
Now love it or hate it, the "man-bun" has become a staple of male hair fashion so it was about time a Tumblr materialised on the subject. Enter, Cinnaman Bun, which replaces the hair bun with a cinnamon bun on all your favourite celeb photos like so:
Really fancy one now…
What's In A Vine?
Ending on a Vine note, we have this video of a little boy getting swept away by a rotating foam boom in an inflatable play space in Indiana.
The original footage is so good it's been remixed countless times to songs such as R Kelly's "I believe I can fly" and "Only time" by Enya (my favorite): PUT THE SOUND ON!
https://vine.co/v/edmah7FZHqY
https://vine.co/v/edKJ3uiZv6q
Lata potatas!
---
You might also like
---
More from Social Fun
---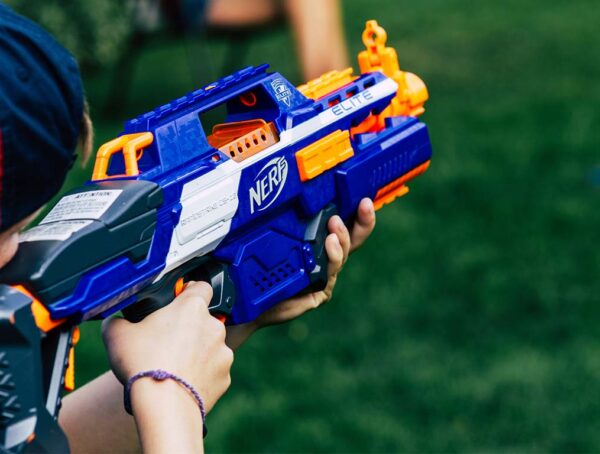 Most people have probably grown out of their Nerf obsession; if you haven't, you could become the new NERF Chief …