Well, I'm back from the land of the French and of the cheese and ALL of the Rosé…I had even started tagging some of my Instagram photos with #lavieenrosé…see what I did there! Anyway, hope you've all been well, not too cold or damp from this fantastic summer weather. I hear last Friday was floody, let's hope today is the complete antithesis.
But enough meteorology and nostalgia, let's get to the nitty, gritty mash. Well, hopefully not gritty more like creamy. Anyway, let's do this!
Twitterbook?
So listen…what is this whole chat about Twitter turning into Facebook and getting rid of its famous reverse chronology feed?! We got a "soft launch" of this with "While you were away" where you get a synopsis of relevant news happening whilst you've not been on your phone (for that split second) much like the Facebook top stories feature. Yet another adjustment, code name "Project Lightning" will soon come to pass with actual HUMAN editors arranging trending topics and breaking news for you. Jack Dorsey, the interim CEO, is behind all this hoohah after Dick Costolo was famously booted out last month.
If you like our stories, there is an easy way to stay updated:
Follow @wersm
These are all steps towards a break from the reverse chronology we are so fond of and I am worried it will all turn into one big 'book soup and we will all have to emigrate to Snapchat until a new, revolutionary channel comes along. Maybe an AppleTree to grow out of the Apple watch or something along those lines…
Snapys
Drum roll please, the first "Snapys" launch took place at Dublin's RHA Gallery last night. What is this you ask? Why, it's only the "independent awards for the global Instagram community" sponsored by telecoms group Huawei. It aims to reward and praise "the types of photos that make Instagram fun and unique" over 25 categories. The #classic themes are of course there and include food, travel, fashion and pets!
If you like our stories, there is an easy way to stay updated:
Follow @wersm
A panel of the leading 75 "Instagram Influencers" and social-media voters will decide the winners, which will be announced in October. To enter, simply attach the category hashtag when posting photos – to enter the "no-human" category, the hashtag would be "#SnapysNoHuman". More details are here: http://huaweisnapys.com.
There was a BIG launch event last night in London, did you go?
I.AM.IN!
Towelchat
Beach season is here so it's only natural that Snapchat, the social media money maker general is going full merch. The official Snapchat beach towel is now available from Amazon at $25 a pop. Just in case you wanted to declare you Snapchat love around the world this Summer, the bright yellow towel features the unmissable company logo and on the edges, all the UI icons ever so familiar to Snapchat users, like the color picker, timer, send/cancel buttons.
Snapchat's official description for the towel is: "A towel, The Snapchatter's Guide to Ghost World says, is about the most massively useful thing a Snapchatter can have. Partly it has great practical value. You can wrap it around you for warmth as you bound across the cold moons of Ephemera Beta; you can lie on it on the brilliant marble-sanded beaches of Chillzaan IV, inhaling the heady sea vapors; you can sleep under it beneath the stars which shine so redly on the desert world of Del'etooine; use it to sail a miniraft down the slow heavy Rio Venezio; wet it for use in hand-to-hand-combat; wrap it round your head to ward off noxious fumes or avoid the gaze of the Great Blue Permanatee (such a mind-boggingly stupid animal, it assumes that if you can't see it, it can't see you); you can wave your towel in emergencies as a distress signal, and of course dry yourself off with it if it still seems to be clean enough."
I kinda want one now..
Gay Disney
And since it's Pride weekend in Brighton this weekend I thought I'd end on a rainbow note! Using her mad Photoshop skills, Tumblr user @dopeybeauty is recreating typical Disney love stories and turning them into same sex romances. Ariel kissing Jasmine and Aladdin romancing Hercules – it's all there to behold!
All you need is love, have a great weekend!
---
You might also like
---
More from Social Fun
---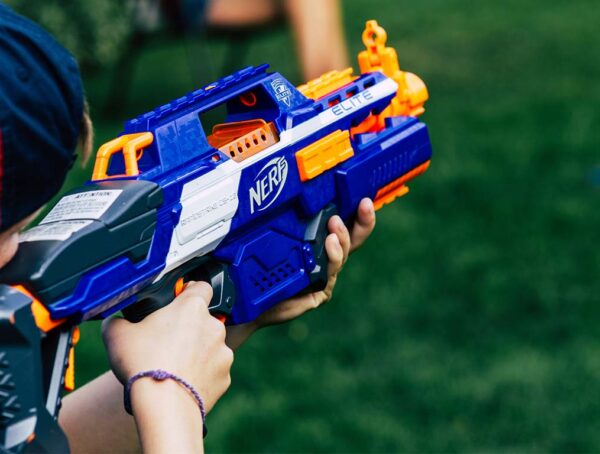 Most people have probably grown out of their Nerf obsession; if you haven't, you could become the new NERF Chief …