Bonjour, Bonjour! Ça va, Ça va? As mentioned, this week I am brushing up my French and skipping about all around Paris in stripes. Watching the end of the Tour de France on Sunday and then returning on Monday with a suitcase full of Sancerre. So far I have had escargot – surprisingly delicious – and croque madame this morning. And it was excellent!
But, all of this continental tomfoolery should not distract us from mash matters. Because mash, matters. Allons-y!
Baby got NO back!
So you remember the good old days when you picked a lovely pattern for your Twitter background just as you would wallpaper for your home? All quirky and stand out like, a bit funny, a bit crude but all chromatically in synch with your profile and your cover photo? Well look at your Twitter feed now, where is it ALL gone?
That's right, Twitter stole it and got rid of it! The bright white makes everything a touch clinical and dare I say, a bit like a rented apartment where you can't bloody paint the walls or put any pictures up.
I don't like it, I want my background, it had birds on it damn it and I was even thinking of changing it to some watermelon slices this Summer. *rolls eyes*
Chillary Clinton
Say what? No, it's not another Clinton, it's still Hillary trying to be "cool". *rolls eyes again* Since I am in the country of "freedom fries", I couldn't pass up an opportunity to chat some US. As we know, Hillary is all about social media or rather the Hillary 2016 PR army are brainstorming day and night to find new, great channels to bring a slice of Clinton to the masses. So Snapchat, being the trusted route to the modern heart, is the new medium.
The vid features Hil "chilling in Cedar Rapids" and then a cuts to a drinks holder emblazoned "Chillary Clinton". You can see it all here.
https://vine.co/v/erQH0K9JthD
The reactions are very much on the "bad" side…
This was focus-grouped for weeks. https://t.co/XHDbMIw8XH

— Guy Benson (@guypbenson) July 20, 2015
So lifelike RT @guypbenson: Take 27 was finally the magic one: https://t.co/lkVSsLV0yZ

— John Tabin (@johntabin) July 20, 2015
Who? Who on her staff told her this was a good idea? https://t.co/FYjZqXfiqB

— AgainstTrumpDude (@TheAmishDude) July 20, 2015
https://twitter.com/OrwellForks/status/622971392397590528
If you like our stories, there is an easy way to stay updated:
Follow @wersm
Combogram
See what I did there…and all because Instagram and Tumblr this week are all about combos. Photo combos that is by one ever so talented creative director named Stephen McMennamy. Seeing as photography is evolving through digital and social media and that this image evolution is taking on a series of metamorphic guises, Stephen is one great exemplifier of the trend.
You can check his Instagram account and Tumblelog.
The Atlanta BBDO creative actually shoots the photos himself before creating the combos as opposed to using stock images so there is a lot of work going into these. Here are my favourites and they would have been great for a Twitter background…JUST saying.
https://instagram.com/p/zOSzk6HG6C/
https://instagram.com/p/0bbjp4nG0U/
https://instagram.com/p/1ZWf7EnGwf/
YouTour
And since I am in Paris for the end of the Tour de France, I can't not mention it AT ALL. As it happens, YouTube is all about the Tour this week through GoPro. As official camera partner of the Tour de France 2015, the company have equipped quite a few of the riders with handlebar cams that have so far recorded some pretty dramatic crashes, accidents and never before captured angles of the race.
Their YouTube channel has some pretty exciting highlights of the different stages that the GoPro team compile from footage downloaded from cyclists' cameras every night
The aim in two years is to have a GoPro on every single bike and provide constant live streaming you can choose from. It's definitely the way sports will be viewed in the future…many others will soon follow this immersive trend, I'm sure!
Have a splendid one, dance like GoPro is watching!
---
You might also like
---
More from Social Fun
---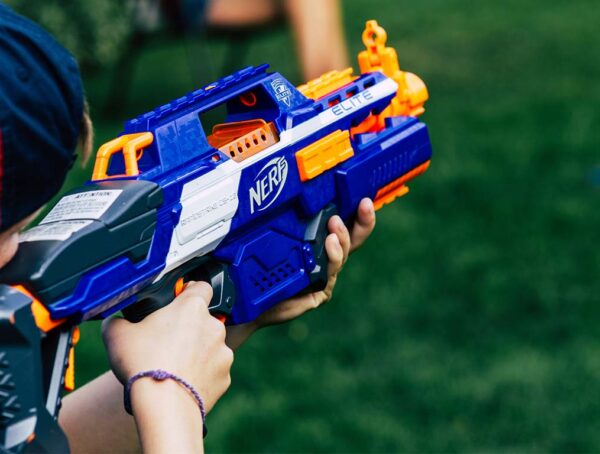 Most people have probably grown out of their Nerf obsession; if you haven't, you could become the new NERF Chief …