Dare I say it, Summer is coming. I have seen enough flip flop, sunburn and sleeveless action to know this is the case. We even had a Bank Holiday Monday that was actually nice. Sunny and everything! And apparently June is going to be a scorcher due to a heatwave set to float this way from Spain (don't hold me to it, I read it over someone's shoulder on the train this morning). So, I mean, who cares if today is HORRID. STOP, weekend time!
Let's smash the mash!
InstaGROAN
I know we have all become accustomed to random entities accessing our private information and photos and using them for heaven knows what! This week however saw a Californian artist sell 38 Instagram snaps for some $90,000 each. The only problem with this tale? They were not of him nor taken by him nor had the subjects given their consent for their photos to be used.
All 38 pieces were mere screenshots of his Instagram feed and included personal portraits of celebrities and random Instagrammers alike. Richard Prince has apparently been doing this kind of "art by re-appropriation" since the 70s and has been sued a few times for it. Most subjects were notified by family and friends when they read the news of the art exhibit in NYC and had no idea their photos were being used or sold. None of them will see any of the money as Mr Prince somehow skirted around the copyright laws by posting comments from his Instagram handle before screenshotting.
Go snap your own, Richard! I know, I'm just jealous but had the subject been #CatsofInstagram, a few of my glorious 'grams would have made the cut.
YouTube Goes Retro
For those of us who grew up in the 80s, the early video game era is one giant, pixely, nostalgic happy place. Two brothers from California were thinking the exact same thing when they started re-creating 8-bit video game versions of famous movies!
If you like our stories, there is an easy way to stay updated:
Follow @wersm
David Dutton does all the animation in Adobe and After FX whilst his brother Henry deals with soundtracks. Unlike the Instagram blunder mentioned earlier, the Dutton brothers aren't breaking any copyright laws as their work falls under the "parody" section and is thus classed as fair use.
So far, there are 45 movie based, 8-bit mini games including Frozen, Guardians of the Galaxy, Silence of the Lambs and the most recent one this week – Shawshank Redemption!
A few of these and you'll be yearning for Street Fighter in no time!
Hey Girl!
We are all familiar with the Ryan Gosling "Hey Girl" macros as they have been around for a good few years now. Combine this internet institution with Mad Max: Fury Road, dubbed the most feminist film of ALL TIME, and you have…a new Tumblr!
Feminist Mad Max is an excellent array of memes that only took a week from the film's launch date to materialise. Here are a few gold nuggets:
#charliecharliechallenge
If there's one thing Vine loves, it's a challenge! Over the long weekend, the #charliecharliechallenge took the Internet by storm. It's essentially a Ouija board style game where you draw an X on a piece of paper, label each section with "yes" and "no" and lay two pencils over the lines of the X. You then ask "Charlie Charlie, are you there?" and another random question as you might a Magic 8 ball. The pencils are then supposed to independently move and point to the "yes" or to the "no" in answer to your question.
You then of course, have to capture the results on Vine (or Instagram). There are now hours of footage featuring youths around the world posting their paranormal experiments and generally freaking out about it all mere seconds later.
This 1 Direction fan for instance, took it all to a whole new, scarier level:
https://twitter.com/zaynbaabe/status/602760712599932928/
Whilst this Vine just told it like it is:
https://vine.co/v/ebgdZUtl2MT
Have a great weekend and don't get haunted!
If you like our stories, there is an easy way to stay updated:
Follow @wersm
---
You might also like
---
More from Social Fun
---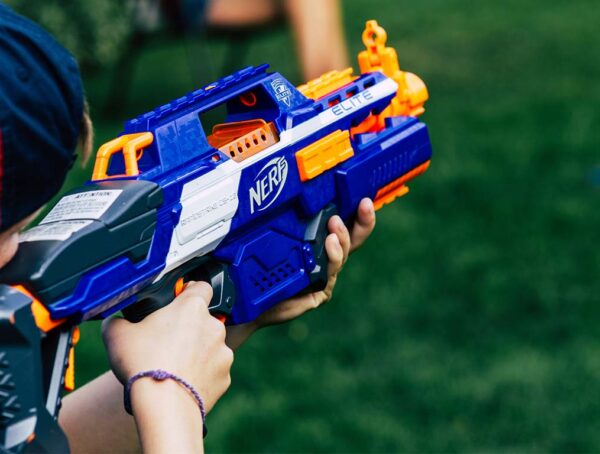 Most people have probably grown out of their Nerf obsession; if you haven't, you could become the new NERF Chief …