Oh hi, didn't see you there for a second! Welcome, welcome, take a seat, get comfortable. Relax, it's Friday, everything from this moment on and for the next 72 hours (give and/or take) is fun, freedom and frolicks.
Let's get this mashup started!
Depp Dogs Down Under
So… yesterday seemed like a regular day. Until Australian minister Barnaby Joyce threatened to kill Johnny Depp's dogs that is! You read right. The  #WarOnTerrier took Twitter by storm.
The actor's two terriers, Pistol and Boo, were allegedly "smuggled" in on his private jet and not declared to customs when they arrived in Brisbane last month. Minister Joyce has said they either "bugger off" back to the US or they will be put down. Depp was allegedly busted whilst taking them to the groomers…
https://twitter.com/adambrereton/status/598641698680483841
The story has generated a change.org petition, already signed by over 5,500 people. It's like an episode of Border Security gone MAD!
Hi-dilly-NO, Neighborinos!
Staying with Twitter and there is yet more outrage! This time at the apparent sacking of long term Simpsons legend Harry Shearer. For those not in the know, he is the voice of Mr Burns and Ned Flanders and has been a staple of the show for decades! Shearer posted a two part tweet yesterday, seemingly from James L Brooks' lawyer, in which he is being "axed"!
from James L. Brooks' lawyer: "show will go on, Harry will not be part of it, wish him the best.". (1/2)

— Harry Shearer (@theharryshearer) May 14, 2015
This because I wanted what we've always had: the freedom to do other work.
Of course, I wish him the very best. (2/2)

— Harry Shearer (@theharryshearer) May 14, 2015
The outcry was so loud he posted this a couple of hours later…
Thanks, Simpsons fans, for your support.

— Harry Shearer (@theharryshearer) May 14, 2015
To me, Mr Burns' "eeeeeeexcellent" is one of the staples of modern conversation and I have no idea how they are going to manoeuvre out of this one!
Junk Food Porn
Now, we have become so accustomed to the #foodporn hashtag and the presentation styles it promotes that a lot of people have come to expect every single dish to be utter cheffy perfection! It's probably why all those restaurants started serving their food in hats, on bats, next to cats and what not!
Enter mysterious chef, Jacques La Merde (Jack Sh*t) who is now turning junk food into ridiculously manicured concoctions as a means of satire (but probably also a bit serious). Think crisps, corn dogs, SPAM and cheese dippers looking like Michelin Star worthy mains!
Oooh La La!
Do You How To?
Now YouTube has seen its searches for "how to" videos increase by 70% in the last year with over 100 million hours already watched in 2015! And that's just in the US. I for one am convinced I have clocked at least half an hour to an hour searching for "how to replace a cord light switch", "how to fix a thermostat", "how to write a mashup…"
If you like our stories, there is an easy way to stay updated:
Follow @wersm
One in three millennials buy products after watching how to videos via YouTube and Google thinks brands are just not tapping into the huge audience out there. As soon as you search how to do something, you are expressing a need. Informational clips give brands the opportunity to satisfy that need. Or certainly direct the audience to a solution.
There is a wealth of data to be analysed that could offer incredible insights into consumer behaviour. Or some very weird habits people would like to perfect…
P.C. Hipsta
I leave you with P.C. Hipsta, a Tumblr dedicated to #hipstercop. This of course is the story of a policeman who found #fame with his full ginger beard, strongman tash and shaved head as he maintained order during an EDL march last weekend. The internet was quick to come up with a brand and named him Hipster Cop.
Tweets like these made sure the brand gained traction…
https://twitter.com/yakhunt/status/597146559533441024/
@davelee1968 @Emproji #HipsterCop patrols on an upcycled fixie bike, and his K9 partner is a dachshund.

— brx0 ❄️❆❄️❅ (@brx0) May 10, 2015
'I write all my reports on a 1960's Hermes Standard 8 typewriter. It makes me feel alive' http://t.co/tRYyyyQO70

— Dave Lee (@davelee1968) May 9, 2015
And now we have the Tumblr comic strip. This here is my favourite!
Over and Out!
---
You might also like
---
More from Social Fun
---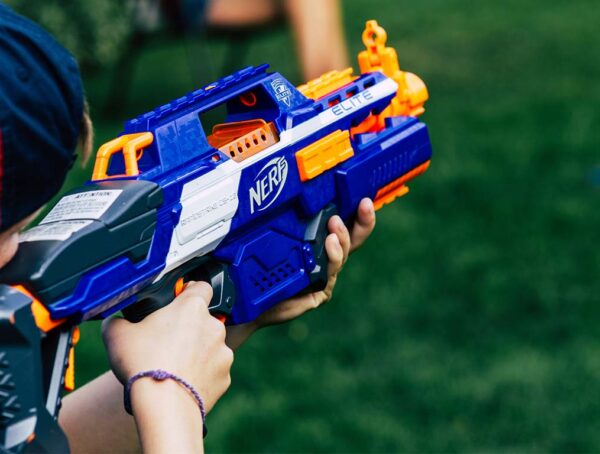 Most people have probably grown out of their Nerf obsession; if you haven't, you could become the new NERF Chief …