Almost halfway through the year already and this week's been all about the general election here in the UK. As standard, we had politicians trying to #selfie their way into our good graces – getting real, getting down, eating, drinking and blaming each other for everything that's wrong since the dawn of time except for that time when they were in power. Ah, I love the smell of politics in the morning! Here's hoping you cast your vote yesterday since we are playing this "Game of Thrones" and one small vote for man could mean a relatively close shave for UK kind.
The Mash always gets my vote and here are this week's ingredients:
#StarWars And The #Dogs
"May the fourth be with you" has been around for a good few years now and I always look forward to the Twitter parade of Star Wars themed memes, tweets, ads and gifs. This year saw top brands using the Force with some pretty good (special) effects.main content
Happy #StarWarsDay and #MayThe4thBeWithYou pic.twitter.com/xx2UsXrqGq

— Philips (@Philips) May 4, 2015
May the Fourth be with you #StarWarsDay pic.twitter.com/zAVZV0GXlW

— Subway® (@SUBWAY) May 4, 2015
May the 4th be with you! #LEGOStarWars #StarWarsDay (photo courtesy of Mike Stimpson) @starwars pic.twitter.com/5cSQmjXeyK

— LEGO (@LEGO_Group) May 4, 2015
Happy #StarWarsDay! Use your Force to protect forests >> http://t.co/tJs3rU8dep #MayThe4thBeWithYou #maythefourth pic.twitter.com/wps3ted0X7

— Greenpeace UK (@GreenpeaceUK) May 4, 2015
#IfStarWarsHadTwitter R2D2 would Tweet in full emojis, #C3PO would go over 140 characters #StarWarsDay pic.twitter.com/dXDf4PqNUM

— Hootsuite (@hootsuite) May 4, 2015
https://twitter.com/SamsungMobileUK/status/595173520298094592
Also on Twitter, we had #DogsAtPollingStations on Election Day yesterday. So powerful was the trending force with this one that Innocent Drinks captured the exact moment it went above #Democracy in our esteem
#DogsAtPollingStations is the number 1 trend in the UK. We did it, everyone. It's a magical day for democracy. pic.twitter.com/2OuGlmweGa

— innocent drinks (@innocent) May 7, 2015
Personally, I concur with XFM DJ Sunta Templeton, this would have been much better (and 1265317652 times trickier to pull off):
Personally I want to see more #CatsAtPollingStations. #DogsAtPollingStations pic.twitter.com/XIDyaDyuaF

— Sunta (@SuntaTempleton) May 7, 2015
I'm A Voter…Not A Fighter
Facebook has this week rolled out its "I'm a Voter" button for the first time in a UK election. It was available to some 35 million UK users having been a feature in the US for the past three elections and was featured in Scotland for the referendum last year. For the 2014 election in India, more than four million people clicked the button in one of the feature's most successful adoptions.
If you like our stories, there is an easy way to stay updated:
Follow @wersm
Can people be trusted not to "click and give it a miss" though? Keeping up appearances is somewhat of a sport in social media today so I say "don't click until you tick"!
Emoji Era
Someone PLEASE come up with a new name for the itty-bitty graphics please, the term truly "grinds my gears". They are so popular now though, I think my hope of change in that department will only end in disappointment (insert relevant e***i here).
Instagram has this week reported that more than 40% of text comments on its platform contain emoji. Last week of course, it updated its hashtags so that emojis could be used as single or multiple tags and when using the Explore tab.
Apple added them to the ikeyboard in 2011, Android in 2013 and ever since they have been replacing words here, there and everywhere. Here is a map Instagram put together charting the context of emojis and hashtags from over 50 million English Instagram comments and captions in 2015 so far. What this mainly shows is that internet slang (think LMAO, OMG, WTF etc.) is slowly but surely morphing into images.
Ryan Eats His Cereal For Ryan
Everyone who knows me also knows of my mild yet utterly justified crush on Ryan Gosling. Everyone here might also be aware of my passion for the FUN in life so when a Vine titled "Ryan Gosling won't eat his cereal" appeared on the scene in 2013, I was instantly hooked.
You can see the full compilation on YouTube, which is made up of 31 separate Vine clips put together from 2013 to 2014 by Glaswegian director and writer Ryan McHenry.
McHenry sadly passed away on Sunday and as a tribute, Ryan Gosling finally ate his cereal. It is the actor's one and only Vine to date and it's a great memorial!
Tumblr Sees Red
Tumblr sign off time and I have a corker for you this week. It is a site that turns everyone ginger. That's right! putarangonit.tumblr.com turns everyone redhaired and freckled. It even covered the MET Gala the other day and accessorised all outfits with a dash of red and a freckle or two.
This here is my personal favourite:
oh, and also Ryan, of course:
It's the weekend, let's paint the town red!
---
You might also like
---
More from Social Fun
---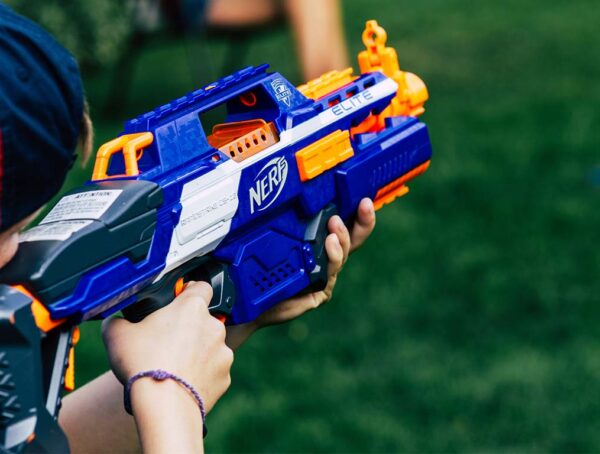 Most people have probably grown out of their Nerf obsession; if you haven't, you could become the new NERF Chief …