Spring has sprung, the flip flops are out and people are getting their first sunburns of the year!  Myself included, yes, I indulged in the sunshine over last weekend and got my lobster act on. And it's only April. As D:Ream rightly remarked back in 1993, "Things can only get better". Which is also a great tune to bask in the sun to by the way. I urge you to try it out over the weekend.
Enough weather talk, let's dig into some juicy, chilled mash. I'm going to have to come up with some sort of mash ice cream if this weather continues…*ponders*
A New Star (Is Born) On Instagram
Instagram welcomed one of my all time favourite acting dudes to it's photographic bosom this week, Robert Downey Jr has setup an account! He kickstarted his Instagram run with this 'cool as a cucumber in a glass of G&T' snap of his co-stars in the new Avengers flick, The Age of Ultron.
Well, I'm following, will you?
Hilary Is #Ready…
Over to Twitter and we had Hillary Clinton officially announcing she is running for President in 2016. The announcement was not only made via Twitter but also sparked the fun parade of #Twitter reactions we know and love so well. Here are a selection of favourites:
Hillary Clinton To Nation: 'Do Not Fuck This Up For Me' http://t.co/oGS5bEkwlC pic.twitter.com/2SdbtpF0Op

— The Onion (@TheOnion) April 12, 2015
.@HillaryClinton should adopt Daenerys Targaryen's platform: "I'm not a politician, I'm a queen." #GameOfThronesSeason5 #GoT #Hillary2016

— Brooke Sopelsa (@brookesopelsa) April 13, 2015
I'm ready! Are you? #Hillary2016 pic.twitter.com/56ZQDBbsJd — Mando Fresko (@MandoFresko) April 13, 2015
There was a slight spanner in the political works however as news emerged shortly after that over two million Hillary Clinton followers are fake and never tweet! StatusPeople.com, one of the top Twitter auditing websites out there, has discovered that 15% of the senator's followers are 'fake' and about 41% are completely 'inactive'. This in turn comes just days after rumors that most of the likes she has on Facebook are not exactly genuine. Not a great way to start an honest presidential campaign now, is it? Hillary Banks all the way is what I say!
Can A Lobster Save Us From Stock Photo?
Over to Vine and Vimeo next and we have a Lobster on our hands… Lobster Marketplace, the self proclaimed "Google for user generated content", launched in 2013 and started with Instagram and Flickr integration. The next few weeks will see it incorporate Vine, Vimeo and Twitter in what is a global effort to end the rule of the dreaded "stock photo".
If you like our stories, there is an easy way to stay updated:
Follow @wersm
Users can essentially search for and buy any photos uploaded on the platforms listed, by anyone. Lobster claims a commission of 25% per transaction but it sees its efforts as a huge opportunity for budding talent to access a huge potential market.
I would personally miss some of the complete randomness and extreme fun that comes with stock photography, as beautifully exemplified here.
Who Wants Friends Like These?
Now who here knows people, who know some people, who overshare on social media? Everyone then, ok! This week saw Facebook petition action being taken over baby photos.
The letter below was sent by friends to an Australian mom in response to her extensive baby featuring Facebook activity. I don't know about you but I think I'd get the same reaction to my cat related posts…if my friends were a tad on the crap side. Or they didn't know how to "unfollow". Or I didn't treat them to mash every Friday… It's give and take people, it's give and take.
Desperate House Brands
Now let's end on a Tumblr note and a site poking fun at all those brands that so desperately want to be part of your life. Tell Us Your Story features some of the best #shareyourmomentsnomatterhowstupid examples out there, like this amazing nugget from Clorox…for all those special bleach moments.
If you like our stories, there is an easy way to stay updated:
Follow @wersm
Well, on that note, I'm off to watch paint dry and Instagram the crackers out of it! #ColourMeBad.
---
You might also like
---
More from Social Fun
---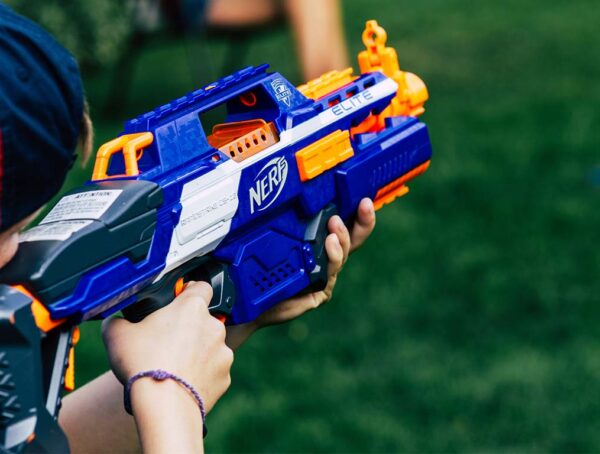 Most people have probably grown out of their Nerf obsession; if you haven't, you could become the new NERF Chief …