The treat of treats as far as working life goes is upon us – it is of course, the wondrous long weekend! Not quite a holiday, not just a run of the mill end of week, it is a sweet spot of possibility, lie ins and dare I utter it, basking in the sun (if I've jinxed it, email me and I will send you a One Direction Easter egg to say I'm sorry)! There, I did a #ZaynMalik reference.
Before all the bunny and egg shenanigans however, let's do the mash…the (social) MEDIA mash (queue "Monster Mash" track).
#AprilFools
Wednesday was April Fools' Day and all social media delighted in the HILARITY of it all. Twitter saw quite a few entries under its "does what it says on the tin" hashtag. I'm going to run you through some known brand "fools" products of the day:
Tesco introduced bouncy aisles for the high shelf impaired (I was a bit sad this was not real, I must admit)
Introducing: Bouncy Aisles, in-store from Friday. Those pesky products on high shelves better watch out… pic.twitter.com/qevQkG4gYn

— Tesco (@Tesco) April 1, 2015
Marmite made it clear…
Proud to introduce the newest member of the family… Say hello to #MarmiteClear everyone! pic.twitter.com/TTDa5cwUd9 — Marmite (@marmite) April 1, 2015
And Santander planned to open a cycle through branch…
Coming soon to a London street near you? Santander announces plans for first Cycle-Thru branch #SantanderCycles pic.twitter.com/odIxr7Eftd

— Santander UK (@santanderuk) April 1, 2015
Moving straight on to YouTube, the gags continue with Rhianna "punking" Jimmy Kimmel. It was a Rude (Boy) awakening for the American TV star as his challenge to viewers was firmly accepted by the Barbadian songstress as this video clearly illustrates:
And if for a minute you thought that was itYouTube side, think again as shoe company Miz Mooz invented the selfie shoe…! "Out with the stick, in with the shoe" as the old saying goes.
If you like our stories, there is an easy way to stay updated:
Follow @wersm
From Vines To Feature Film
Staying firmly in comedy mode as I am a believer in "start as you mean to go on", Vine is seeing two of its most popular stars launch a Kickstarter project for a comedy film! @JasonNash and @BrandonCalvillo have decided to bring life to the silver screen and recreate their friendship in FML: A Social Media Adventure.
You can support them here and of course, we should all go and see it when it's out. Maybe we can hire out a Picturehouse cinema and have mash and popcorn. What's that? Just popcorn? Oh ok, twist my arm!
Tumblr Without The G
Speaking of popcorn and TASTY Gluten…Tumblr has gone gluten free! Glutenimage.tumblr.com is a gluten free museum of famous artwork with all forms, sources and depictions of the G word removed.
Lady and the Tramp just wouldn't be the same! #Pasta4EVA
Instagram, NYC and… Cats
And now I must leave you. But not before I sneak in some cats! My dear chum Instagram has come up with the feline goods yet again. I am of course talking about the NYFD felines with a combined following of over 28,000.
@midtownboogiefdny and @carlow_fdny_cat are the new stars of the Manhattan scene and you can see them in action all around the fire stations. By that I mean sitting, sleeping, scratching and sleeping again. Meow!
If you like our stories, there is an easy way to stay updated:
Follow @wersm
OK, I'm off to hunt for Easter Eggs with the cat now. See you next week, sleep long and prosper!
You might also like
---
More from Social Fun
---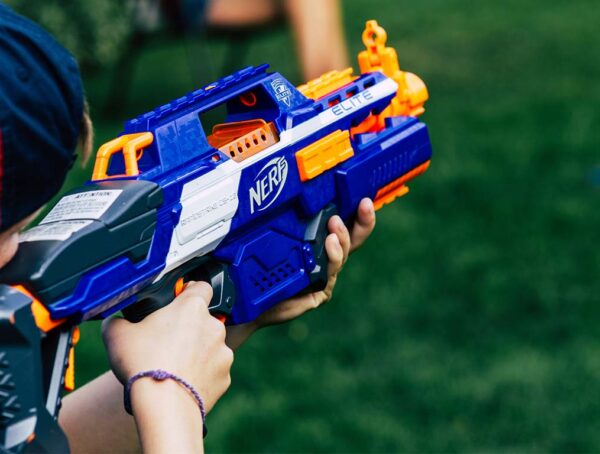 Most people have probably grown out of their Nerf obsession; if you haven't, you could become the new NERF Chief …