So apparently "Winter is going"…or so I hear on the news and see through my shades! What great news that is too since I rather enjoy a bit of ice cream and would like to eat some in the open air without putting myself at risk of hypothermia. I knew you'd understand!
And while we wait for this heat wave just round the corner, here's some HOT mash!
Facebook Is Advertising On… Instagram
It's pretty obvious by now that I enjoy a little social media here and there (and everywhere)…all things in moderation and all that. But on Monday, whilst leisurely perusing my Instagram, I came across Facebook! A genuine social media Kinder Surprise. It was indeed a sponsored update from Facebook who seem to be on a genuine promo push.
If you like our stories, there is an easy way to stay updated:
Follow @wersm
Facebook has also released their first TV ad in the UK this month, have you seen it yet?
The 2015 YouTube Music Awards
Over to YouTube and the second edition of the Google backed YouTube Music Awards will feature some big (medium) names in the industry (Ed Sheeran and Charli XCX) filming 15 new videos to be produced in partnership with Vice Media. The ceremony will stream online only and will feature awards for the usual suspects. Think Beyonce, Taylor Swift, One Direction…Yawn…
Twitter, The Bird and The Weasel
Moving on to Twitter and nothing delighted me more this week than the weasel catching a flight on a woodpecker across a London park #WeaselPecker. Now, the photo is apparently genuine which is 1.amazing, 2. meme worthy! And man, oh weasel pecker, did Twitter get to work. A selection of true gems below:
We are loving the #WeaselPecker John Terry meme! #TerryPecker pic.twitter.com/Pq7wZuIqrX

— 90min (@90min_Football) March 3, 2015
What do you see? Weasel and woodpecker or white and gold? pic.twitter.com/aHZrWnH24D — The Poke (@ThePoke) March 3, 2015
Putin's latest PR shoot #WeaselPecker pic.twitter.com/kveSI00eIa

— james abraham (@_jamesabraham) March 3, 2015
There was also this from the Blue Planet Society part of #WorldWildlifeDay:
You've seen @KingYamel's weasel riding a woodpecker? Here's an amorous frog riding a goldfish. #WorldWildlifeDay pic.twitter.com/3D8wsuIgW5

— Blue Planet Society (@Seasaver) March 3, 2015
The Dress Really Did Break The Internet
Hey, remember #TheDress saga from last week? Of course you do! Tumblr, where the dress drama started, have just released some cold, hard figures about the sheer scale and reach of the troublesome garment:
– 73 million: Total number of page views on the original dress post by swiked
– 483,000: The number of notes left on the original post by the end of Friday
– 140,000: Approximate number of pageviews per minute between 10:30 p.m. and 11:30 p.m. on Friday
– 31: Total number of articles that BuzzFeed wrote about the dress
– 5,000+: Number of fan mails swiked has received since posting the photo
The conclusion here is you are more likely to break the internet with a dress than with bare ass cheek. Ahem.
Related Stories:
Featured image credits: BBC
You might also like
---
More from Social Fun
---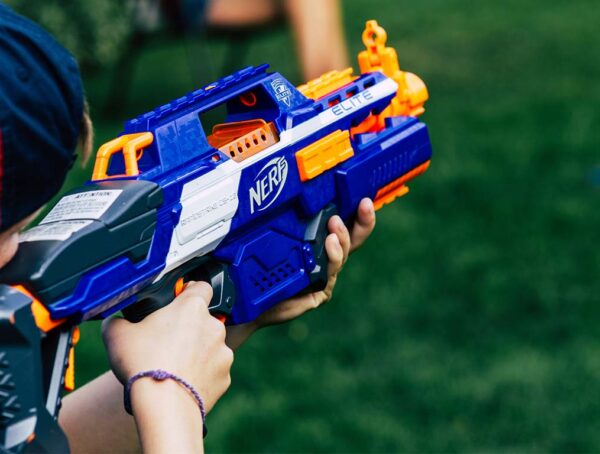 Most people have probably grown out of their Nerf obsession; if you haven't, you could become the new NERF Chief …