Well, after making my way round Rome in a whirlwind of Carbonara, pizza by the kilo (it's how it's sold, don't look at me like that), sunshine and copious amounts of art, I am back just in time to share some delicious Friday mash with you!
Now, this week has certainly seen its share of glamor, what with The Oscars AND the Brits Awards all jam packed into one little week! The Oscars were yet again a ball of heated controversy on the topics of diversity in the film industry, equal pay rights for women and even fashion comments steeped in racism (still? Really?). But let's focus on social media, shall we?
The Vine And The Birdman
A little Vine that has looped a whopping 23 million times since Monday. It features dear old Michael Keaton popping his acceptance speech back in his pocket and watching on as Eddie Redmayne wins the Oscar he clearly must have thought was destined for his role in Birdman.
I still think Multiplicity was his best work!
Twitter Mocks A Falling Madonna
On from the Oscars to the Brits and if you don't know what I am about to talk about, you must have been experiencing a severe power cut and chose to read some books by candlelight. Which sounds lovely by the way. Not the power cut as that must have been annoying if you were trying to cook some dinner at the time. Or dry your hair…ANYWAY, it's Madonna falling over.
Twitter was buzzing with comments covering pretty much the entire spectrum of sentiments under the sun. But mostly making fun of the situation as Twitter does ever so well. The wardrobe malfunction saw the Queen of Pop try to remove a cape that unfortunately, drags her with it all the way off stage. My favourite tweets are here:
Madonna at the BRITs like.. #fallingwithstyle #BRITs2015 pic.twitter.com/yzzQ8AWX49 — Emma (@milkteef) February 25, 2015
Madonna should've listened to Edna mode pic.twitter.com/EXISh2f4wy

— faye (@wtfffaye) February 25, 2015
Have you had an accident in the workplace that wasn't your fault? #Madonna #BRITAwards pic.twitter.com/yvnEUuSy90

— Alex (@AlexMcAteer) February 25, 2015
actual anxiety for Madonna. Like feel sick. Everyone go home and light a candle. That Cape is so getting thrown in the bin. — nick grimshaw (@grimmers) February 25, 2015
The Banksy Treasure Hunt Is On
Instagram in the mean time might have just seen its first glimpse of some new Banksy artwork. The enigmatic artist used his Insta account to post a captionless photo on Wednesday and send everyone on a wild art chase.
The Bristol News has apparently asked readers if they have seen the image around town as the city is where Banksy first made his name as a street artist. If you are in Bristol, lookout. And take a photo. And #post it, ok?
If you like our stories, there is an easy way to stay updated:
Follow @wersm
Kanye + Tumblr = L.F.E
Finally, I will leave you with a Tumblr that may not be new but it features the latest and greatest of Kanye West pouts. This is the pool that will illustrate all those updates on the status of your commute, lack of pizza, bad weather, no cash until payday, Mondays…any pouty occasion you care to think of. http://sadkanye.tumblr.com. This is my favourite:
Who is colour Blind?
Now to the BIG argument that broke the Internet: White/Gold or Blue Black – what colour do you think this dress is?
Even Kim and Kanye can't seem to agree…
What color is that dress? I see white & gold. Kanye sees black & blue, who is color blind?

— Kim Kardashian West (@KimKardashian) February 27, 2015
You are welcome, now go forth and weekend!
Related Stories:
You might also like
---
More from Social Fun
---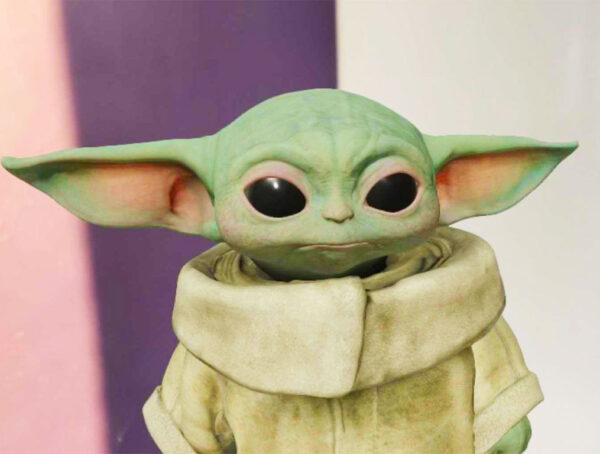 Already done with Season 2 of The Mandalorian? Maybe it's time to bring Baby Yoda in your living room with …