Happy Friday one and all, happy Friday indeed! How was your week? What did you do? What did you see? Tell me everything. For my part, seeing as it was my birthday on Monday, I pretty much turned the whole week into an ongoing treat, as you do.
But as always, pizza before pasta – here's the MASH!!!
Generosity made in @RiodeJaneiro
You know how they say the world is a horrid, mean, grotty place? Well, not in Twitter world. This week Javier Castano, a now modest shoeshine man (former graphic designer) from Spain, handed over the handle @riodejaneiro to the Brazilian authorities. For free. Literally, "para nada".
If you like our stories, there is an easy way to stay updated:
Follow @wersm
The handle will be vital in promoting the 2016 Rio Olympics and it turns out Javier here had been trying to get in touch with the Brazilian authorities for a while to organise this gracious gifting.
Antonia Pedro Figueira Mello, Rio's tourism secretary was very thankfull:
[quote]We are very happy to at last be able to use the name of our city on the social network.[/quote]
He also owned @canada and @madrid but gave those back as well. Next on the list is @japan in prep for 2020 and the Tokyo Olympics. Hip, hip, Javier!
Facebook Candy Indigestion
Show of hands on Facebook now – who has been suffering from invites to Candy Soda Pop Crush Farm Style CSI Honoluluville Saga? Well, if you are not quite the fan, I have great news. You can now block requests without deleting those eager gaming beavers.
Just go to Games (in the Apps section) – Activity  – Invitations. Select nuisance invite and click on the little cross right next to the GIANT Accept button. A pop up box will ask if you want to block said game and all invites for it. My guess is you will tick "yes" if you've come this far. You can also choose to ignore ALL invites from particular users. Aaaand breathe.
Insta Prose By RM Drake
Instagram is all about the photo, the filter and the hashtag…right? Well, it's definitely not just about that anymore! Robert Macias aka R.M. Drake, is a self-published writer. He's made his name by posting photos of his prose and poetry written on plain gray paper in typewriter font on the feeds of celebrities such as Ludacris and the Kardashian sisters.
His posts have earned him over 1 million followers and his book "Beautiful Chaos" is number 7 in Amazon's poetry category.  He has now quit his job and writes full time. You can see his work here. Social media…well done!
YouTube.com Is 10 Years Old!
This week didn't just mark my birthday, oh no! YouTube had its 10th birthday! The first upload was in April BUT the domain was in fact registered in February.
YouTube was apparently inspired by Janet Jackson's 'incident' at the 2004 Super Bowl, when her half-time performance turned into a risque peek-a-boo as we all know. Jawed Karim, YouTube's daddy, couldn't apparently  find videos of said event online, which sparked the idea for a video-sharing website.
Yes, this is the video that sparked the beginnings of the world's largest video platform…
It now has over one billion regular users although the most commented on video is Justin Bieber's "Baby" and the most watched…Gangnam Style. Sort it out world, by my next birthday I want to see some quality material up there! (p.s. keep the cat clips coming…)
Ciao!
Related Stories:
You might also like
---
More from Social Fun
---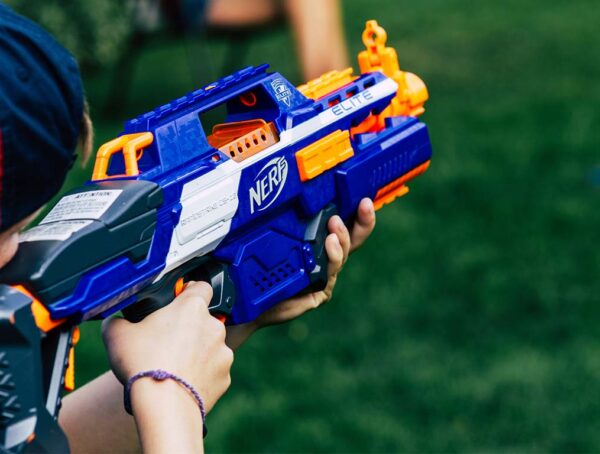 Most people have probably grown out of their Nerf obsession; if you haven't, you could become the new NERF Chief …