London-based advertising agency The Corner has created a poster campaign for Fuller's Frontier lager where the image can be revealed if you use the right Instagram filter.
There are few campaigns that manage to successfully bring OOH advertising and social media together. The latest campaign for Fuller's Frontier lager is one of them (my other old time favourite is the House of Cards campaign by Netflix.)
The Corner, a London-based advertising agency, cooperated with artist Crispin Finn, to design a poster in which the image can only be revealed by using the right filter settings on Instagram. Each poster has an image or message embedded into the artwork and have been spread around Hackney – a vibrant area of East London. Discovering them can lead you to wining prizes.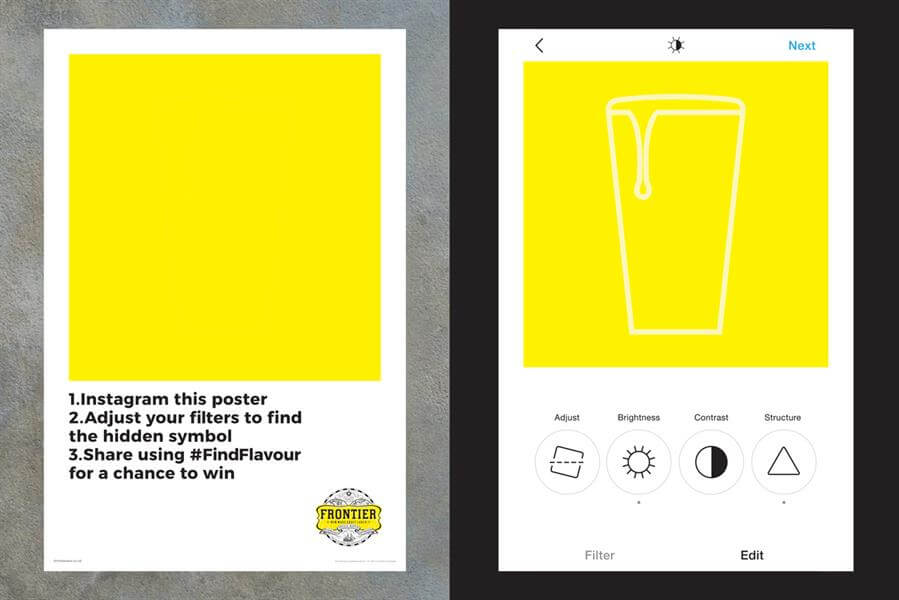 Frontier is Fuller's second biggest brand in the UK, behind the famous London Pride. Frontier has built itself a strong presence on social media, and the #FindFlavour campaign is a very clever way to put the accent on the "discover and explore" inherent message to the brand.
Jane Jones, Head of Marketing at Fuller's, said:
[quote]Our latest wave of the 'Find Flavour' campaign directly interacts with our curious Frontier fans who we know love exploring new experiences and tastes. The Corner has created an ingenious execution which combines social media with the real world to reflect the fun and adventurous elements of the Frontier experience.[/quote]
Have you come across the posters in London? Share your pics in the comments!
---
You might also like
---
More from Creative Campaigns
---
International clothing retailer H&M is announcing its new free 24-hour suit rental service to help young men searching for a …