What's the difference between Instagram and Vine? With Instagram, you get to look at food. With Vine, you get to look at food for six seconds. Badum-tish!
While Vine had a lot of critics lamenting its novelty aspect (and naughty side), savvy brands have been quick to get on board with the fun new feature, using Vine in a variety of engaging ways.

Product placement
Dove has come up with a smart way of promoting its colourful range of shower gels with this Vine offering. The product looks attractive and the clip has a humorous twist, plus they made a bit of a deal out it being their first Vine post, so people were more likely to give it a watch.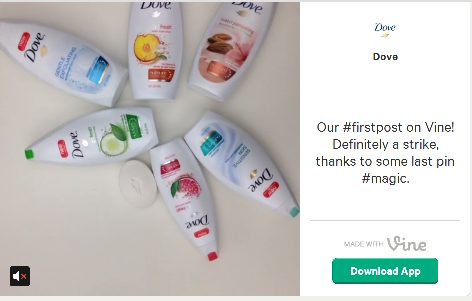 Satisfy curiosity
The six-second medium affords brands the opportunity to give fans a richer 'sneak peek' experience, so this Virginia Beach cafe (boasting just 171 followers – initiative!) helped its fans understand exactly how their morning coffee comes into being.

Share the fun
Confused.com has married the internet's love of animal videos with an appealing brand-centric competition; its fans are encouraged to upload their own Vine creations to win £250.

Fortify your reputation
BuzzFeed is already a very likeable brand, but their amusing Vine video showing staff piling out of the office for lunch says 'Hey fans, we're just like you!' = instant brand loyalty points.

Sex appeal
Marketers have long since exhausted the old 'put a pretty girl on it' ad trick, but the opportunity to do so in a six-second video clip is brand new. Don't worry, Desigual is on it.
You might also like
---
More from Other Platforms
---
To save advertisers precious time, Pinterest has announced the launch of a new ad specialty: dynamic creative.