As part of its efforts to protect user privacy, Firefox has now turned on its Enhanced Tracking Protection feature for all users, by default.
Firefox started rolling out its Enhanced Tracking Protection last October, and in June, turned the feature on for all new users. This week, Mozilla announced that the feature – which helps block third-party tracking and cryptomining – has now been turned on for all users on Firefox for desktop and Android.
In the announcement, Mozilla's Vice President Of Product, Marissa Wood, explained:
"Enhanced Tracking Protection works behind-the-scenes to keep a company from forming a profile of you based on their tracking of your browsing behaviour across websites — often without your knowledge or consent."
Users will be able to know when Enhanced Tracking Protection is working when they visit a site and see the characteristic shield icon in the address bar:

To find out which companies are blocked from tracking them, users can simply click on the shield icon, go to the Content Blocking section, then Cookies. It should read Blocking Tracking Cookies.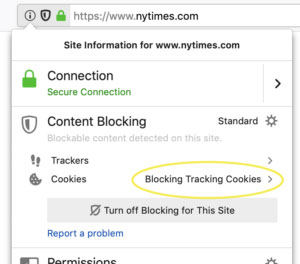 Finally, clicking on the arrow on the right-hand side brings up the companies listed as third party cookies that Firefox has blocked.
Cookies aren't the only thing being blocked. As Wood explains "Cryptominers, for example, access your computer's CPU, ultimately slowing it down and draining your battery, in order to generate cryptocurrency — not for yours but someone else's benefit."
As a result, Firefox has an option to block cryptominers in previous versions of Firefox Nightly and Beta, is now including it in the 'Standard Mode' of the Content Blocking preferences.
You can find and download the latest version of Firefox available here.
---
You might also like
---
More from Tech
---
After the Nyan Cat, the famous 'DEAL WITH IT' meme graphic has also been auctioned off as an NFT last …