Mobile's rise to prominence has lead to the need for businesses to optimise user journeys, especially if they want to increase mobile purchases. But despite this, we all know that there is only a small percentage of businesses that have been able to really "nail it." To help them increase mobile purchases, Facebook is launching a brand new ad format – collection. 
The importance of mobile in online shopping is proven, and can't be disputed. Facebook says that up to 45% of online shopping journeys contain at least one mobile action, but we also know that mobile shopping experiences aren't really that great. Despite the evidence supporting mobile as an important part of the user journey, it's clear that most businesses either ignore it, or are simply unable to optimise for it effectively. Long load times, or ineffective mobile responsiveness will cause "friction and drop-offs along the path to purchase." Users expect something different.
Collection is meant to make the mobile experience a seamless one, offering marketers "better ways to visually inspire mobile shoppers," and to "tell a more visual story." The new ad format combines single image or video, placed above product images. Tapping on the ad leads the user "to an immersive, fast-loading shopping experience on Facebook that can showcase up to 50 products at a time." Tapping one of the products then leads the user to the relevant product page on the advertiser's website where the product can be bought online.
The new ad format is great for brands who want to showcase many complimentary products, or an entire category of products displayed below a video or image that grabs people's attention.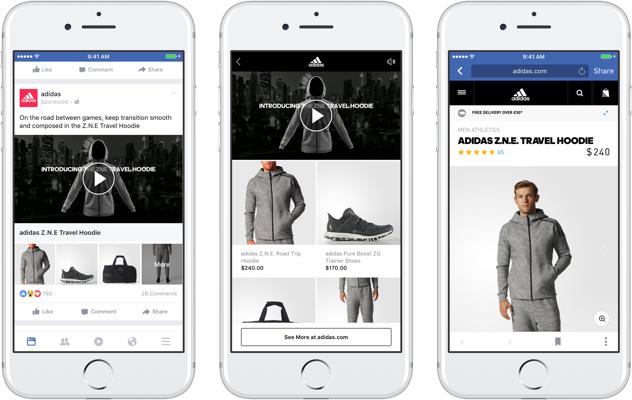 Brands Are Already Using It
Several brands have already used the new format with much success. Adidas, for example, saw a 5.3x return on ad spend with the new format while promoting its new "Z.N.E Road Trip hoodie and complementary product." Collection also "has outstanding cross-selling capabilities," as Rebecca Watts, Performance Marketing Senior Specialist at Adidas, explained.
Similarly, Tommy Hilfiger, used the collection ad format for its recent "See Now, Buy Now" fall 2016 launch. The mobile campaign lead to a 2.2x higher return on ad spend. Avery Baker, Chief Brand Officer at Tommy Hilfiger explained that,
[quote]collection creates a consumer experience that reflects how current generations of digital natives interact with their favorite brands.[/quote]
With the launch of collection, Facebook also announced that it will be testing a "new outbound clicks metric" to provide marketers with more insight into performance on a formats like Canvas and collection. The test, which will begin within the next few weeks, "will show the number of clicks leading people off of Facebook," or Instagram. Clicks from Instagram to Facebook will also count as outbound clicks. For example, some marketers may want to direct users to a Facebook Page. Later on in the test, outbound clicks will be developed to only report "clicks off Facebook-owned properties."
Collection started rolling out globally, last week, so if you already haven't seen it, it will be coming to Ad Manager or Power Editor soon.
Collection can help you:
1. Drive product discovery on mobile: Pair video or imagery with relevant products for a more engaging experience

2. Deliver a seamless browsing experience on mobile: People who tap on your ad can browse more products in a fast-loading, full-screen experience, without leaving the Facebook app.

3. Convert demand into sales: Get the most interested customers to continue to purchase on your website or app.
---
You might also like
---
More from Facebook
---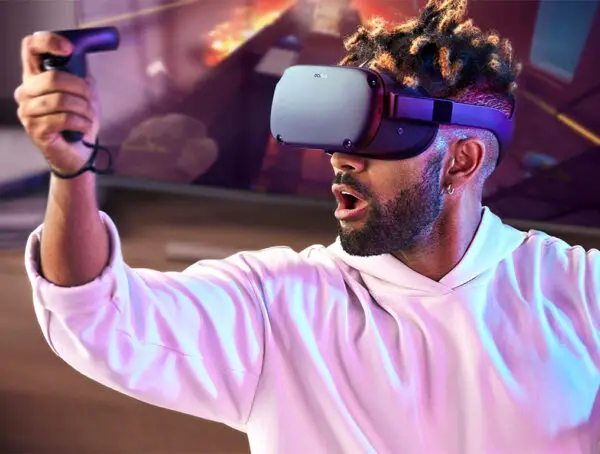 As VR content expands beyond gaming, Facebook is bringing support for subscriptions on the Oculus Quest platform.