Facebook announced it's removing 20 Ads Manager metrics to help advertisers focus more on the 'more meaningful ones.' Also, it's introducing new labels on some others, providing more clarity on how they are calculated.
Businesses can always do with more insight into Facebook's measurement tools and metrics. So, starting this week, Facebook will start to label some of its metrics in Ads Manager, providing more clarity on how they are calculated. The new labels – displaying whether a metric is "estimated or in development" – will now appear as tooltips as part of the Ads Manager reporting table, but also in the customise column selector. They will be available to view on all ads that run on Facebook, Instagram, and Audience Network.
The recent Facebook Business announcement explains the difference between the two metric types.
"Estimated metrics" are those that "are calculated based on sampling or modeling. They can provide guidance for outcomes that are hard to precisely quantify."
Facebook may update its measurement methodologies as it gathers more data and improves its signals. The post further explains that a good example is reach. "Reach is an estimate of the number of people who saw an ad at least once." So, in order to report it, Facebook analyses "the number of people who see an ad multiple times, de-duplicate them and then calculate the total number of unique people in real time." This is exactly how the same metric is calculated for TV ads and on other other digital platforms.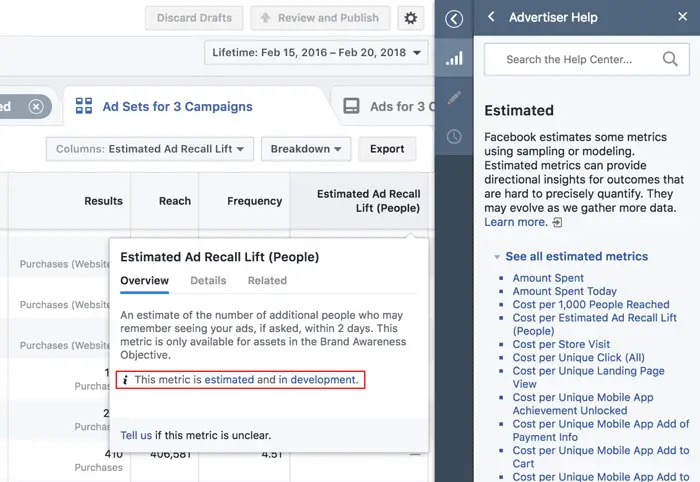 On the other hand, metrics in development might be new and/or in testing. They "evolve" as Facebook improves its "ad products and measurement methodologies." When Facebook launches new ad features it needs metrics to test. These will "determine how to provide the best insights."
Thus, metrics can change as the products themselves evolve, or as Facebook gets more feedback from businesses. Metrics in development are subject to change. Facebook uses the example of "estimated ad recall lift" as a metric in development as it "is still new and requires both polling and machine learning." The metric requires sampling, so it's labeled as estimated. However, since Facebook is still "gathering advertiser feedback on it," it will also label it as "in development."
Finally, Facebook will be removing around 20 ad metrics, in July, that marketers have said are "redundant, outdated, not actionable or infrequently used." Social reach for example – i.e. "the number of people who saw an ad with social information above it, such as noting a friend who also likes a certain brand." As a metric, it doesn't "meaningfully" differ from reach. Also, it doesn't actually indicate a business outcome. Therefore, Facebook is removing the metric altogether.
You can find a full list of all the metrics that will be removed, but you can also find out more about the changes detailed above, in the video below.
If you want to learn more about measurement on Facebook, keep an eye out for Facebook's "Measure What Matters" program that will be rolling out in March.
---
You might also like
---
More from Facebook
---
Facebook is testing a new feature that encourages users to read an article before sharing it.