After testing the 'Today In' local news and information section in six U.S. cities since January, Facebook is now expanding the test to 25 more cities.
In January, Facebook started testing a new 'Today In' section within its app featuring local news and information about local events. Anyone using the section in New Orleans (LA), Little Rock (AR), Billings (MT), Peoria (IL), Olympia (WA), and Binghamton (NY) is able to access content from recognised and vetted local news publishers in a dedicated section.
The local publishers are vetted by Facebook's News Partnerships team itself, headed by Campbell Brown (the former NBC news anchor), but the 'Today In' section contains content chosen by machine-learning. The test, which has been running in six U.S. cities, has now been expanded to 25 more, and will also offer emergency updates from local authorities, in case of natural disasters.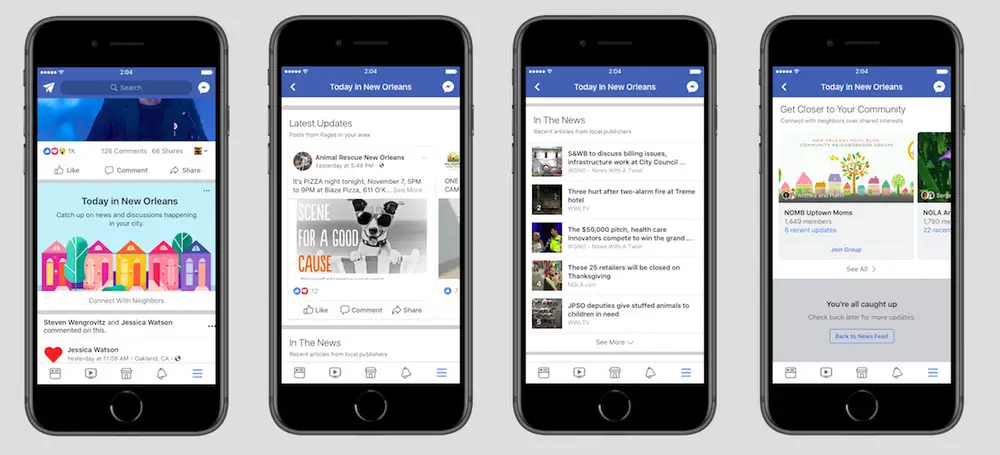 The new cities are: Anderson, SC; Bismarck, ND; Bloomington, IL; Boise, ID; Charleston, WV; Chattanooga, TN; Columbia, SC; Decatur, IL; Franklin, TN; Evansville, IN; Greensboro, NC; Greenville, SC; Huntsville, AL; Poughkeepsie, NY; Lafayette, LA; Lakeland, FL; Macon, GA; Myrtle Beach, SC; Santa Rosa, CA; Sarasota, FL; Saint Joseph, MO; San Angelo, TX; Shreveport, LA; Tyler, TX; York, PA.
If you live in one of these cities, you can find the new section in your Facebook app – just tap the menu (☰) and find the "Today In" section. The section will offer local information, like:
Weather: The current weather listed for a city, by tapping the weather feature to see a local weather forecast.
Latest Updates: Updates from organisations relevant to the local community – volunteer opportunities, local crime and safety information, and other community-related information. Updates may also include recent posts from Pages in an area that users can easily react to, comment on, and share with the people around them – i.e. neighbours and friends.
In The News: Updates on what's happening in a city – featuring recent news stories from local publishers. The section will display a list of headlines from a city. Users can tap on the headlines to read the news.
Events: Information about upcoming events in an area. Users can tap on events to find out more, show their interest, RSVP, etc.
Group Discussions: Conversations that are happening in public Groups on Facebook, or Groups users have joined within their local community.
Get Closer to Your Community: Different local Groups to become more involved in, in order to connect with others over shared interests. Users can simply scroll through and discover new local groups to join.
Facebook also says it plans to experiment with new types of content over time.
With the expansion of Today In, Facebook also announced that it is "starting a small test with some first responder Pages to help them communicate local alerts" on the platform. People want to be able to find local urgent information on the platform, so Facebook is experimenting with posting this as a local alert. This local alert indicator will be appearing in both News Feed and the Today In section.
Facebook notes that the "test is not meant to replace emergency alert systems;" it's "an additional way to provide information about a post. Also, Pages that are taking part in the test "can apply a local alert indicator to posts at their discretion and will be limited to label one post per day, setting the time for how long the post is marked as a local alert." The limit is up to 6 hours, and the indicator will also not affect the post's ranking in News Feed.
'Today In' is a part of Facebook's efforts to show more local news and information to users, and allow users and publishers to connect more effectively with their local communities. It follows Facebook's recent announcement of a test prioritising local news in News Feed.
---
You might also like
---
More from Facebook
---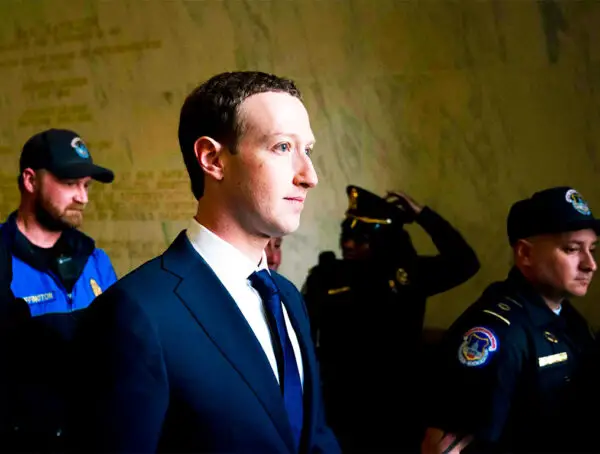 Facebook has spent more than $23 million to guarantee Mark Zuckerberg's security in 2020, as revealed by a SEC filing …