With so many targeting options on Facebook Ads, what do you choose when your goal is sales?
Online advertising is a heaven for a marketer with a clear goal who knows his or her audience. Unlike the opaque profile of people targeted and reached on other media like TV, outdoor, print etc., digital media provides a multitude of targeting options to precisely reach your audience.
The mere existence of the necessary tools, however, does not guarantee their proper use. As a matter of fact, the plethora of available targeting solutions can be overwhelming, and can lead the bewildered marketer to disregard them altogether – or to go overboard and add filter after filter of options which lead the campaign to under-deliver or not deliver at all.
So what can you do when your goal is sales?
Let's look at some basic Facebook targeting options which will transform your campaign from a generic branding campaign to a properly targeted campaign with a clear focus on sales.
1. Engaged Shoppers
The easiest and the most obvious targeting filter you can choose is "Engaged Shoppers." This is a filter which directly correlates to users' behavior and more specifically to their shopping behavior. Facebook analyzes which users have recently clicked on an ad with a "Shop Now" call-to-action and offers this information as a targeting method.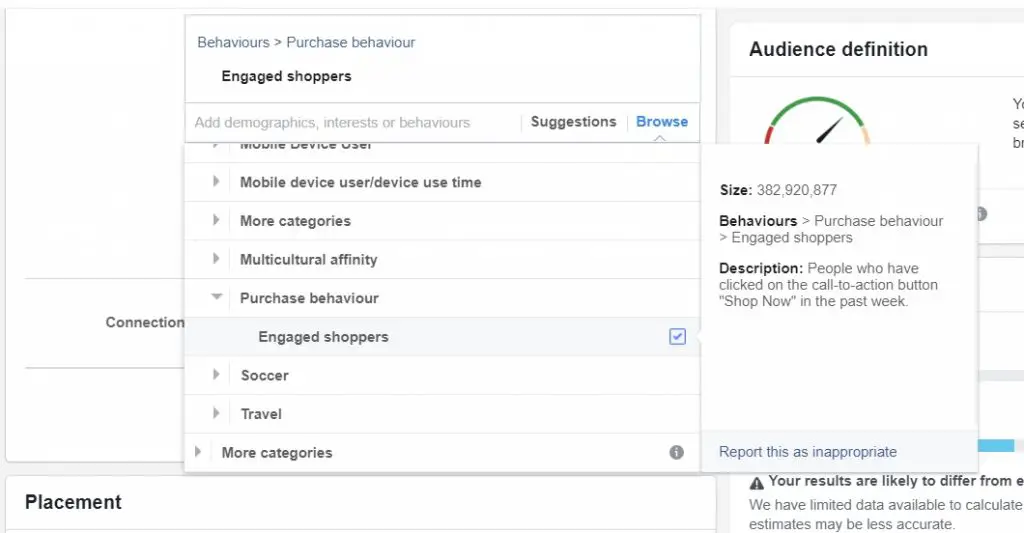 2. Shopping Interests
Another great way to target people with an interest in online shopping, is to select the relevant category. This option falls under "interests" and not "behaviors," so it isn't tied as strictly to users' behavior. However, it still allows you to reach people who have demonstrated an interest in online shopping.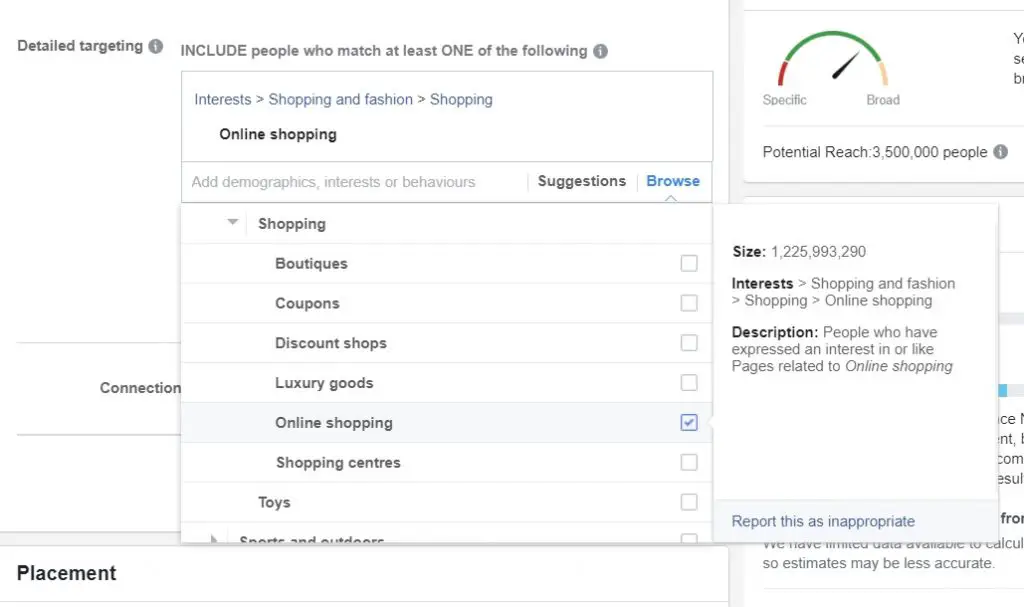 3. Value Optimization
Facebook allows us to select "Value" as the optimization method of a conversion campaign. The thinking behind this feature is that businesses will receive the most out of their advertising investment if instead of focusing on the number of conversions they receive, they focus on their return on ad spend (ROAS), by delivering ads to people who can potentially maximize the generated value.

4. Buyer Lookalike
If you have the Facebook Pixel installed on your website (and you really should!) then you can measure cool things like conversions and value. What's also cool is that you can create an audience based on the behavior of people on your website. If after each sale, the buyer sees a "thank you" page, you can create a group of people who visited this page to create an audience of purchasers you can target with new products or with a loyalty offer. Furthermore, you can create a lookalike audience based on these users to find users like them. Lookalike audiences do just that. With lookalike audiences, Facebook examines the behavior of a small group (purchasers) and helps you scale up this relatively small group by creating a large audience (lookalike audience).
5. Value Lookalike
Marketers can upload a file with customer details to Facebook. By doing so, they create a Custom Audience of customers as Facebook matches the list to users. They can then assign a lifetime value to each customer which indicates how much a business expects to profit from each customer for the entirety of their relationship. Based on this information, you can create a lookalike audience. This audience does the exact same thing we saw in the last point, but it will consist of people who match closely with your most valuable customers.
This is by no means an extensive list of what you can do on Facebook, to drive sales but it's a very good start and if you do any of the above you will already be doing more than most people. There are more technical solutions like Dynamic Ads based on a product catalog, but that is not something everyone has the necessary knowledge for, or is technically equipped to do. There are also options like consumer classification which are available only for selected countries. The options above can and should be utilized by anyone who invests money on Facebook/Instagram to drive sales.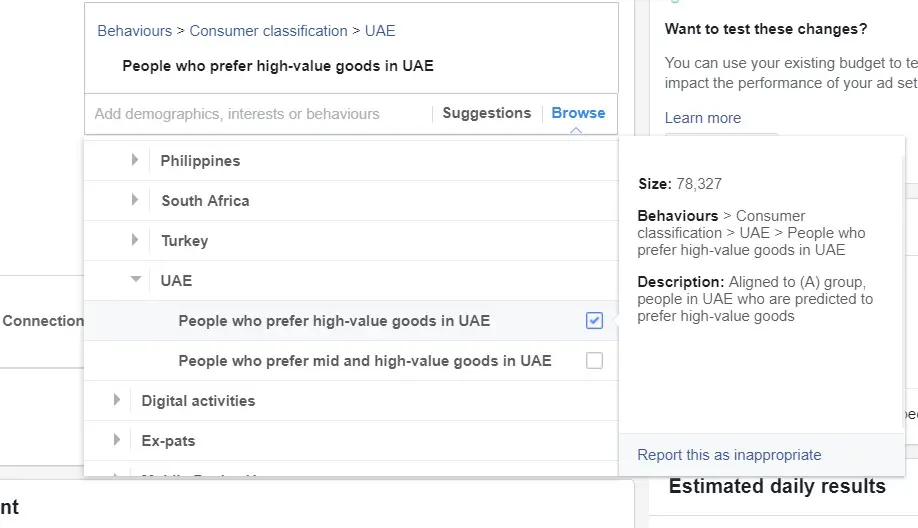 One final note: Just because you can use all of the above does not mean that you should use all of them at once (Shopping Interests AND Buyers Lookalikes AND Value Lookalike AND Consumer Classification etc.). Doing so won't have the desired effect, as your campaign might not find an audience to be delivered to. On the contrary, you can test different audiences and exclude the audiences which are not part of your test, as to not dilute your experiment, and see what works best. Finally, don't give up on broad targeting altogether. Broad targeting can help you access bids which also lead to conversions and high ROAS. You should always be testing to see what will help you the most.
Chris Palamidis
 is Head of Social Media & Google Advertising for Mindshare Greece. His main area of focus is digital media strategy. Chris has worked with tens of multinational clients and has helped them implement innovative digital media campaigns to reach their business goals.
Read next: How To Avoid Negative Brand Associations When Using Facebook Ads And Google Ads
---
You might also like
---
More from Experts Talk
---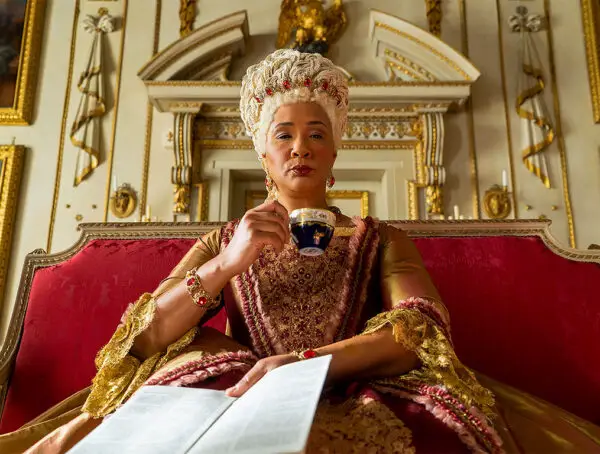 A new musical could soon come to life on TikTok, WhatsApp users are flocking to Signal and Fiverr will run …