Facebook's fight against fake news takes another turn with the launch of Trust Indicators – a feature that tells readers more information about a publisher.
Early last month, Facebook began testing a new "more info" button on posts, that when tapped on gave people more context on the articles they would see. The button would provide information like a description of the publisher, trending articles or related articles about the topic at hand, as well as information about how the article was being shared by other people on the platform.
Now, Facebook will begin to test a new feature – Trust Indicators – established by the Trust Project to "enhance people's understanding of the sources and trustworthiness of news" on Facebook. The Trust Project is an international collaboration of news and digital companies whose goal is to build more trust in the press, and it is informed by feedback as part of Facebook's Journalism Project.
Trust Indicators are available through the "more info" button module and they are being tested with a small group of publishers for the time being. Publishers that are part of the test can "upload links to additional information through their Brand Asset Library under their Page Publishing Tools — including information on their ethics policy, corrections policy, fact-checking policy, ownership structure, and masthead."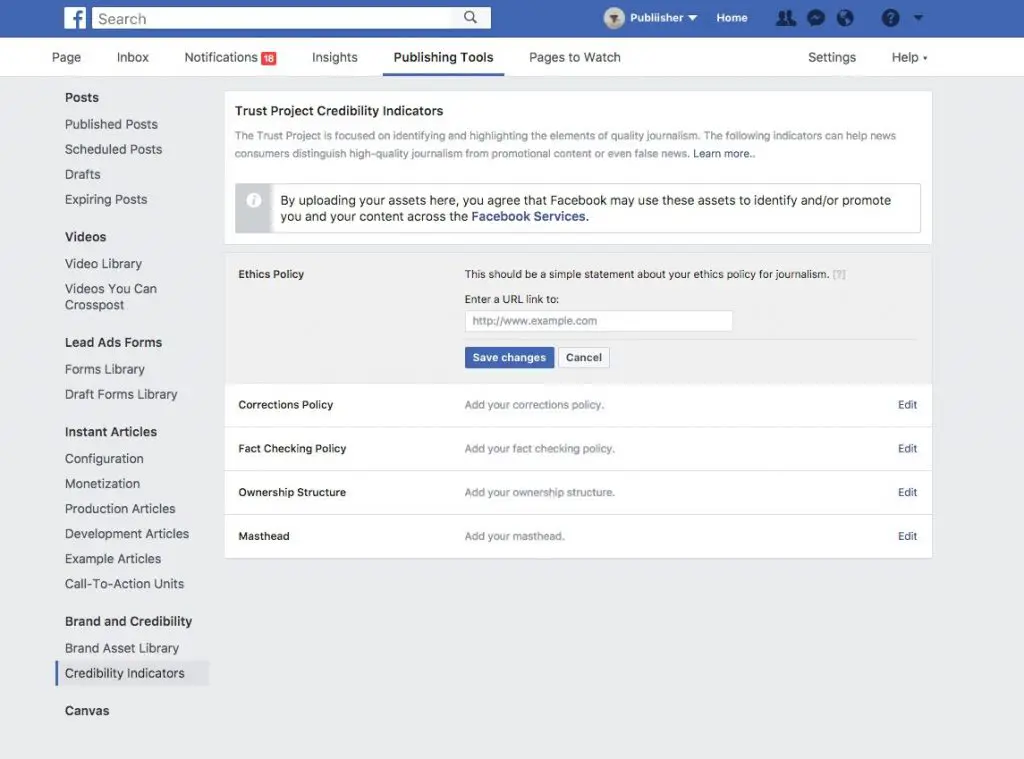 As people then tap on the module on articles in their News Feed, the indicators will appear as additional context within. Facebook says that it decided to start with certain "Trust Indicators based on direct feedback from publishers," but will expand these over time.
The whole point of these indicators is to provide access to contextual information about a publisher that allows people to evaluate whether they can or cannot be trusted based on the information shared. As Andrew Anker, Product Manager at Facebook explained in a recent Facebook Media post to announce the test,
[quote]This step is part of our larger efforts to combat false news and misinformation on Facebook — providing people with more context to help them make more informed decisions, advance news literacy and education, and working to reinforce indicators of publisher integrity on our platform.[/quote]
Facebook also said that it will continue to work with publishers to try to improve the experiences that people have on the platform.
---
You might also like
---
More from Facebook
---
As VR content expands beyond gaming, Facebook is bringing support for subscriptions on the Oculus Quest platform.