Back in June, we reported on Messenger's plans to enhance privacy by allowing end-to-end encryption on its app for all users. On Friday, Facebook announced that it is ready to launch end-to-end encryption on Messenger, along with a mechanism that will allow messages to "self-destruct".
End-to-end encryption has been a long-awaited feature on the platform. With users becoming more and more aware of online privacy and security, it was a one-way road for Facebook to roll out a feature that would ensure that its users can keep their conversations truly private. From the information that has been made public, it is understood that Messenger will give its users the option to store their conversations on their devices and not on Messengers servers, as is usually the case.
Moreover, Messenger will now give users the opportunity to set an expiration date for their messages. Much like expiring Facebook statuses, Messenger will offer the option to have messages disappear automatically after a certain amount of time. This can vary from 5 seconds to 24 hours.
If you like our stories, there is an easy way to stay updated:
Follow @wersm
Most importantly, these new features will not have to be activated on each device. Given that Messenger is cross-platform, meaning that users can carry on conversations from different devices, once a chat thread is marked as encrypted, this will be reflected on all devices where the user is logged in.
As reports claim, Facebook will aim at making these new features gradually available by the end of the summer to all its users. So hang in there! Have you noticed these changes?
Providing more ways for people to safely share is an important part of making the world more open and connected. Whether you're asking a doctor for medical advice, sending sensitive account information to your spouse, or even your Social Security Number, it's important to have options available for sharing these kinds of very sensitive messages. That's why I'm glad to announce that Messenger is starting to test a feature called secret conversations that will both encrypt messages end-to-end, and enable you to set a timer to control how long each message you send stays visible in the conversation on both devices (yours and your recipient's).To be clear, your existing "regular" messages and calls on Messenger already benefit from strong security systems as Messenger uses secure communications channels — just like banking services — all around. But we're rolling out this additional capability as an option for the most sensitive conversations you might need to have. We're making this an optional feature because a number of popular Messenger features don't currently work, or can't work with end-to-end encrypted conversations, like using Messenger across multiple devices, archiving all your past conversations in case you lose your phone, and sending rich content like animated GIFs.We're looking forward to getting feedback before we make this feature more broadly available this summer. We've put a lot of thought into the design and implementation of this capability, and we are grateful to the security and privacy experts who have given us their valuable input all along this journey.

Posted by David Marcus on Friday, July 8, 2016
---
[wysija_form id="5″]
You might also like
---
More from Facebook
---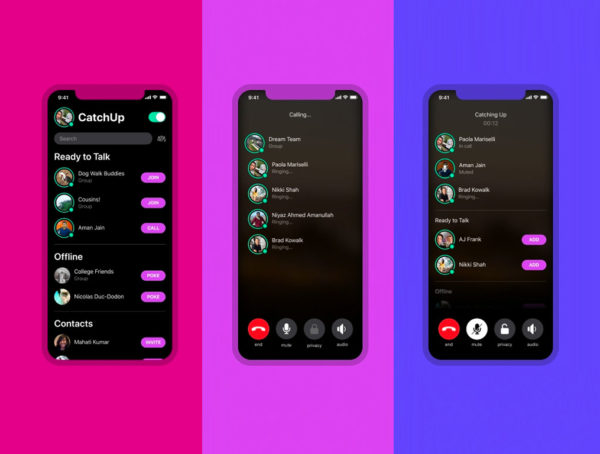 Facebook is launching a new audio-only app that lets people know when their friends are available for voice conversations.
Editor Picks
---