In a further bid to burst your filter bubble, Facebook is silently rolling out a new Twitter-like feature that surfaces public posts in a new "Latest Conversations" section.  
The new section appears in search results that have been conducted on mobile, and it includes public posts related to your search. This is a new way to find out how ordinary Facebook users are discussing topics, and what they are saying about a specific subject. They give you a better idea about what other users – outside your "filter bubble" – are actually saying, and this exposes you to the breadth of opinions around a topic.
Up until now, Facebook's search results would only include a mix of photos, videos, groups, apps, articles, and public posts, making it really hard to distinguish between them. Facebook goes a step further with the Latest Conversations section, giving public posts their own distinct section with its own search results, and live-updating counter that shows you just how many people are discussing a topic at any time.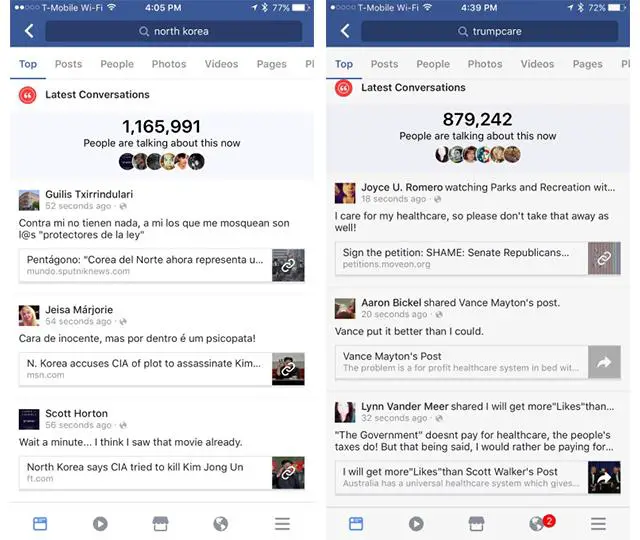 It's a step in the right direction, but it's still quite rough around the edges. While it gives you a good idea of what's being discussed and how it's being discussed, you still can't filter out posts in specific languages so you may have to sift through many posts written in other languages, by users across the globe. Also, despite having a live counter, you will need to go back and refresh your search results to surface the latest posts. You may miss something in this process. Finally, the new section only appears when a specific topic is being discussed by enough users.
Despite its caveats, Latest Conversations does offer every single public post related to your search in reverse chronological order. And that's one step in the direction of allowing you to widen your horizons, and expose yourself to different opinions being expressed across the social network. And Facebook will most probably add features to it if it sees that people are using it.
Image source: TechCrunch
---
You might also like
---
More from Facebook
---
As VR content expands beyond gaming, Facebook is bringing support for subscriptions on the Oculus Quest platform.