Cleaning has never been so fun. 'Doomba' turns your Roomba's cleaning maps into new Doom levels, so you can fight hordes of demons instead of spending time cleaning. Yes, you read that right.
No matter how old you are, you have, are or will eventually play Doom. The father of all 'Shoot'em Up' games is one of a kind. Part of the reason why Doom is one of the most popular games is also because you can build your own levels.
With 'Doomba' Rich Whitehouse has taken the whole "build your own" to another level. Rich created 'Doomba' the first ever tool that can take cleaning maps from your Roomba and convert them into Doom levels, according to Polygon.
Rich, a developer, first had the idea when him and his wife were researching robot vacuums. Curious to find ways to "make something out" of the floor maps Roomba can generate, he had the idea to create 'Doomba.' In his own words:
"I soon realized that there was a clear opportunity to serve the Dark Lord by conceiving a plethora of unholy algorithms in service to one of the finest works ever created in his name. Simultaneously, I would be able to unleash a truly terrible pun to plague humankind. Now, the fruit of my labor is born. I bring forth DOOMBA, a half-goat, half-script creature, with native binary backing for the expensive parts, to be offered in place of my firstborn on this fine Christmas Eve."
'Doomba' is actually a plug-in for Noesis, a tool built by Whitehouse himself. As a game designer, Noesis helps converting a model from one platform to another without having to redesign it from scractch.
But, just forgetting the technical side of it for a minute, think about it: 'Doomba' lets you plays Doom in your own apartment, thanks to the smart little device which also happens to clean your floors. That, just that.
Go on, try it: Doomba
---
You might also like
---
More from Social Fun
---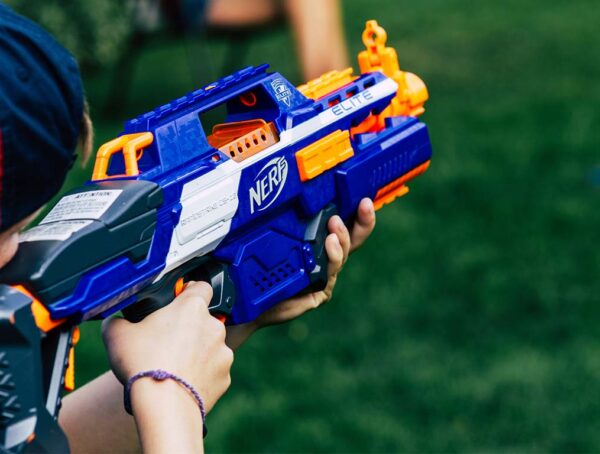 Most people have probably grown out of their Nerf obsession; if you haven't, you could become the new NERF Chief …