Ello is the absolute buzz among social media users and marketers. The new social network, published a manifesto where it claims that it will be ad-free for life. But is this the case?
You see, we agree, Facebook (and soon other networks) is cluttered with ads. It's sometimes difficult to distinguish whether it's a social network that connects people or if it's an advertising platform. And Ello, has masterfully shifted our focus towards this direction: its absence of advertising.
However, our friends at Social Media London, have published this interesting photo (you can find the whole text here):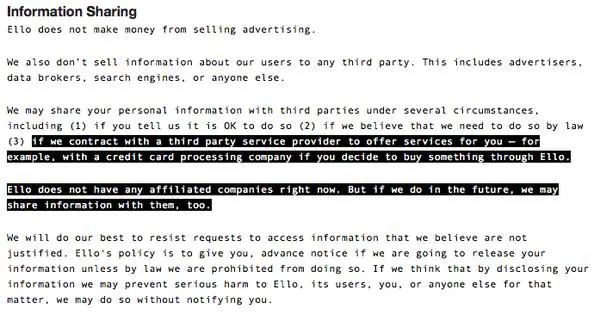 Now, Ello may swear that it will be perpetually ad-free, but this doesn't mean it won't share your personal details with third parties. And while it claims that "you are not the product", it seems to cause some controversy here.
Which brings us to a valuable question: Which is more important? Ads or personal data? While Facebook has never claimed it won't keep your personal data, Ello is sugarcoating this move with an ads-free policy.
What do you think? We would love to hear your opinion on the matter.
Related Stories:
You might also like
---
More from Other Platforms
---
As VR content expands beyond gaming, Facebook is bringing support for subscriptions on the Oculus Quest platform.