Harvantics Wall is a new social media platform that lets you build your own social Wall in seconds, cover topics or events that you're interested in, embed the Wall on your website, have access to real-time social data and more.
So, What can you do with the Wall?

 Build your own social Wall, your own social website
 Build separate Walls for your favorite hashtags
 Explore in a beautiful way what your friends or favorite websites are sharing
 Embed your Wall on your website
 Create a mobile site with content from your social networks, in seconds
 Build Walls to cover a story
For the time being you can only login with your Twitter Profile but other social media profiles should soon be available, according to Pavlos Linos, Co-Founder, harvantics.com.
Here is a screenshot of my Social Wall on Harvantics.com: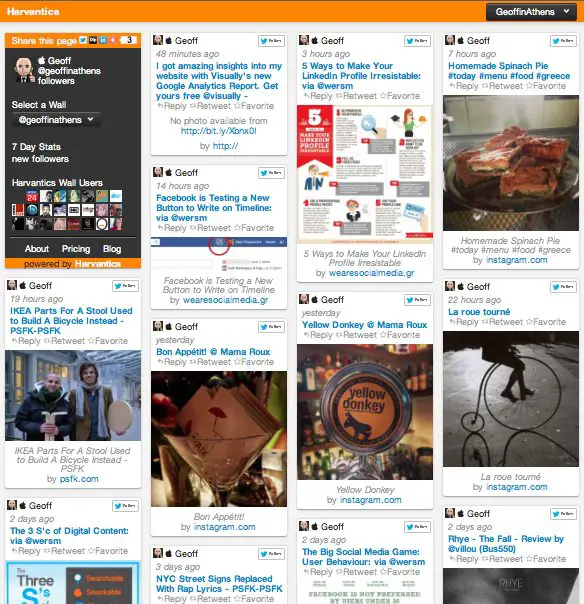 Harvantics Wall comes with real-time social metrics and intelligence.
Along with your personal Wall, you'll have access to meaningful data to help you see the bigger picture, understand your audience and constantly improve your social media presence.
All data are in real-time and include:
fans and follower growth
mentions of you, your products or services during time
tweet performance by impressions and reach
frequent users and influencers
top tweets
competition research, head to head performance or other comparisons, e.g. PlayStation vs Xbox
and more…
You can learn more about Harvantics Wall by visiting their
blog
.
We think this is a good platform which can help having a better, clearer, smarter view on all your social media profiles, and of course the real-time metrics are a plus.
[READER] Let us know your opinion please :)
You might also like
---
More from Other Platforms
---
Snapchat has announced its decision to permanently ban President Trump's account.