Update 2: HootSuite's official announcement, as found on their Facebook page: "We can confirm that the functionality of the HootSuite Dashboard has been restored as of 06:03am PST. Thank you for your patience, understanding and apologies for the inconvenience caused"

Update: Hootsuite is up. No official announcement on the cause of the outage yet.

If you're a social media manager and you are using Hootsuite as the platform of your choice, then we have some bad news. Hootsuite is down. As in completely down for everyone.
The problem has been identified minutes ago and, according to IsItDownRightNow, the servers are not responding.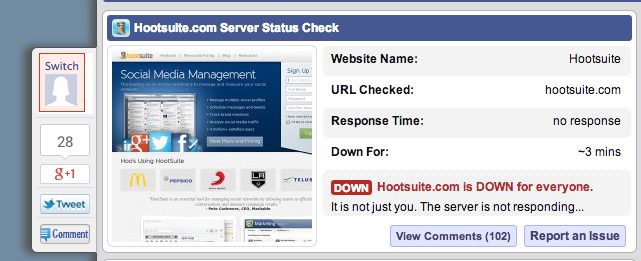 Hootsuite team issued a statement:
[quote]Our Development Team are aware that the Dashboard is not accessible as of 05:15am PST. Our Team are investigating and are working to resolve. Thank you.[/quote]
We'll keep you posted about any updates.
Related Stories:
You might also like
---
More from Other Platforms
---
Clubhouse notifications can become overwhelming. Luckily, the app allows you to temporarily pause them for a set amount of time.