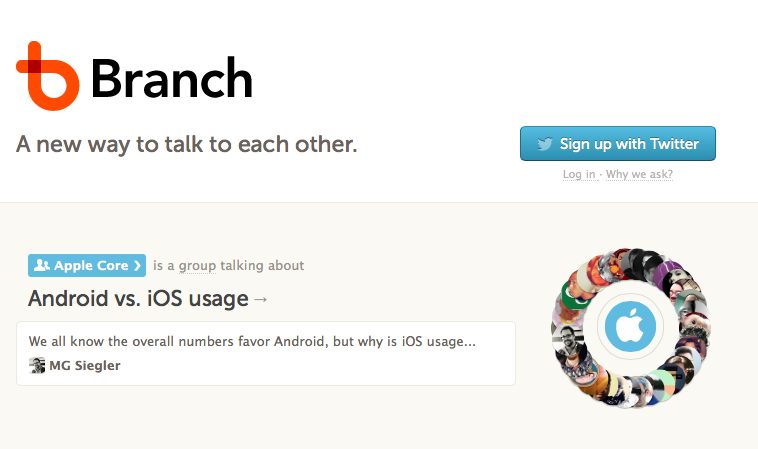 The concept of Branch is fairly simple and that is the great thing about it. Branch lets you grab anything from the Internet or anything else you have in mind and start conversations with anyone in your email or Twitter lists. And finally, each conversation can be embedded or linked to anywhere online!
Their promise: Go beyond 140 characters and have real conversations – Check out their Product Video
Create your account
Branch sign-up is fairly straught forward. Sign-up using your Twitter account, add your email and choose a password. You can eventually connect your Branch account with your email accounts (Gmail and Yahoo) to start getting connecting with people.
Start a conversation
To start a new conversation, nothing simpler: choose your topic and share your first thoughts on it! Next step? select  who among your friend list you would like to join in the conversation! And there you are, the conversation is started!
Take it everywhere
Branches (that's how they call the conversation started on Branch) can be taken everywhere! On Twitter of course, but also within email or any site by link… and you can even embed each conversation on your blog or site!
Tell us what you think of Branch (live embedded branch) :P
You might also like
---
More from Other Platforms
---
Instagram has rolled out a new Content Publishing API that will support scheduling and publishing single photo or video posts.