Social media provides an ocean of opportunities – and the beauty industry is one of the very "lucky" industries that enjoy endless possibilities. No matter if you're promoting a beauty-related product or service, you have a range of ways to reach your audience.
Social platforms are essential for the beauty industry for quite a few reasons – three of which we will list below:
Your customers are there. It's as simple as that. People are widely looking for recommendations on products and services, from their peers. According to a Status Brew study, almost half the world's population (3.03 billion people) are on social media.
Content is king of course, and being active in the beauty industry often means tons of material that is just waiting to be published. Very aesthetically pleasing photos related to beauty and style can lead to significant business success.
Also, social media can be cost-effective compared to TV ads, or ads in other traditional media, primarily due to detailed targeting. Getting new customers can be relatively easy, even on a low budget.
Here are a few tips and tricks to really "polish" your social presence, and make it shine bright like a diamond.
Showcase Your Work
A description won't be enough. You need to use photos to highlight your work, and show results!
User-generated content can bring you a lot of joy, but also a few problems if you don't take care of copyright. You can only use photos you have rights to, (or ones you can appropriately attribute), and this doesn't just apply to stock photos. It also applies to photos of your customers. Appropriate agreements on using those photos for a commercial purpose need to be signed.
If you don't, you could get sued.
Have you heard of "flat lay photos"? They are photos taken from above, and they're especially appealing when photographing beauty products, accessories, or cosmetics. To get inspired, browse Instagram hashtags such as #flatlay or #flatlayphotography.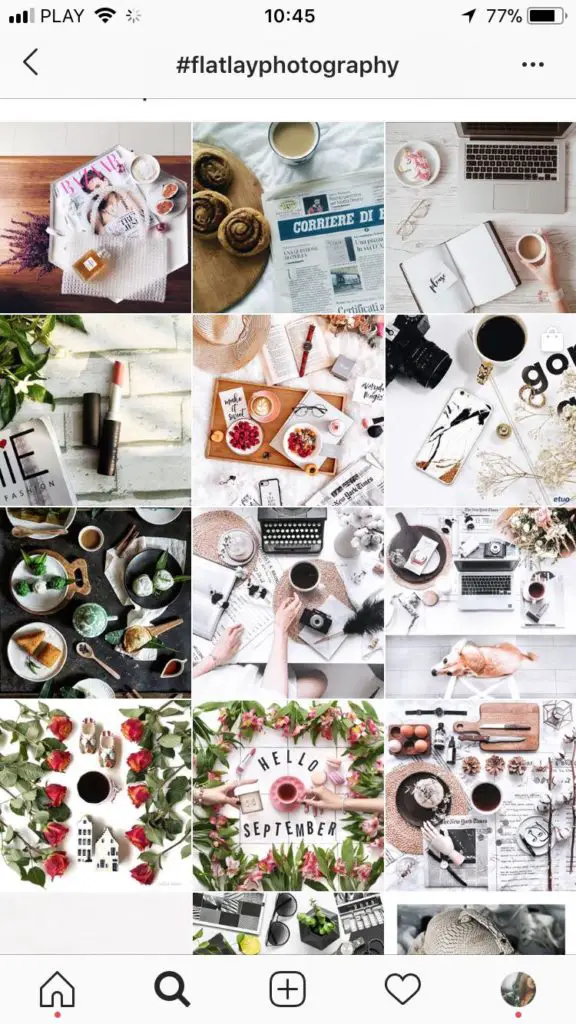 Present your "newbies": Present a new product or service, a customer's new haircut, or a new device you use in your beauty centre. In this industry, your clients desire some novelties and want to be in touch with your updates. Give them updates!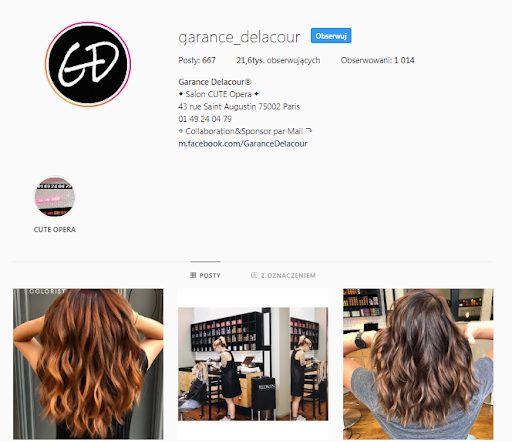 If, for some reason, your photos are not super-attractive (e.g. you've taken them hastily, or your photo equipment doesn't do a good job, at least try to make them look consistent with some common visual elements. For inspiration, Google "Instagram themes." Many brands use few colours, frames, lines, or watermarks. We live in an era where basic photo editing requires no skills – give Canva, Crello or Fotojet a try.
Believe In The Power Of Video
Video is the most consumed type of content on social media, and especially in the beauty industry. People love watching tutorials, makeup ideas, and transformations.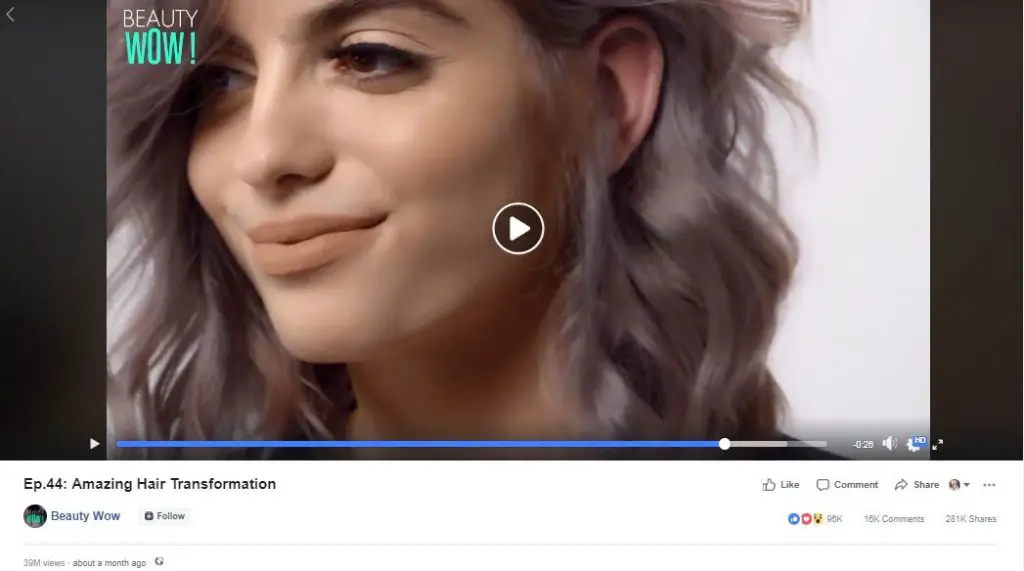 Take a look at a screenshot above: 39 million views, almost 300K shares. That's what I call engagement!
Select The Right Influencers
Finding, verifying, choosing and collaborating with influencers can be a real struggle. Set your goals and budget, familiarise yourself with this influencer marketing guide and start pitching influencers.
You should divide them into several groups: some of them can be vloggers, others can be celebrities who can help you with promotion, another group can consist of local influencers if you manage local businesses, and you can also consider make-up artists: they are very active on social media, and can have large followings.
Make Sure You Get Reviews, Testimonials And Referrals
This! Encourage your clients to give their opinion and spread some good words about your product or service. One happy customer brings a few new ones. Remember to showcase your testimonials, and keep up with the good reviews. A beauty centre full of positive feedback is more trustworthy than one without recommendations. You can use testimonials t0 create content as well.
You can use some simple tools like Lumen5 or Biteable to transform them into animations in no time and share on social media along with your blog posts.
Distribute Discount Codes
Who doesn't like discount codes? Prepare some special vouchers for your followers, and let them feel special. Dedicated codes will also help you track and verify those who came from your social channels. They can encourage some initial impulses of people hesitating or thinking about buying via social media: they can use an extra code actually to finalise the purchase.
Thanks to native forms on Facebook (Offers), you can stand out with your offer and see insights in real time.
WOMM Still Works
No one likes SPAM – we guess you too! Every day, your customers are bombarded with thousands of similar messages. Ad clutter is a real problem, and adding some more spammy messages to what they have to encounter already will not be welcomed. However, WOMM on social media still works. That's "word of mouth marketing" by the way, and it works only when it's utilised in the right way.
Promoting your product anywhere is not cool. Promoting it where people may desire it is much better: they can actually look for the solutions you offer. Local services should be promoted… locally. Use local sources, like local Facebook Groups or Instagram local hashtags.
Provide value! Personalize your message increasing the possibility of attracting people. Adjust your communication to the right audience in the right place. For instance, if someone is looking for advice about cosmetics, you can describe your product and tell them why it could be a good choice, with some external links to reviews or tests.
Make sure your voice heard!
Content Marketing Can Take You Places
Content marketing can really help you reach your business goals. Tips, tricks, hacks, tutorials, photo galleries or even plain text build your appearance as an expert and can attract people via Google, and impact your SEO. By writing and sharing your experience and expertise, you put yourself in a light of a trustworthy brand.
Go The Extra Mile
Giveaways are so 2011. Go a step further and engage your customers in a couple of other methods:
Expert Webinars – Talk about your work passion, show the newest trends, answer questions from your audience, share some knowledge. Your community will love it, and you will stand out of the competition!
Go live! – Show the launch of a new product, try to attract your target groups with live videos at fairs, meetings with influencers, or interviews with customers.
Who said you couldn't use chatbots? Take a look at Sephora. They introduced a great chatbot getting you through the whole process of choosing the right product. It can also work for services, to help schedule appointments and get answers to some common questions. You don't need any special software to prepare a few answers. It's a native Facebook option.
Your beauty brand should have a beautiful social media and marketing strategy on all platforms you choose. Be where your audience is, and reach people with content that you would find attractive. Avoid hard-selling. To be competitive, you need to optimise your activities on a daily basis and spy on your competitors constantly.
Good luck!
---
You might also like
---
More from Experts Talk
---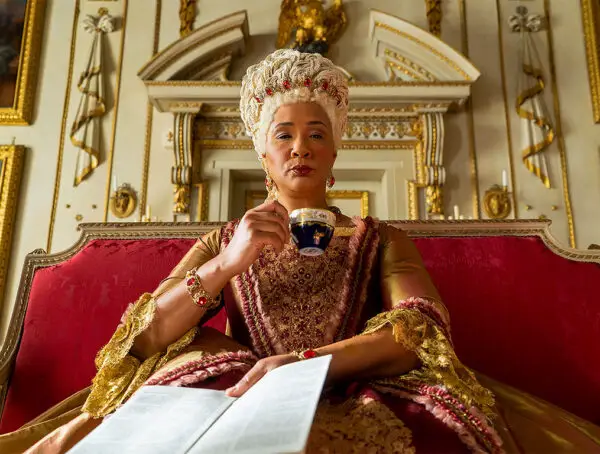 A new musical could soon come to life on TikTok, WhatsApp users are flocking to Signal and Fiverr will run …