AR and a nice hot cuppa tea aren't an automatic association for most of us. But they might be for our children, thanks to this creative educational campaign by a British tea company.
Yorkshire Tea says that: "130 years ago, our founders fell in love with a brilliant little bush that just happens to grow the tastiest drink in the world – and a deep love and respect for plants and the natural world has been part of the fibre of our family company ever since."
And it's not just nice words: the company has teamed up with The Woodland Trust to plant hundreds of thousands of saplings in UK school grounds – over 400k to date. It also has a programme in Kenya where it's planting half a million seeds that will produce fruit and nut crops, support bees for honey-making and grow borders which can keep elephants from wandering onto farms.
As if that weren't enough, Yorkshire Tea is also building a reputation for amusing and/or funky ads: for example, here's rock band Kaiser Chiefs playing second fiddle to a cuppa for them.
Or, you can head over to YouTube to watch 5,000 biscuits falling over in a domino effect. But put the kettle on first, it's a 3'12" watch.
The AR educational campaign shows how the company is using augmented reality to teach schoolchildren about the value of trees. Kids can scan a print ad: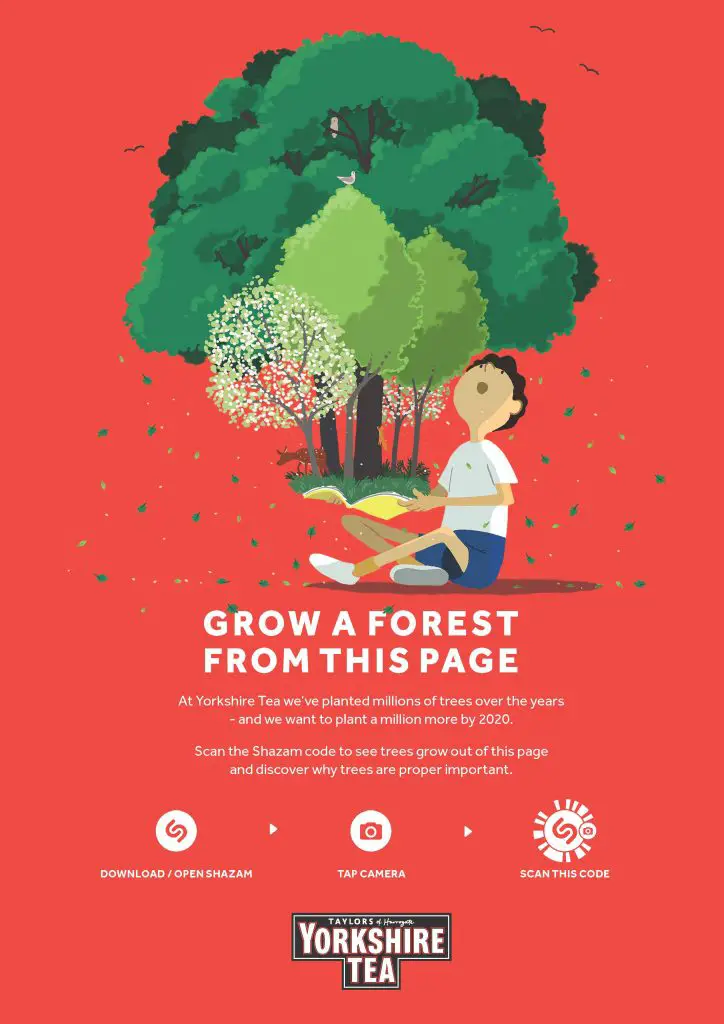 and the tech then transports them into a digital experience where they can share the challenges faced by local farmers in other countries, teaching them about the importance of trees in everyone's daily lives.
So Yorkshire Tea, which was set up in 1886 and is still family-owned, truly is augmenting the reality of trees in more ways than one.
What do you think of the campaign? Might it even make your think 'AR' as you settle down for your next cuppa?
To have your say on this and other ads, visit the ADDS site.
Tree Elven is a creative who thinks big, values simplicity, and just loves life. She's the Founder of 
ADDS
, an independent voting platform – it's like TripAdvisor for advertising.
Read next: Snapchat Introduces Snap Camera, Brings Lenses To Desktop
---
You might also like
---
More from Creative Campaigns
---
LinkedIn is introducing controls for individual posts which let users restrict who can see and comment on them.