70 years after David Ogilvy founded his own agency in New York, that agency is being "re-founded," with a new logo, branding, structure, new services, and course a brand new digital collaboration platform.
It's clear that agencies – at least the old big ones – are in a bit of a crisis. They've been around for so long, so they may have lost their way at some point. But in this digital age, some of them are making massive changes to their businesses to survive the new status quo. One of these is Ogilvy, which is getting a full overhaul that includes a massive two-year restructuring of its people and its business. Ogilvy has now been "re-founded," and its new tagline suggests it is a creative network that "Makes Brands Matter."
To start, Ogilvy has a new logo. It introduces a revised font and uses a Pantone red instead of the brighter red we were used to. Behind that, Ogilvy now has five key brand values to back it up.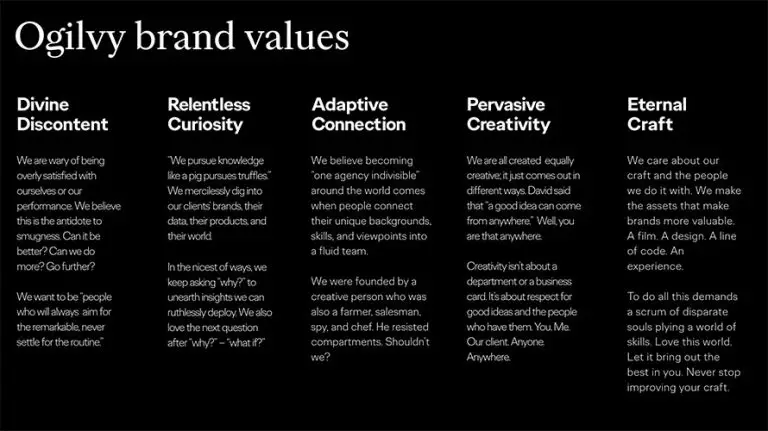 Structurally, the company has been simplified. There are no more functional brands: OgilvyOne, Ogilvy PR, Social@Ogilvy and Ogilvy CommonHealth Worldwide are gone. Instead, the company is organised across 12 "crafts" – Creative, Strategy, Delivery, Client Service, Data, Finance, Technology, Talent, Business Development, Marketing and Communications, Administrative, and Production – and six "core capabilities" – Brand Strategy, Advertising, Customer Engagement and Commerce, PR and Influence, Digital Transformation, and Partnerships.
As a result, Ogilvy will be operating under one single brand. The "re-founding" brings a new business: Ogilvy Consulting.
As worldwide chairman and CEO John Seifert explains, "this is the next chapter, not the last chapter." The new Ogilvy "isn't the Ogilvy you know," he says, referring to the complex organisation that had branched out into everything its clients needed. The tipping point, he admits was when "14 specialists would walk into a room with slightly different Ogilvy business cards."
Simplicity and the brand itself will be an integral part of the new Ogilvy, as it's important that brands understand the agency they work with. The keyword is "creativity." As CCO Tham Khai Meng explains, "we are building on the creative heritage of David Ogilvy to fuel our future."
One of Ogilvy's new tools to take on these big changes is the imaginatively-named Connect digital platform which will help teams and employees across the globe connect, communicate, and collaborate, more seamlessly. Publicis Groupe also recently launched its own digital platform, Marcel for exactly the same reason.
---
You might also like
---
More from Featured
---
For this new opus of the SKODA epic ads, the brand showcases a USP that is almost anecdotal: the door …