About.me is your personal homepage on the web. More than that, it is your personal introduction for millions of Internet users who may want to connect with you.
Up to now, About.me was a way to build your personal homepage by linking your social media profiles into one single page. It was also very useful to look for and connect with other users.
Since last week however, the site is becoming more social by introducing "replies".
[quote]Have you ever had a fantastic interaction online and wanted take it further? Maybe collaborate over email, get feedback on an idea, or meet for coffee? We have. We also see more and more about.me connections turn into meaningful collaborations and partnerships.[/quote]
Now when you receive a "compliment" on your About.me page, there are a variety of cool ways to reply. From a fast "Thanks" to "Follow me on Twitter" or "Explore Collaborating," these quick and clean replies make it easy to take the next step.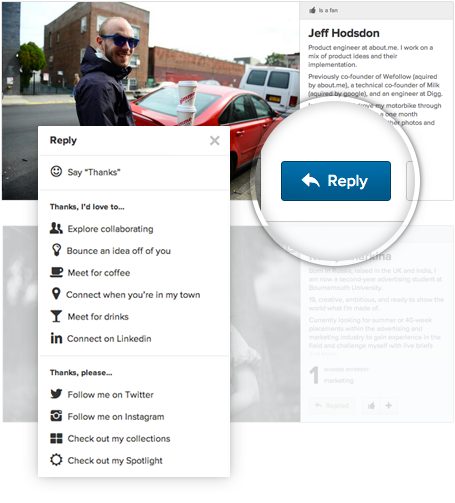 To get started, search or browse for people you're interested in connecting with and send them a compliment. Everyone likes a compliment, and you'll receive them in return. If you've already received a bunch of compliments, just head over to your home feed to Reply.
From there, pick the most appealing Reply option. Be sure to share with us when your new connection turns into a co-founder, publisher, or partner for life.
Related Stories:
You might also like
---
More from Other Platforms
---
Clubhouse notifications can become overwhelming. Luckily, the app allows you to temporarily pause them for a set amount of time.