Let's be honest. Tracking the ROI of your Facebook Ads is very important. I am not talking about the return on engagement, but rather real sales or an action that you will equate with a "conversion" – this could be anything, from having someone register for a newsletter, to an actual purchase.
In order to track this conversion, you will have to create a tracking pixel on your Facebook Ad account and manually add it to the page on your site that follows your conversion action. So, say you want people to sign up for a newsletter. You will have to create a tracking pixel for the confirmation page when they subscribe.
By tracking this, you know how much you are spending on ads and what you get in return. A bonus here, is that conversion tracking will also help you use the power of Facebook's optimised cost per impression (oCPM), displaying ads to people who are more likely to make the conversion.
How do I set up a tracking pixel?
Short answer: Create a JavaScript code snippet to place on your conversion pages. Place it. Track it. Long answer: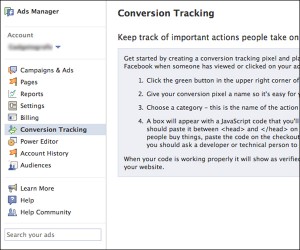 Go to your Ads Manager or Power Editor. Click Conversion Tracking on the left side column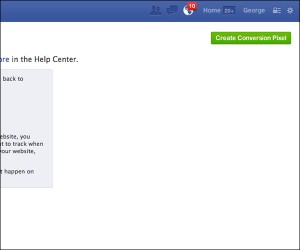 Click Create Conversion Pixel on the top right of the page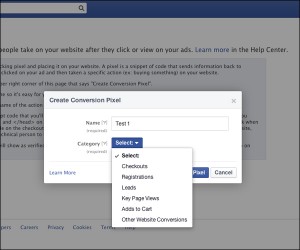 Name your conversion pixel. Give it a memorable name so you can identify it in your analytics. Select the category in which it belongs (Checkouts, Registrations, Leads, Key Page Views, Adds to Cart, Other Website Conversions).
Click Create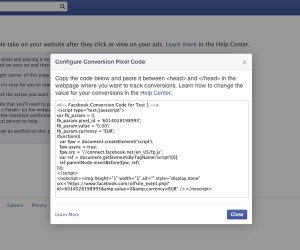 A pop-up box will appear. Click View Pixel Code. This is the Javascript that you will have to add to the page for which you want to track conversions.
Notes: After creating your tracking pixel you can view it, edit it, rename it and delete it. You can even share it with another ad account.
Finally, you can also Create Lookalike Audience by clicking on the relevant link next to your tracking pixel. With it you can "reach new people who are similar to an audience you care about" by selecting "a source and a country" and choosing "an optimisation" (Similarity or Reach). Facebook explains that "audiences that are optimised for similarity will behave more like your source compared to larger audiences that are optimised for reach".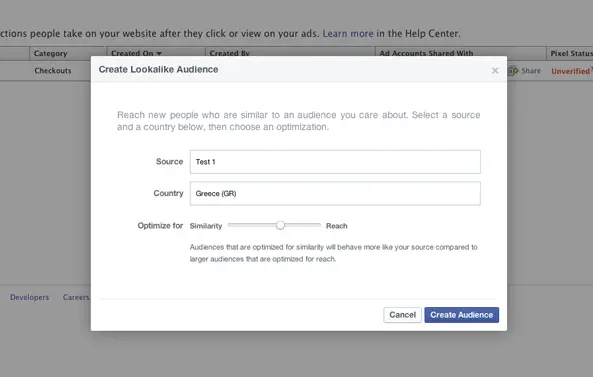 Similarity – This lookalike audience includes the top 1% of people in the country that you choose, closest to the conversion audience. It will definitely be a smaller audience, but a much better match to your campaign.
Reach – This lookalike audience includes the top 5% of people in the country that you choose, closest to the conversion audience. This will give you less precision but a larger audience.
If you are a bit more experienced, and want to find out more about Lookalike Audiences, simply check out this link: Lookalike Audiences on Facebook Developers
How do I use a tracking pixel?
To implement the JavaScript of your tracking pixel you need to add it to the HEAD of the page you would like to track (that's between the <head> and </head> tags). Remember to only use one code snippet on each page, not even if  it belongs to a different category. Your reporting may be affected by this, so be careful.
Next, head over to your ad account and create or edit an existing ad in your power editor or ad account. Check the "Track conversions on my website for this ad" option and choose the tracking pixels you would like to track for that ad. Simple. Any questions?
Related Stories:
You might also like
---
More from Facebook
---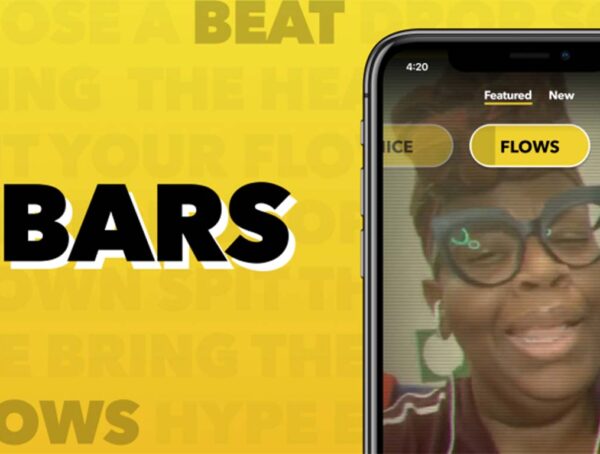 Facebook New Product Experimental team has announced a new app built to help aspiring rappers create and share their work.