If "time is money" then a freelancer knows why a good time-tracking app is important.
Productivity is precious, but how can you tell how much you really worked during the day? It's easy to be distracted when freelancing, and it's even easier to work for endless hours, without properly calculating the hours you dedicate during your day.
A time tracking app helps a freelancer:
– Calculate the time you're working on each project
– Measure the work you've added up during a week or month for each project
– Monitor the time you can bill for a client, if you're working on an hourly basis
– Have the necessary breaks after several hours of staring at the screen – If you need this kind of reminder that is.
There's no perfect time tracking app, and everyone might have different preferences, but here are some budget-friendly options to try out.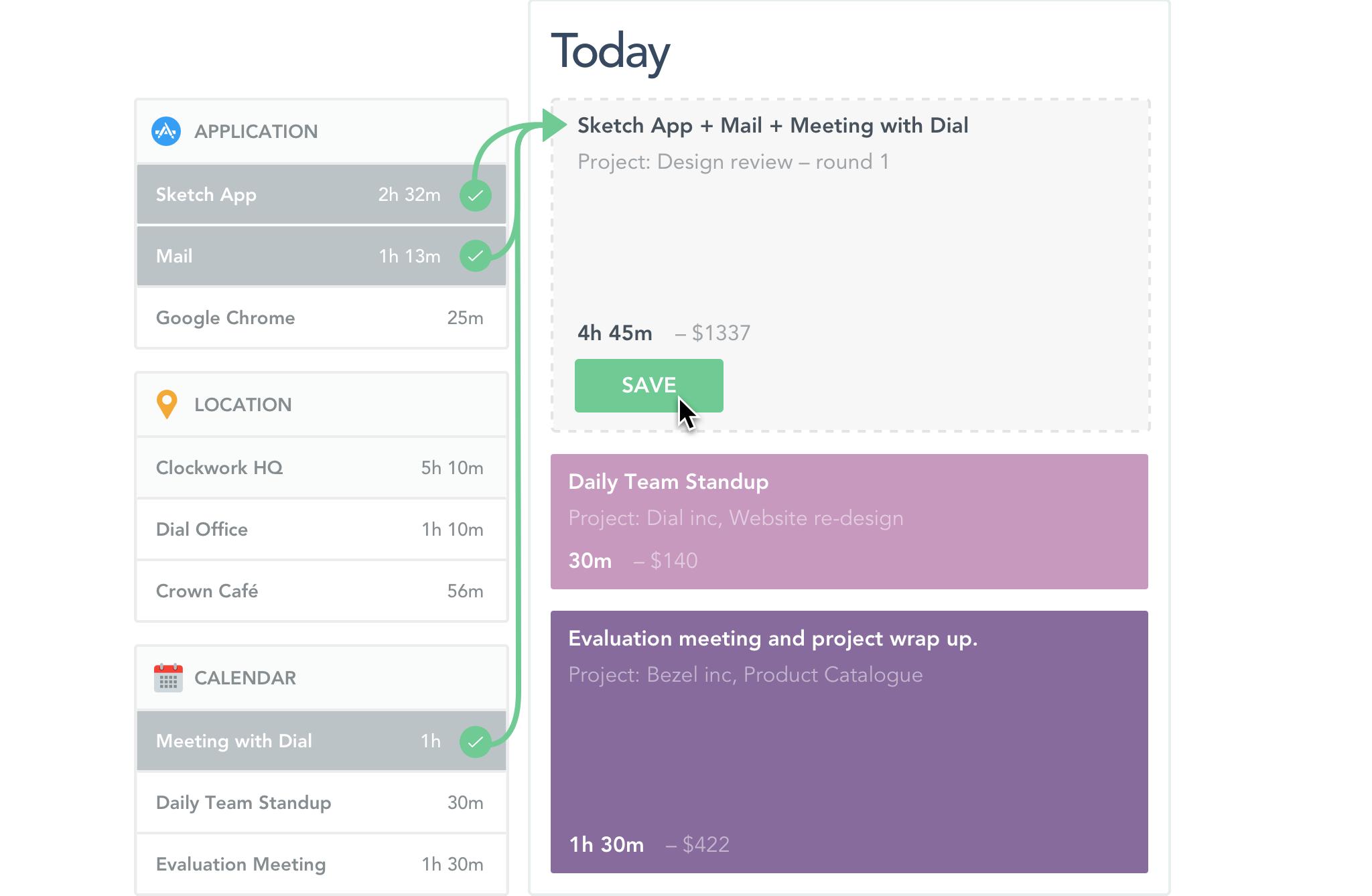 "Goodbye Timesheets. Hello Timely."
Timely is a useful app that tracks down your working time from the background and it hopes to increase your productivity without distracting you. It's not just about tracking your work in real-time, as you can also schedule your calendar ahead to have an overview of the estimated working time.
It offers great synchronising across platforms and it's available for Mac, iPhone, iPad, Apple Watch and the Web. Sorry Android and Windows users, it's not available yet, but it promises to be soon.
Price: Free (for individual use and up to 5 projects)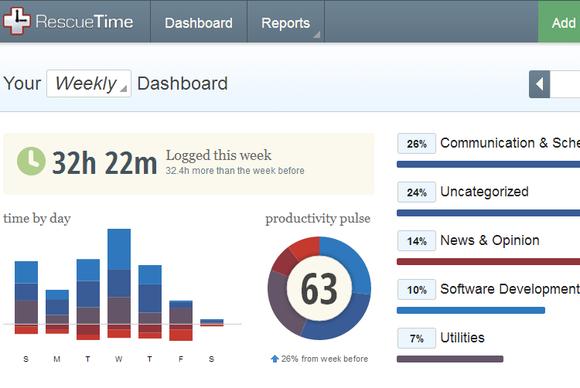 "Find your ideal work‑life balance."
RescueTime aims to increase your productivity by monitoring your daily habits on the background. It provides time tracking and reporting in a clever way that lets you focus on more important tasks. For example, if you're suffering from a short attention span that affects your productivity, RescueTime can block distracting sites to help you concentrate. Beware, if you're working as a social media manager, it may not be a good idea to block Facebook.
Reporting is based on your activity, and it can lead to useful insights on how you become more productive. If you forget to turn on the time tracker, there is always the option for RescueTime to track your computer activity, which means that you're not missing a billable time.
You can also connect it with IFTTT to add more options that may increase your productivity.
Price: Free (for RescueTime lite and a basic use)
Premium: $6.75 per month (track time away from computer, block distracting websites, keep track of daily accomplishments)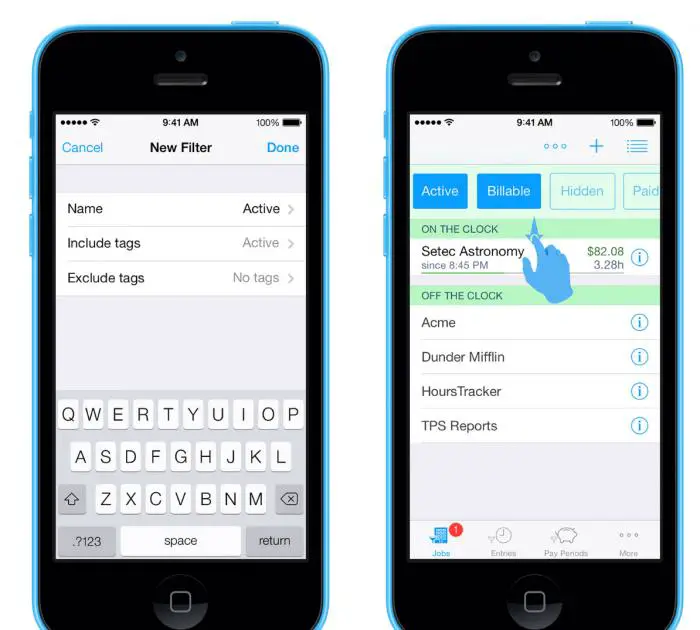 "Powerful features. Simple to use."
Hours Tracker is an easy way to track your working time with your iPhone. Its popularity and great reviews have brought it to this list. It's actually very simple to use, but also very powerful. Especially when it comes to filtering and organisation.
If you're working on multiple tasks, you can add the necessary tags to keep them handy, while filtering allows you to find each task as fast as possible. Tags can also help you separate the tasks that are complete, paid, or pending, and this can make your life easier.
If you're finding it hard to finish your tasks on time, HoursTracker can send you an alert when you're done for the day, or at least when you're supposed to be. Even if you haven't finished the job yet, it may still serve as a useful reminder (of how time passes).
Price: Free (available on iOS)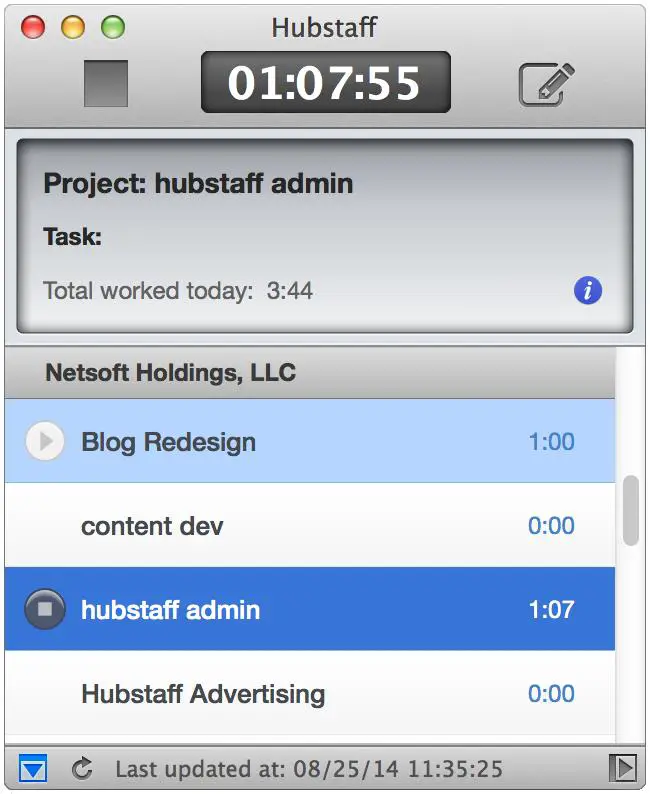 Hubstaff is a popular option for time-tracking and team-working. It's useful both for individuals and bigger teams. As with most time-tracking apps, it offers the option of taking screenshots to record your activity, although there is also the feature to disable them, even by filtering specific users and settings.
It also includes useful features for project management, and makes it easier to set up users, their schedules, or their working hours. If you're a freelancer managing a team, it might be useful to examine the automatic payments feature, facilitating the process for you during a specific time.
Moreover, it allows you to integrate all the popular apps you may be using for project management, payments, or CRM, thus offering more opportunities to save time.
Price: Free (limited screenshot storage)
Basic: $5/ month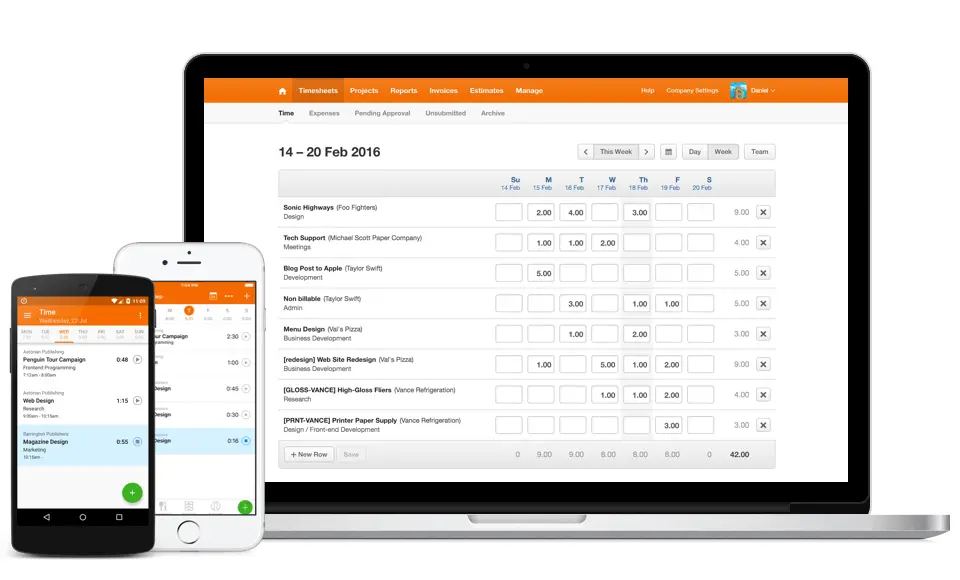 "Spend less time tracking and more time doing."
Harvest is a great combination of time-tracking and reporting, but still has a simple interface that you can't help but enjoy. It allows you to set your budgets, track your tasks' progress, and even analyse the billable and non billable time you've worked each day. It becomes even more functional with the option to connect more than 70 apps, including Trello, Paypal, Stripe, Xero, Zendesk, Slack, Salesforce, IFTTT, etc.
Its mobile apps have another useful feature. Taking a photo of your receipts and keeping track of them for your expenses. That's certainly useful!
Price : Free (for one user, up to four clients and two projects)
Solo: starts at $12 / month for 1 user, offering unlimited clients, projects, and invoices and full ad-ons support.

We're all spending endless hours sitting in a chair, and despite the health warnings, we tend to forget the importance of having regular breaks. Well, we've got a fun break-timer for you that understands your schedule. But do feel free to customise it, even the moments you don't want to be disturbed.
You can set the reminder from five minutes to two hours, which means that you have a lot of planning to do (and no excuse) for your next break. Watch out! Some alarms may be persistent!
Price: Free (available on iOS)
*Here's an alternative for Android.
---
You might also like
---
More from Lifestyle
---
Netflix confirmed it will launch a "Shuffle Play" feature in the first half of 2021, after testing the feature discreetly …