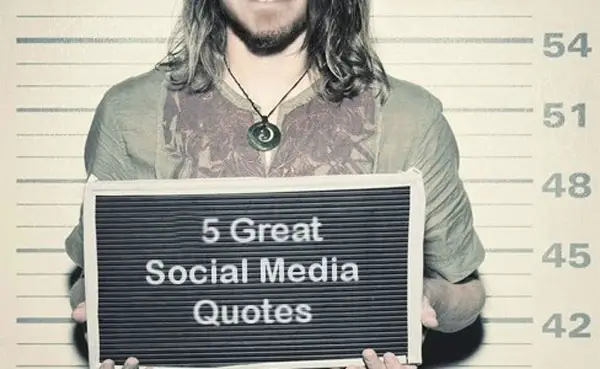 Quotes resonate with the masses. They can provide lessons and inspiration, while giving us insight into the lives and careers of people from all different walks of life. Here are 5 quotes that can help you shape your social media strategy.
"A good hockey player plays where the puck is. A great hockey player plays where the puck is going to be." – Wayne Gretzky
Lesson: If you worry about where everyone else if right now, you'll always be playing catch-up. Instead, strive for innovation and stay on the lookout for your next move. If you aren't in a position to anticipate and be nimble, determine how you can start changing your organization.
"A successful man is one who can lay a firm foundation with the bricks others have thrown at him." –David Brinkley
Lesson: You will always have your detractors. It's a fact of business that sometimes people will be unsatisfied. Social media has given people a huge platform to throw bricks, but you can use them to help build your business. If you see inefficiencies in your customer services practices from feedback online, use this as your market research and make a change.
"I can accept failure, everyone fails at something. But I can't accept not trying." –Michael Jordan
Lesson: It's marketing. Sometimes things will work and sometimes they won't. There is a famous saying in advertising: "Only half of advertising works, the trouble is determining which half." Don't let perfection paralysis destroy you or prevent you from trying new thngs. You will fail sometimes, but you will succeed other times. Just give it a shot.
"Conversations among the members of your marketplace happen whether you like it or not. Good marketing encourages the right sort of conversations." – Seth Godin
Lesson: People will talk. A lot. The good news is that though in the past you couldn't always be involved in the conversation around your brand, now you can.  So listen, respond, and engage. Once you start listening and learn what your audience has to say, you will be able to help shape and direct the conversation.
"Don't fix the marketing first, fix your product. Once you've got a good product to talk about, the marketing's going to flow from that." – Scott Monty, Ford social-media chief
Lesson: Your product is the most important part of your business. When we get absorbed in marketing we often lose sight of this. Social media will not fix a bad product or service. In many cases, it will actually amplify the issues. When you are building social into your organization, you must enable your team to address the issues and fix the problems.
Original article by Likeable.com
You might also like
---
More from Experts Talk
---
A new musical could soon come to life on TikTok, WhatsApp users are flocking to Signal and Fiverr will run …