Employee advocacy on social media. You have probably read about it from time to time, but it still hasn't received the credit it deserves. Yet. Employee advocacy is a great way for companies to build consumer trust. But how can they tap into the power of social media to do so?
In the last few years, we have noticed the rapid growth of distrust towards branded messages. Consumers are tired of being marketed to, and with advertising trying to interrupt every bit of their lives, who can blame them? I couldn't. I have an ad blocker activated anywhere I can. I skip YouTube ads and leave the room during the commercial breaks. And I'm not the only one, am I?
If you like our stories, there is an easy way to stay updated:
Follow @wersm
Too much advertising is killing (has killed?) advertising. The way it used to work was simple: companies bought ads, which increased brand awareness, which then lead to more product sales. With the profit garnered, they would go on to buy even more ads. A virtuous cycle if you like, which favored the big corporations over smaller independent companies. Now, things have changed, and are a little bit more complicated.
Yes, the targeting features of social networks – and Facebook in particular – allow advertisers and social media managers to put content in front of the right eyeballs. Most people I know who advertise on Facebook are pretty satisfied with it. But as consumers see ads populating their feeds more and more, they will start to ignore commercial messages on social networks too. As they did with newspaper advertising. As they did with radio advertising. As they did with TV advertising.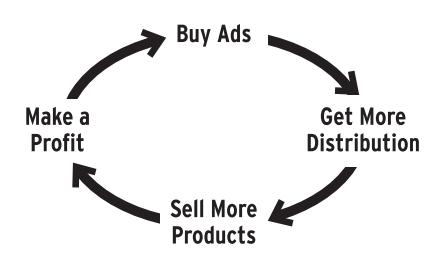 The "TV-industrial complex", described by marketing thought-leader Seth Godin
Trust. Trust is the only sustainable, reliable way a company can strive today in a competitive market. Consumers buy from brands they trust, either for their culture, message, and purpose or for more down-to-earth reasons. Perhaps it delivers what it promises. The problem for companies is that brand-skepticism is high. Very high. According to Nielsen, only one-third of consumers trust brands, whilst 90% of customers trust product or service recommendations from their peers.
So how can companies build consumer trust? And how can they tap into the power of social media to do so?
If you're the CEO of the company, the answer is staring you right in the face: your employees. They know their company and its products, so employees make for formidable spokespeople. And you know what? Consumers trust them!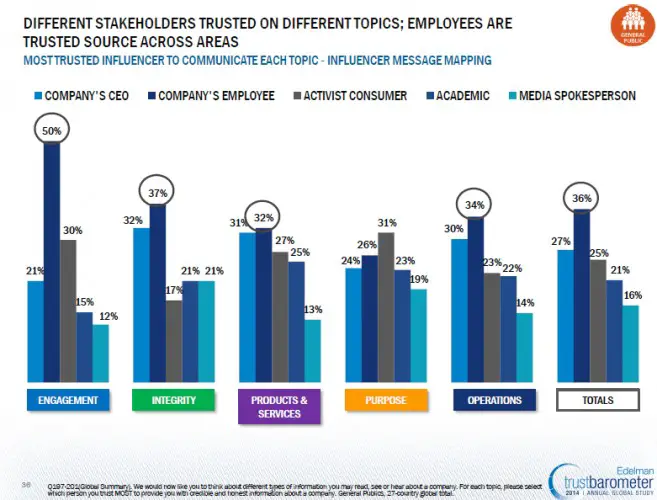 Empowering employees to participate in the marketing of a company has many benefits. Whilst a single blog post would not be enough to list them all, here are five obvious reasons why anyone should encourage employees to share branded posts on their social media:
#1. "Someone Like Me"
Consumers trust their peers, but also people they can relate to. As the chart above reveals, employees are the most trusted source of information about a company, not only because they work there, but also because consumers can better relate to them compared to the CEO of said company.
If you like our stories, there is an easy way to stay updated:
Follow @wersm
Employees have their own online networks, and chances are they are very different from one employee to the other. The more employees share branded content, the more they expose the brand to different audiences who have their own "someone like me".
#2. Engagement
Content shared through employees' channels received eight times more engagement than branded accounts. While the stat may raise eyebrows, this can easily be explained by the "someone like me" phenomenon: consumers will pay more attention to content posted by peers, as opposed to branded marketing messages.
If you like our stories, there is an easy way to stay updated:
Follow @wersm
Moreover, consider this: if you add all employees' online networks, it is more than likely that this presence will be bigger in size than the company's.
#3. Conversion
IBM studied social media employee advocacy and found that leads developed through employee channels convert 7 times more than the ones developed by the company. Seven. Times. More.
That speaks for itself.
If you like our stories, there is an easy way to stay updated:
Follow @wersm
#4. Search Engine Rankings
When talking about their employer, employees will mention and share company content with their peers. Not only will that draw folks to lay eyes on the brand's content, but it will also boost search engine rankings.
Google and the other search engines pick up on inbound links and consider that since people are sharing links from a certain website, the content is good and deserves to rank high in search engine results. In fact, according to one SearchMetrics study, social media shares are the most influential factors in working out search engines results, ahead of keywords: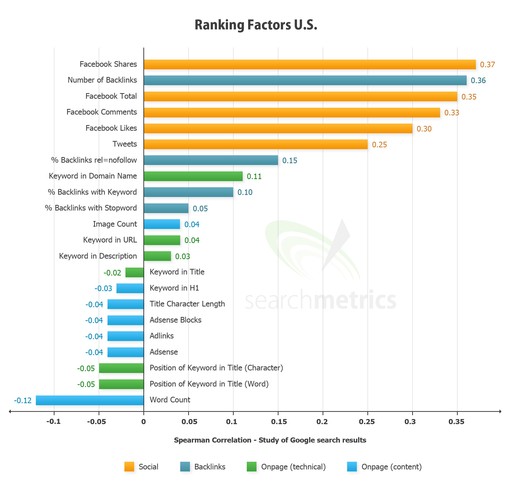 Likewise, when users are logged in on Google, search engine results are affected by people in their own social network. Therefore, when employees share branded content in their own social networks, their company is more likely to show up among search results of employees' online networks. Think about it!
#5. Happier Employees
Social media employee advocacy not only boosts a business's bottom line, but it also increases the satisfaction of the people at its core: employees themselves. According to Altimeter Group, only 13% of employees globally are engaged with their employer – an all-time low. Worse still, almost one in four (24%) is actively disengaged.
On the other hand, the study also revealed that employees working in socially engaged companies exert above-average sentiments about their brand: they are 40% more likely to believe in the competitiveness of their company, 27% more likely to feel optimistic about their company's future, as well as 20% more likely to stay at their company.
If you like our stories, there is an easy way to stay updated:
Follow @wersm
Obviously, social media employee advocacy also comes with its challenges and drawbacks. Some employees may wish to keep a clear separation between work and their personal life, and while us digital marketers take social media for granted, not all employees are active users. Some don't even wish to be. A company culture that is based on collaboration and nurturing, a good employer-employee relationship, as well as a "lead-by-example" management-style,  are also needed, before even thinking about starting an employee advocacy program.
Whilst a burgeoning practice at several tech companies, empowering employees on social media can produce long-lasting benefits for companies of any size or industry they are competing in. Authors Chris Boudreaux and Susan Emerick even predict that social employees will soon become a "basic fact of life and a requirement to compete for almost all brands".
---
You might also like
---
More from Experts Talk
---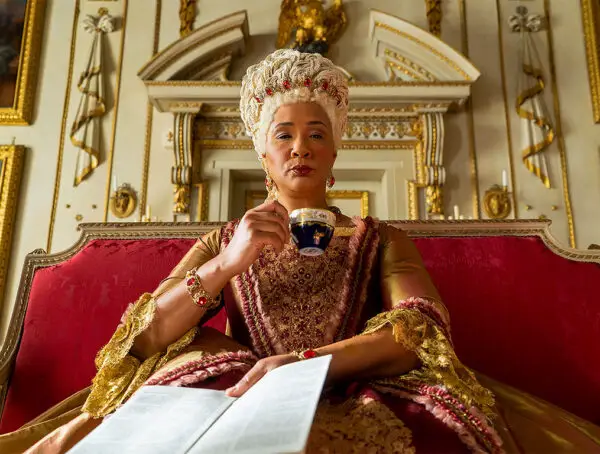 A new musical could soon come to life on TikTok, WhatsApp users are flocking to Signal and Fiverr will run …