Social media and the campaigns that drive brand success, are nothing without the people who make things happen!
Each week we profile one innovative industry executive and get them to answer 12 questions. Then, we share their insight with you!
This week we went hunting to find the "Social Sasquatch" or… Oliver Jenkins as he is known! Yes, you heard that right! Let's let Oliver tell you a bit about that. So without further ado, I present you the Social Sasquatch himself!
Hi Oliver!
Hello!
So let me just go ahead and start from the beginning. After dropping in and out of college as a teenager, studying everything from Graphic Design to Forensic Science, I finally settled on a Business & Marketing HND at Staffordshire University, followed by a BA(Hons) in Entrepreneurial Studies at the University of Birmingham. I've always had a passion to work for myself, and I've never liked taking orders from anyone… So, entrepreneurial studies seemed like a no-brainer! Until very recently, I was working solely as an independent Digital Marketing Consultant under my own Social Sasquatch brand. I worked with a wide range of B2C & B2B organisations from around the UK, helping them develop their digital marketing presence.
In April of this year I took a role as Digital Marketing Manager at Fin-tech company Sammedia, based in the leafy countryside of Warwickshire. There, I build brand awareness in the Finance Sector, and nurture leads online for their Business Development team. I continue to work with a selection of my private clients, who I have really enjoyed working with over the past few years.
In 2014 I worked with experiential agency House of Experience on their RIP Hidden Fees campaign for currency transfer service TransferWise. I have recently been working with the Lawn Tennis Association on developing their online communications strategy. In addition, I regularly get involved supporting a couple of very well known experiential marketing agencies in London, assisting them to develop effective digital marketing strategies for their client brand activations.
Before my life as a digital marketer, I worked in the Higher Education Sector as a Business Analyst / Project Manager… Many moons ago I used to organise deliveries of gas cylinders around the country each summer; to music festivals like Glastonbury!
Wow! Amazing! Busy man… and did we mention he also has an adorable little girl too (how's that for a mini Social Sasquatch!)?!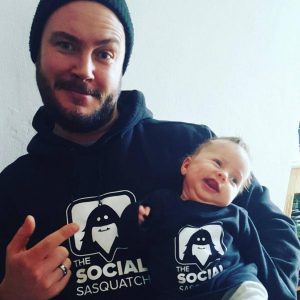 So now I guess its time we get back to social media…
About Social Media In General
1. Which is your favorite social media platform? 
Facebook! The company constantly innovates its platform, it's not afraid to roll out new functionalities, and has such a huge user-base that we can usually reach our target audiences very effectively.
2. Which social platform is used most by your brand/agency?
Twitter. We use it very successfully to amplify the reach of the B2B content we create for our clients. The ability to target promoted content to accounts that follow my client's competitors, is really effective.
3. In your opinion, what is the future of social media, and which platforms do you think will lead the way?
It depends who you want to engage with your campaigns! Snapchat has come a very long way in the past 12 months; we're already hearing about Facebook rolling out disappearing messages, so Snapchat has been offering functionality that is obviously resonating with younger users.
Ongoing, I'm really excited about Messenger codes. I always had a soft spot for QR codes and was gutted they never really became mainstream… so, for me these are like the next level; anyone with the Messenger app and a smartphone has the ability to start engaging with brands straight away!
4. Please tell us about the one social media campaign you liked the most this year
I really liked the way that McDonalds recently used digital display ads with integrated coupons in them, encouraging users to take a screenshot and visit a store to redeem their discount. It's a great idea, and I can see a lot more of this happening with Messenger in the coming months.
5. What about the latest campaign your brand or agency was involved in?
We've recently been working with Midlands-based SEO & PPC agency, In Front Digital, to create social campaigns across a range of channels. The route we're developing is great for news-jacking opportunities, and allows us to create fresh content for the campaign each week, keeping the quality score high on Facebook, and ensuring the website visits/conversions keep on racking up!
6. What is the most important thing brands and agencies must keep in mind, in order to build a successful social media campaign?
KNOW. YOUR. AUDIENCE. Whatever your objective, do your research and understand who you're targeting. Pick the right channel, make sure your content appeals to them, and speak their language. Look at Facebook/Twitter audience insights to see who is engaging with your content, and investigate what other topics they're interested in that you can leverage in your own messaging.
7. In your opinion, which is the most important KPI to watch during a social media campaign?
For my B2B clients, it's got to be Cost Per Acquisition (CPA). That's the bottom line. If we're using social channels to generate leads/sales, then Conversions are King. I'm a big fan of monitoring goal conversions using Google Analytics, I find this gives us access to a lot more detailed information about website visitors than by using some of the built-in tools on the individual social media channels.
About The Future Of Social Media Marketing
8. What will be the role of social media in the marketing mix of the future?
Closely linking PEOPLE, in specific PLACES with PROMOTIONS about PRODUCTS. Geo-targeted adverts with Messenger, integration with GPS and your friends checking into popular places in your neighbourhood. The possibilities are endless, but I see social media joining all the dots of the traditional marketing mix together, putting PEOPLE at the centre, and connecting them with the other elements in a targeted way that is relevant AND specific to the end-user.
9. What would you say is the biggest obstacle within the field of social media marketing?
Things are getting technical. I'm not a web developer. I understand a bit of HTML and CSS, but sometimes it feels like a new requirement to learn a whole new skill-set comes with each new functionality! Now, we have to outsource a lot of design work to partner agencies, and have web developers that help with landing page creation, as well as setting up Tracking Pixels and Google Analytics wherever necessary. These costs have to be passed on to the client, meaning that a hefty price-tag comes with some of the more powerful functionalities – pricing smaller organisations/businesses out of the game.
10. If you had to give one piece of advice to someone who has just started out in the industry, what would it be?
Keep learning; never pass up an opportunity to get involved in something new! Whether it's graphic design, copywriting, web development or coding, to be a successful social media marketer you'll need a lot of tools in your toolbox, to stand out from the crowd.
11. In your opinion, which is the "ad format of the future"?
I think the Facebook Canvas ads are a step in the right direction. Giving marketers more powerful tools to get the job done. It's hard to consistently engage with your audiences when they're being bombarded with creative, innovate content on a daily basis, across a range of platforms. If everyone jumps on the bandwagon with Canvas ads, they will just get diluted like the last big thing… Carousel ads for example! Being able to add multiple types of content and tell a story, creating a landing-page-like experience for users, without them having to leave the platform, is a really powerful way to engage with your audience.
Fun Fact
12.Finally, tell us one thing someone would NOT be able to find about you from looking at your social media profiles.
I became a dad to #BabySasquatch in January this year! She's already got her own desk in the office!
Brilliant interview, thank you so much Oliver!
Guys, you don't have to hunt for the Social Sasquath anymore… You can catch him handing out free high-fives on Twitter: @HairyHandshake
---
You might also like
---
More from Experts Talk
---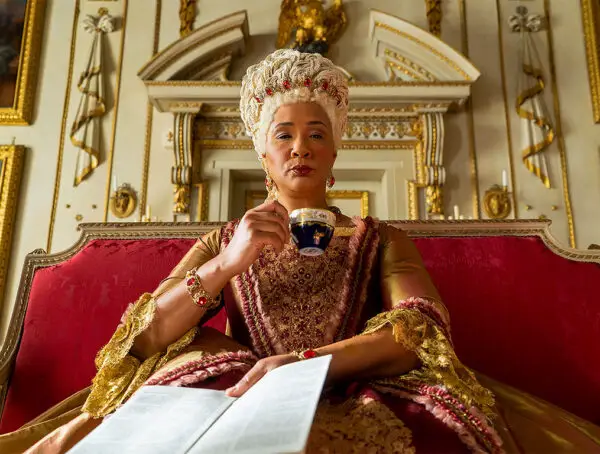 A new musical could soon come to life on TikTok, WhatsApp users are flocking to Signal and Fiverr will run …