Social media and the campaigns that drive brand success, are nothing without the people that make things happen!
Each week we profile one innovative industry executive and get them to answer 12 questions. Then, we share their insights with you!
This week, we met with Matt Jukes, the Digital Creative Director of Cheil Worldwide here in London.
Hello Matt!
I am an experienced Digital Creative Director with 18 years of experience that involved me working across both the public and private sectors, specializing in youth, fashion, lifestyle and entertainment brands.
Since 1996, I have orchestrated both above and below-the-line campaigns for many blue chip and boutique clients, including Coca-Cola, Nike, Walt Disney Motion Pictures, Lee Jeans and Xbox.
My strong design background and hands-on attitude has allowed me to lead, build and inspire creative teams.
About Social Media In General…
1. Which is your favorite social media platform?
I really don't think I have a favorite. I see them all as very much as tools. I think it all comes down to what you are aiming to achieve. You really have to consider what the client wants, and their target market to really hone in and get your message across.
If you like our stories, there is an easy way to stay updated:
Follow @wersm
Personally, the one I enjoy using the most, for me it's really about playing with whatever is new really. I definitely have clear roles in building my own personal brand. Thinking in pictures, I really enjoy Instagram, but really whatever is new and exciting can always be found on my devices.
With the excitement around Meerkat & Periscope I make some of the worst live streams you could imagine but, because it was new and exciting, I had LOADS of people following me. I guess I just really find the buzz to be really helpful in uncovering new exciting social media platforms.
2. Which social platform is used most by your brand/agency?
Once again it comes down to that audience. It is all about the audience. You really need to go where the audience is, it's as simple as that.
If you like our stories, there is an easy way to stay updated:
Follow @wersm
Obviously, we need to focus all of our resources into all of the right platforms. For example, there is no point in spending all our time on Facebook if our audience is under 20. There is just no point because chances are they are on Snapchat or Twitter, and not on Facebook.
There's lots of really interesting stuff being done on Snapchat at the moment. What is interesting about it, is the expectation of a reply from someone because it's such a personal messaging service, people want the brand to interact with everything they do whereas with Twitter it's kind of like shouting into the wind a little bit.
3. In your opinion, what is the future of social media, and which platforms do you think will lead the way?
I genuinely think it's not about platforms per se. I think we need to stop thinking about platforms and think about who you want to talk to and go to them. I mean, if we would have had this conversation 7 years ago, we would all be saying "Facebook, Facebook is the future." But the truth is, so much is changing.
I'm interested in seeing what is going to happen with all of the ads that they are placing into Instagram at the moment. If you have a look at the ads a good half of the comments are "Get the F*ck out of my feed." Which makes you wonder about the experience this actually provides for a brand.
Personally, I think Instagram, from a commercial stand point, is suffering because of the lack of tools and the fact that you can only upload from a phone.
About Great Social Media Campaigns
4. What was your favorite social media campaign this year?
While this may not be the answer you're looking for, I think every campaign is a social media campaign. Because think about it. If you have just done a paper billboard and someone walking by takes a picture of that, puts it up on their social media platforms that has instantly turned your billboard (that lacks interaction) into a social campaign. So really everything now is a social campaign and I think that a lot of agencies aren't ready to shift that thinking. Digital is no longer a channel, but a way of thinking.
If you like our stories, there is an easy way to stay updated:
Follow @wersm
5. What about the latest campaign your brand or agency was involved in?
My favorite campaign that Cheil has worked on would be what we did for Samsung on National Pancake Day (the Tuesday before Easter). We created portraits of our fans out of pancake batter. So we basically turned people into pancakes. We found this chap Dr. Dan the Pancake Man, and we had him take the portraits of our fans and draw them out of the batter and sent them back.
I really loved it because it was sort of giving back to our fans and building brand love because these people didn't expect it. What was even more fantastic though was the number of people that thought it was so awesome that they changed their profile picture to their pancake portrait, spreading the campaign to their friends and followers.
If you like our stories, there is an easy way to stay updated:
Follow @wersm
6. Are there any upcoming campaigns you are able to discuss?
The latest campaign here at Cheil Worldwide is for Samsung and their sponsorship of the English Rugby Team but at the moment that is all I can say, so stay tuned.
7. What is the most important thing brands and agencies must keep in mind, in order to build a successful social media campaign?
The biggest thing to keep in mind is, and my apologies for sounding repetitive, but it's all about your audience and I can't stress that enough. I try to get all of my creatives to explain their ideas in a single hashtag. Because what I want them to do is think about the way which the idea is going to be communicated first and not look at the hashtag as the campaign slogan. Like, "How do you turn that hashtag into a call to action?" to build engagement.
About the Future of Social Media Marketing
8. What will be the role of social media in the marketing mix of the future?
I think as with digital it's going to definitely become more and more important, but once again people need to understand that EVERY campaign is going to be a social campaign; every TV ad will link you to some platform or website.
Social media is going to become a big part of the future marketing mix, but it will become much more integrated than it currently is. Advertising is no longer about broadcast it's about the conversation and it doesn't matter what medium you go through. What matters is that the idea encourages interaction.
If you like our stories, there is an easy way to stay updated:
Follow @wersm
9. What would you say is the biggest obstacle within the field of social media marketing?
I think right now it's still seen as the ugly stepson of the internet, and the last thing to be thought of regarding the marketing. In fact, I am interviewing a lot of creatives at the moment who see social media as very dirty and below them. So I really think that is an attitude that needs to change and creatives among others need to get excited about that conversation with the world.
I think that the creatives who can do that, look past the channels and see ideas that spark that engagement and interaction are going to be the ones that succeed.
10. If you had to give one piece of advice to someone who has just started out in the industry, what would it be?
I think the important thing is to… well, don't go into the field of social media, go into the field of advertising because social media is going to become like TV, print and digital. While they all had their big massive spikes, they all were going to kill off the previous mediums, they didn't. They all added to the mix and became multiple channels.
11. In your opinion, which is the "ad format of the future"?
I think we need to get away from a specific ad format, and start focusing on content. But the reality is you NEED to entertain me and interact with me. Again, it doesn't matter where that is whether it's a pre-roll of YouTube or a sponsored Instagram post. Entertain me. Therefore it's not a format it's a way of thinking. It's all about the content and not the channel.
If you like our stories, there is an easy way to stay updated:
Follow @wersm
Fun Fact
12. Finally, tell us one thing someone would NOT be able to find about you from looking at your social media profiles.
I'd like to say my excellent shoe collection but sadly I take a lot of pictures of my shoes (Haha). Umm… I would probably say the spectacular Goth band I was in during my teens and early 20s.
We have all made mistakes but I am thankful social media didn't exist at that time, and mostly for the hair (Haha).
---
You might also like
---
More from Interviews
---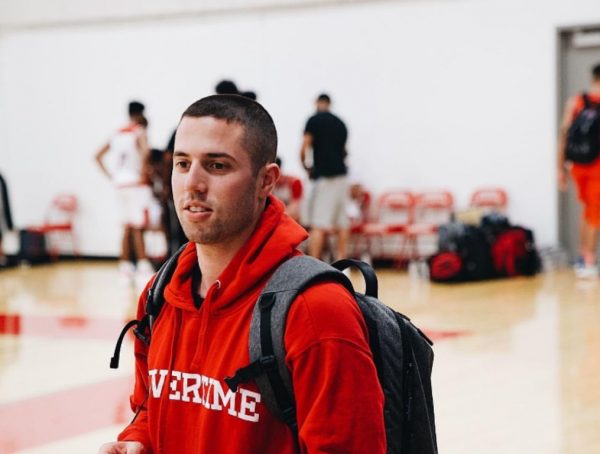 Please welcome this week's 12 Questions Expert Spotlight guest, Head of Social Media at Overtime, Thomas Weingarten.Thomas is an all-in …