Social media and the campaigns that drive brand success, are nothing without the people who make things happen!
Each week we profile one innovative industry executive and get them to answer 12 questions. Then, we share their insight with you!
This week, I had the special privilege of chatting with the Group Head of Engagement & Social Media for the UK Government Digital Service/Cabinet Office, Georgina Goode!
Hello Georgina!
Hello! Thanks for having me!
Georgina is Group Head of Engagement and Social Media at the UK Government Digital Service – the team within Cabinet Office tasked with transforming government services. Her responsibilities cover digital communications strategy, content, risk management, channel operations and building digital capability across UK government. She is a spokesperson for best practice digital engagement strategy as part of wider business transformation, including advising a number of international governments; also she is author of HM Government's Social Media Playbook.
Prior to joining Government Digital Services, Georgina worked at marketing agency Kindred as Associate Director and Head of Social; establishing the agency's award-winning social media division for clients including The National Lottery, IKEA and 'make mine Milk'. She has over 10 years of experience in digital marketing in both the public and private sectors covering all aspects of paid, earned, and owned media.
You can connect with her on Twitter and LinkedIn. In the meantime, let's get chatting!
About Social Media In General
1. Which is your favourite social media platform?
I'm most active on Twitter (mainly for professional purposes as @GeorgieC), on Instagram, and WhatsApp for messaging (both private).  I love the simplicity of these platforms in terms of functionality; on being able to immediately hook into popular trends and like-minded groups/individuals. They've also opened up the opportunities for communications – making it easier, simpler and in many ways, more interesting and playful.
2. Which social platform is used most by your brand/agency?
For GOV.UK it's Twitter. Our strategy is simple – we are an extension to GOV.UK service delivery. We direct users to the services and information they need at the right time; provide user (customer) support, and feed back data and insights to service teams across GDS and wider government, helping support the constant iteration of service delivery and design. Social Media has a key role to play, not only in marketing and communications, but in business transformation in general.
3. In your opinion, what is the future of social media, and which platforms do you think will lead the way?
The future (hopefully) is better integration into business operations. Recognising that social media done right can make you money – not just by generating additional revenues – but by streamlining working practices, operations and supporting user research. It shouldn't be about what the next shiny new platform is, but rather what social media can really (and be honest with yourself) deliver across the wider business. And the answer is not always sitting in a marketing/comms box.
Facebook will always dominate purely through sheer size, acquisition, and mobile strategies. But let's not forget platforms that are revolutionising the way we work, messaging and collaboration tools such as Slack and social productivity tools such as Trello. Those platforms that can innovate and make things easier – based on a real user need – they are the ones that will stick around.
If you like our stories, there is an easy way to stay updated:
Follow @wersm
About Great Social Media Campaigns
4. Please tell us about the one social media campaign you liked the most this year.
It's not from this year, but the 2015 NHS Missing Type campaign ticked all the boxes for me. What was so great was its simplicity in bringing the important issue of blood donation to the fore. Plus, it's also a great example of influencer marketing done right – and this isn't an easy thing. The imagery of brand logos and the iconic Downing Street sign with the letters A, O, and B missing were perfect social collateral. They created intrigue, mass media and social coverage, along with users actively wanting to get involved, omitting letters from their own account profiles. Plus the result was real behavioural change, with an additional 30,000 people registering to donate blood. Impressive stuff.
5. What about the latest campaign your brand or agency was involved in?
We're neither a brand nor an agency, and so we don't really campaign as such. For GOV.UK we are simply supporting wider service delivery – the services should speak for themselves. However for GDS' corporate channels our strategy is to engage the wider civil service, digital/tech communities, media and other governments/organisations in the digital transformation that is taking place across UK government. This includes showcasing our guiding principles (i.e. being open, agile, iterative, collaborative) and our programmes of work. We do this by hosting themed weeks, for instance, on agile working, content design, user research and accessibility – where we host live Q&A sessions with our experts, short 30-second videos, visuals, animated GIFs, downloadable posters, blogs, and in-depth audio.  We're incredibly lucky to have a fantastic design and film production team behind all of our social assets. Our most recent campaign was on accessibility.  Our production team hacked Periscope to make it accessible to all our users – an industry first. We also achieve engagement rates on LinkedIn of up to 6% (the industry average is 0.3%-0.5%) for expert commentaries via Soundcloud, and by making our GOV.UK roadmap interactive using Trello. We need to be setting the standard for how government delivers social media. Our aim is to test and learn, benchmark, and continually improve what we do.
6. What is the most important thing brands and agencies must keep in mind, in order to build a successful social media campaign?
That social media cannot work in silo. It has to be part of a bigger campaign to deliver against wider business objectives. Plus, it's no longer about straightforward channel planning anymore or 'traditional media' vs. digital media. Digital (and this includes social) is now embedded across TV, print, radio, outdoor etc… in the way it's received, executed and bought. We've gone beyond just the 'fragmentation of media' to multiple micro-channels that have to be integrated to work. The only way to simplify this is by always starting with user/customer needs.
7. In your opinion, which is the most important KPI to watch during a social media campaign?
This is an impossible question to answer. Quite simply – there is no one KPI as every social media campaign is different. Plus, not all social media strategies sit under the umbrella of marketing/comms.
About the Future of Social Media Marketing
8. What will be the role of social media in the marketing mix of the future?
There are multiple different roles that social media can play, but for marketing/comms, the same as it is now, done better with greater sophistication and insight. This is always going to be a difficult question to answer as the social media landscape is in constant flux. Ultimately it's how we adapt our skill sets – be it in user research, advertising, content design, data, customer service delivery etc… that will need to evolve.
9. What would you say is the biggest obstacle within the field of social media marketing?
Business culture.  If you're not willing to rewire how you operate (and for large, global organisations and governments, this is not easy), then digital will always be an add-on and not an intrinsic part of the marketing or operational mix. Social media's true value will never be fully exploited.
10. If you had to give one piece of advice to someone who has just started out in the industry, what would it be?
Don't worry about specialising too early. There are so many routes to go down when it comes to social media marketing whether that is advertising, content production, data/insight, PR and reputation management. Find out what you like and what you're good at. But do make sure you can demonstrate your passion. When recruiting, I'm always looking for those candidates that can clearly demonstrate an interest in digital and technology – whether that's a personal blog, experience of coding, or even a Saturday job at the local Apple store.
11. In your opinion, which is the "ad format of the future"?
From a purely commercial perspective, it has to be video. The moves Facebook have made recently (acquisitions and launching Facebook Live) coupled with the amount of video now consumed on Facebook and Instagram (as an example) cannot be ignored. Plus, personalisation of ad creative across all platforms will continue to develop with increased sophistication in first and third-party data usage.
Fun Fact
12. Finally, tell us one thing someone would NOT be able to find about you from looking at your social media profiles.
In all honesty, post 2006, it's pretty much all there, although I tend to ration what I share about my kids. Pre-2006, my escapades are all documented in diary form starting from 1992! There's tonnes in there from my teenage years that will never see the light of day despite friends saying they should be published. They are, quite literally, under lock and key.
---
You might also like
---
More from Interviews
---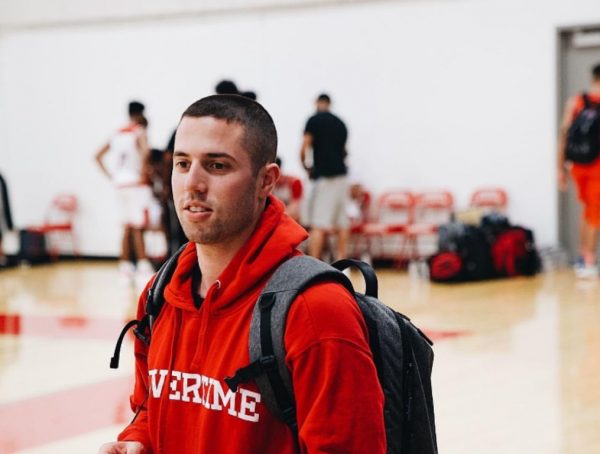 Please welcome this week's 12 Questions Expert Spotlight guest, Head of Social Media at Overtime, Thomas Weingarten.Thomas is an all-in …