Social media and the campaigns that drive brand success, are nothing without the people that make things happen!
Each week we profile one innovative industry executive and get them to answer 12 questions. Then, we share their insight with you!
Get ready to talk "personalisation and reactivity" with Axonn Media's Head of Social Media – Catherine Cooke!
Hello Catherine!
I find myself in the wonderful world of content and social media, and I wouldn't want to be anywhere else. I'm Head of Social at Axonn Media, a full-service digital content agency. I take a data-led approach to client strategies – I'm forever searching for that 'a ha!' moment of insight, that leads to a killer creative campaign concept. My approach to content marketing is: "Get to know your audience – then tell them the stories they'll want to hear."
About Social Media In General
1. Which is your favorite social media platform?
At the moment it's Instagram. Success on social media is increasingly determined by great visuals, and there's nowhere better for them to be showcased. The platform has huge potential for brands – people are still relatively "choosy "about whom they choose to follow, but they are open to interacting with brands they admire. The result for marketers is better engagement, with content that feels less of an intrusion than if it were on another platform like Facebook.
2. Which social platform is used most by your brand/agency?
We work with a many consumer and travel brands, with a slightly "older" target audience. At the moment, Facebook is still the best way to reach these groups.
3. In your opinion, what is the future of social media, and which platforms do you think will lead the way?
A tough question! In my opinion, the future of social media rests on two factors – entertainment value and usefulness to the user. Social networks need to find ways to generate ad revenue, without annoying users too much. That means creating better ad targeting capabilities. For us marketers, that means creating genuinely interesting and relevant content.
As for usefulness, I seem to be able to "log into everything" via Facebook these days. The social networks that make it as easy as possible for people to use, share, and connect to their other apps, are the ones that will survive and flourish. It'll be interesting to see how social and e-commerce services like WeChat will develop.
About Great Social Media Campaigns
4. Please tell us about the one social media campaign you liked the most this year.
I was blown away by Amnesty International's #TakeAction campaign, where personalised messages from refugees were tweeted in response to outrage expressed at Trump's travel ban. I can't think of a better incentive to take action, than to receive a personal video message from a refugee. As a marketer I admire the use of data, and the speed of reactive content produced.
Hey @sarabashiri, yes you're right. Abu from Kenya's Kakuma camp has just replied to your earlier tweet #TakeAction https://t.co/8DnIyfoSaO pic.twitter.com/5QYC4WseDO

— Amnesty International (@amnesty) February 1, 2017
5. What about the latest campaign your brand or agency was involved in?
Axonn does such a variety of great work – it's hard to choose one example. We're about to launch an interactive social media campaign for a cruise company. Having done a lot of in-depth audience research, we're creating an interactive quiz that will match "cruisers" with their perfect holiday. The quiz will be promoted on Facebook, and we're also collaborating with bloggers to create supporting campaign content. We're excited to launch!
6. What is the most important thing brands and agencies must keep in mind, in order to build a successful social media campaign?
The pace of social media. When appearing in someone's newsfeed, brands have only a few seconds to capture their audience's interest. Any social media campaign must include content that is snappy, gets to the point immediately, and above all, is not generic. It must be interesting, and relevant to the specific target audience.
7. In your opinion, which is the most important KPI to watch during a social media campaign?
It depends on the campaign goals. If the goal is brand awareness, then reach and impressions are the best metrics by which to judge success. If the campaign has a different goal, such as e-commerce, or data capture, KPIs should focus on website interactions and social conversions measured in Google Analytics.
When setting goals and KPIs, it's important to establish the place of social media in your customer journey to purchase, and the relationship between social media and your other marketing activities.
About The Future Of Social Media Marketing
8.What will be the role of social media in the marketing mix of the future?
I think we'll see a closer alliance between top level brand strategy and content. At the moment, big and bold above-the-line campaigns can feel disconnected from bottom-up social media activity. Combining the mass awareness of traditional ad formats, with highly personalised and highly reactive social content, is going to be a big focus in the next few years.
9. What would you say is the biggest obstacle within the field of social media marketing?
Corporate timidity. Social media is a conversation – fear of negative reaction is the greatest barrier to producing creative and innovative work.
10. If you had to give one piece of advice to someone who has just started out in the industry, what would it be?
It's all about data – make sure you know how to recognise and use audience insights.
11. In your opinion, which is the "ad format of the future?"
Regardless of format – personalised content and advertising is going to be the key ingredient. As targeting methods get more sophisticated, I think we're going to see more and more social media content that feels tailor-made to a user. Consumers are going to feel increasingly disenchanted with generic messaging.
Fun Fact
12. Finally, tell us one thing someone would NOT be able to find about you from looking at your social media profiles.
Umm, not much really! Us social media marketers have to practice what we preach after all. You probably wouldn't guess that I play the piano – much too badly for any recordings to find their way onto my social networks.
---
You might also like
---
More from Interviews
---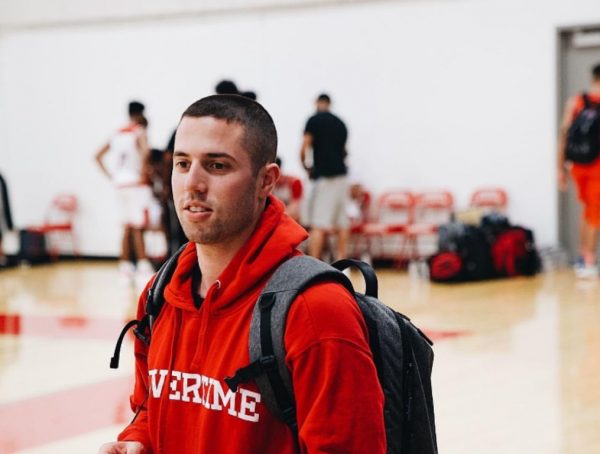 Please welcome this week's 12 Questions Expert Spotlight guest, Head of Social Media at Overtime, Thomas Weingarten.Thomas is an all-in …