Social media and the campaigns that drive brand success, are nothing without the people who make things happen!
Each week we profile one innovative industry executive and get them to answer 12 questions. Then, we share their insight with you!
For this week's feature, we take you into the world of British fashion together with Global Social Media Manager at AllSaints; the brilliant Cass Gowing!
Hello Cass!
Hello! As Linleigh said, I'm Cass Gowing, Global Social Media Manager at British fashion retailer AllSaints. Graduating in 2009 with a BA in the English Language and Journalism, I began my career in the fashion industry as a fashion blogger. From there, I had the opportunity to run various fashion brands' social media strategies at both PR agencies and in-house. Just under 18 months ago, I joined AllSaints.
Based in the East London head office, I work closely with creative, digital and communication teams to lead the social media strategy on an international level, pioneered a 'design thinking' mindset. Focusing particularly on influencer marketing, we have been empowering the customer through UGC, in recent campaigns such as #ItsUpToYou and #BikerPortraits.
After the "craziness" that has been this year, I am thrilled to be nominated by The Drum's Social Buzz Awards for Individual of the Year 2016! The winner to be announced next week, so wish me luck!
About Social Media In General
1. Which is your favorite social media platform?
I'm a huge fan of Snapchat. I love how the platform took social back to its real-time nature, as well as being inexplicably fun! I'll always adore Instagram, but I must admit that I find the algorithm changes – or the pressure of having to curate a feed – frustrating. Hence why I don't update my personal account as much as I used to.
2. Which social platform is used most by your brand/agency?
Instagram for organic activity. The partnership between this platform and fashion, is a match made in heaven. The new business profile analytics are providing great insights – something that was lacking before – and I'm excited about the potential of Instagram Stories. We focus on Facebook primarily for social advertising, favouring an "always-on", full-funnel strategy running DPAs, carousel ads, videos and canvas formats. Twitter is still a powerful tool from a customer service perspective.
3. In your opinion, what is the future of social media, and which platforms do you think will lead the way?
The way Instagram and Snapchat are constantly evolving, making them the two really pioneering platforms in my eyes. I think that there will be more progression to come, in terms of their messaging functionality, and also a focus on geofenced opportunities. The future of social media is definitely video content, and vertical, "soundless" video at that!
About Great Social Media Campaigns
4. Please tell us about the one social media campaign you liked the most this year.
I thought the way that Black Mirror used social media for the third season arriving on Netflix was very smart and particularly poignant, considering the topic of the show. Whoever was in charge of their Twitter strategy deserves a round of applause, particularly when capitalising on real news events,  such as the US election.
The subsequent Netflix Vista ad (shown below), which they released last week, was a great way to capitalise on a concept which was shown in season one, and push it out as a "faux technology" which encourages binge-watching the three seasons.
https://www.youtube.com/watch?v=ChUcIpIiOlk
5. What about the latest campaign your brand or agency was involved in?
Last month, AllSaints launched #BikerPortraits, a celebration of the iconic AllSaints biker jacket. To accompany the campaign, we also ran a UGC initiative that invited our customers to share their own Biker Portraits images on Instagram, for the chance to star in the next campaign. We launched our first UGC initiative in May, with a campaign called #ItsUpToYou, and saw excellent value and engagement from our customers. Therefore, utilising customer content in this way will be an integral part of our strategy moving forward.
Share your own #BikerPortraits snap featuring your favourite biker just like @LydiaEmillen https://t.co/8UaHoALWvN pic.twitter.com/paQkbpCOWn

— ALLSAINTS (@AllSaintsLive) October 27, 2016
6. What is the most important thing brands and agencies must keep in mind, in order to build a successful social media campaign?
Keep a customer-first mindset. It's easy to get caught up in a concept and forget about what impact you're hoping to have on your customer. Your customers should be at the heart of every campaign. At every stage of planning and execution, you should think:
[quote]How do I want our new/existing customers to engage with this?[/quote]
7. In your opinion, which is the most important KPI to watch during a social media campaign?
Engagement metrics on social, and customer journey on site. The beauty of running a social campaign is that you get instant feedback directly from your target audience, in real-time – USE THIS! Don't be afraid to be flexible and adapt your campaign based on insights. Test and learn whilst the campaign is live.

About The Future Of Social Media Marketing
8. What will be the role of social media in the marketing mix of the future?
Social media has always been one of those cross-department roles; therefore, you need to have strong relationships with every area of a business to be successful. Much of my role in the past 6 months has focused on influencer marketing; working with bloggers to capitalise on their outreach and audience whilst utilising their content on our owned channels. This means that my relationship with the press team is closer than ever, due to the crossover of digital 'coverage'.
9. What would you say is the biggest obstacle within the field of social media marketing?
Data is still a big one for me. It's still a challenge to prove the true worth of social media efforts – particularly the offline impact.
10. If you had to give one piece of advice to someone who has just started out in the industry, what would it be?
Absorb yourself in social! Use all the platforms yourself. Follow all of your competitors. Read up on new platforms, and digital news, every day. Social is constantly evolving and changing, so it's vital to keep yourself in the know.
11. In your opinion, which is the "ad format of the future"?
Personalisation of ads through augmented reality is definitely the future ad format. Snapchat is already running a simplified version through their Lenses format, and of course Pokemon GO introduced AR to the mainstream. There's huge potential for AR in the future of advertising on social.
Fun Fact
12. Finally, tell us one thing someone would NOT be able to find about you from looking at your social media profiles.
I have a phobia of fish… Made ironic by my star sign: Pisces!
Oh the irony! Haha. That is brilliant! Thank you for a fabulous interview Cass!
---
You might also like
---
More from Interviews
---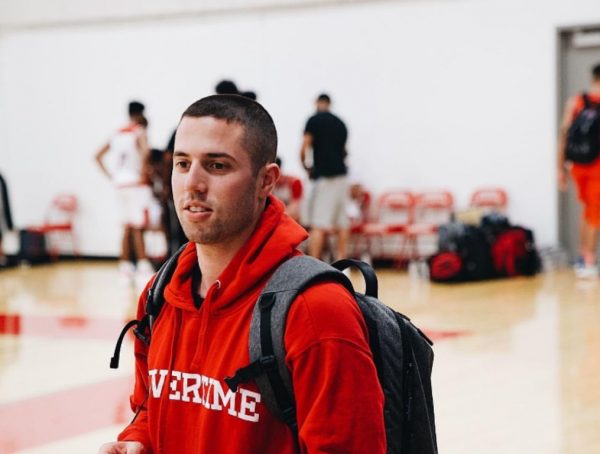 Please welcome this week's 12 Questions Expert Spotlight guest, Head of Social Media at Overtime, Thomas Weingarten.Thomas is an all-in …