This week we head north again… only this time, we are making our way to the Midlands in the UK, to chat social media with the Founder of Untwisted Media, Victoria Taylor!
Listen to the podcast, or catch the gist below!
Before we jump in though, let's hear about how Victoria found herself in social! 
Having studied media and marketing at university, she's always been involved in marketing and various aspects of digital. Previous endeavours include working for the local newspaper in the digital space, and the Yellow Pages. Although predominantly print, she helped the Yellow Pages kick-off and develop a graduate sales channel that inspired her to create her very own digital agency.
So while she has always been in the digital space in one way or another, social media has always been a part of her digital interest. So much so, that it lit the flame for the merger of her digital passion and love of social into what we now know today as Untwisted Media.
About Social Media In General
1. Which is your favourite social media platform?
I hate having to choose! Honestly, I'd say it has shifted a bit over the past 6 months from Facebook to Instagram BIG time; particularly due to Instagram Story Ads. I just think Instagram is just a really interesting platform for both producing and consuming content.
I enjoy the sort of 2 dimensions of Instagram; the polished piece that is your feed complemented by the 'behind the scenes', 'raw and real' aspect really gives the content depth and there is just so much more opportunity to be creative in telling stories. And the fact that you can tag locations, people, and hashtags in stories, now really helps to expand your reach.
2. What social media platform is used most by your brand/agency?
Again, Instagram is really flying the flag for us. Just 2 weeks ago, we re-launched Untwisted Media, so it is really changing things up for us. Of course, additionally, we are doing quite a bit of testing on various platforms across the board, but the power of storytelling through Instagram really does the trick for us.
There is a lot of noise all over social and for me, one thing Instagram does really well is to strip away the political side of things, and noise, that Facebook, Twitter and etc. pull through. Instagram offers a bit of positivity to the negative noise that can often surround social.
3. In your opinion, what is the future of social media and what platforms will lead the way?
I don't think there is a specific platform that is going to 'take the reigns' because platforms come and go. Trends come and go. But it's how we use social. I think what will lead the way is 'private information sharing'.
Get to know your audience on a deeper level. Especially because we are starting to see an interesting shift in private information sharing. As brands become more transparent, there will be more trust in them and consumers will continue to see the value in sharing private information. This will open up incredible doors to forging a new and different relationship with our consumers than ever before.
About Great Social Media Campaigns
4. Tell us about one social media campaign you liked most this year.
I actually think my consumption habits have changed when it comes to following social media campaigns. I have been honing in on the content creators that are revolutionising the way that we consume social media.
But one that really stood out to me was the 'Know your lemons' Campaign by  Worldwide Breast Cancer that created social awareness around the signs of breast cancer. It was a real 'social good' campaign. In particular, the hashtag '#KnowYourLemons' being a little bit colloquial perhaps made people sit up, listen and think about something that is very very serious in a social way.
5. What about the latest campaign your brand or agency was involved in?
At Untwisted, we do work on big brands, but we also do a lot of work on a local level as well. And at the moment we are working with the Colwick Hall Hotel, a hospitality / restaurant / wedding venue on an Afternoon Tea Concepts campaign. We've done Beauty and the Beast, Harry Potter, and I love it! It's very interactive and engaging. And it's not something that is JUST social media. It actually translates into what they are doing in-house as well; tying together offline, online and communications.
Social enables integration really, and its so fascinating! The past 12 months have been pivotal for the industry. Where agencies used to post on behalf of a client, we are now finding a real 'hands on' approach as the most successful in terms of creating a cohesive campaign.
6. What is the most important thing brands and agencies need to keep in mind, in order to build a successful social media campaign?
Communication. You can put any piece of content out there, but engaging with your community around that content is key. Otherwise, what's the point?! Broadcasting doesn't work. Talk to your audience and make them a part of your story.
7. In your opinion, what is the most important KPI to watch during a social media campaign?
Everything is different for every single client and every campaign. Understand what you are trying to achieve before ANYTHING else. There isn't a one-size fit all answer. What you do for one client may or may not apply to another. So just be REALLY clear in your objectives before kicking off and digging in. Additionally, comparing apples to pears just won't work. And we need to make that clear to our clients as well.
We can get so engulfed in metrics and tracking sometimes that we often forget not only the original goal or objective, but you forget to 'be social'. Metrics are great for understanding your audience and the conversation, but use them wisely and don't get sucked into tracking everything. Be human.
About The Future Of Social Media Marketing
8. What will be the role of social media in the marketing mix of the future?
How long is a piece of string?! I really try to stay away from predictions, because anything can change in an instant. We don't own any of these platforms… Mark Zuckerburg could say tomorrow that's the end of Facebook, but that shouldn't change anything, because we determine our future. If we as business owners can create the very best experience wherever that may be, and however social moves, I think the future will be centred on us being adaptable, changeable, and able to create the best experiences no matter where users/consumers are.
9. What would you say the biggest obstacle is in the field of social media marketing?
People's mindset definitely. There needs to be education around social media which means a lot of time needs to be invested in social media for it to be effective and successful as well. Clients often think its an over night process rather than a journey. With that obstacle removed, people will start to understand that this is a part of life. Social media is no longer separate to business. Its a part of it! Social isn't a chore. It is fun, entertaining and effective if approached correctly. So, tailor that mind-set.
10. If you had to give one piece of advice to someone has just started in the industry, what would it be?
Don't conform! Test, trial, test trial… repeat! We all talk about trends to keep people informed, and that is our job! But take those trends and that education and chuck it in a bin! Work out what works best for you! The grass is greener where you water it. Find what they enjoy, not what someone says you have to do! Do it for yourself.
11. In your opinion, what is the ad format of the future?
That's a tough one! To be honest, I'm not the biggest fan of influencer marketing, however, I do think it is becoming more and more prominent; particularly micro-influencers. It's all about people with better-connected communities. When brands start using micro-influencers rather than high paid influencers, which they already are… that's the future. And the brilliant thing about influencers is that they aren't platform-specific. They will transcend across all, essentially.
Fun Fact
12. Finally, tell us one thing someone would NOT be able to find out about you from looking at your social media profiles?
I'm quite an open book really, but some people may not know that I am a pianist! And I have played since I was 4 years old. I even used to teach piano! It's great for family events and parties; a real sociable skill for sure!
---
You might also like
---
More from Interviews
---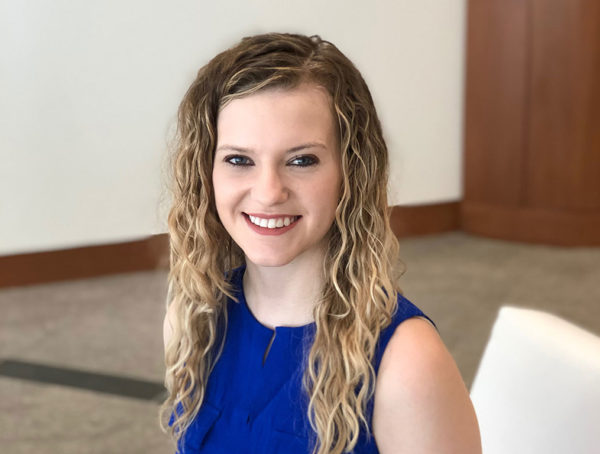 Please welcome this week's 12 Questions Expert Spotlight guest, Social Media Marketing Manager at Forrester (SiriusDecisions Product Line), Claire Kennedy.