Please welcome this week's 12 Questions podcast guest, Priya Kumar, Founder of Say It Right Consulting, and lifestyle brand connoisseur!
While her digital consultancy today keeps her busy exercising her passions for writing and social media, Priya started far away from social media. In 2007, she finished her degree in Biomedical Sciences at McGill University and her next step was working in New York City for a financial publication's pharmaceutical division. Like many others, when the financial crisis hit, it was time for a change… and one that would send her to Europe, where she did a business degree in Monaco!
There, she got her foot in the door at Armani – and soon she was off to Milan, working for the man himself! And while you'd think the rest is history, her next stop was Munich. There, she joined BBDO Worldwide's Mercedes-Benz account as a planner!
And so the tour continued… Next stop? India – working on the marketing team at Vogue. But, in 2012, SHE Magazine called her back home to Canada where she was brought onboard as Executive Editor. Today, she's tackling lifestyle brands and British retailers like John Lewis and Jack Wills.
So let's talk platforms. Her favourite? Definitely Twitter. She's a big news junkie and particularly when it comes to American politics! It's definitely her go-to for breaking news. It's quick, relevant and news orientation has her hooked! And the 280-character limit? Draws her in even more so as a writer!
With that said, as a lifestyle digital consultant, her consultancy focuses attention on Instagram. Fashion retail has always been her calling. She believes it's all too easy for brands to use the photo- and video-sharing platform to build and amplify brand identity in an authentic and humanising way. Many of the brands that she works with tend to have a younger audience as well, so it just makes sense. It's an audience that has felt lied to over the past decade – from climate change, to the financial crisis, and more. Young people can suss out when they're being sold to by a brand faster than ever. Instagram allows for brands to create captivating content through their own channels, or via word of mouth, with the support of influencers.
Additionally, Stories has also had a huge impact. Taking something that was once Snapchat's strength, and improving upon it for Instagram users… It really put the Insta back into Instagram.
So, with all this talk about platforms and their strengths/weaknesses, what does the future of social media look like? And what platform will lead the way? While the answers are endless, she wanted to dial it back away from platforms to talk AI impact.
This week saw the launch of Amazon Go, the world's first check-out free supermarket. More so than for the convenience of the customer, Amazon can now see what the journey of shoppers in a grocery store look like – in real time! What they pick-up, what they put down, how much time they spend shopping, and more. All this data can be crunched! And in the right manner, combined with new creative content, it will be worth more than the sum of its parts! Additionally, when it comes to lifestyle brands, platforms like Olapic use AI to sift through user-generated content a brand receives across social. It repurposes this content onto individual product landing pages increasing conversion by 1.24%. Tools like this will assist in the future of social!
Bet you can't guess her favourite campaign of the year…
Lululemon's 2017 'This is Yoga' campaign stole her attention. Created with Vice's in-house agency Virtue Worldwide, not only was it Lululemon's very first global campaign, but it also looked to on-board a whole new customer! Through a number of mini-documentaries it focused on different individuals perfecting their craft, it surpassed the preconceived notions of what yoga is, and showcased the ultimate fact… that Lululemon creates clothes to be lived in. Their social campaign was aimed at showcasing this, as well as the inclusion of new customers that may not have been familiar with the brand and its product range.
https://www.youtube.com/watch?v=TbZYAo2xI5A&list=PLPbDo1Dse11xrB6v4jZiZKWMbEGvtUNM2
So what work has she done that she is particularly proud of? She recently, worked with Jack Wills to launch a UGC campaign tasking employees of the brand to amplify the top line SPORTxLIFE campaign for Jack's new range of sporting goods. To participate, people needed to snap a photo with an element of the campaign – wearing a piece from the collection, posting from around London, or using the campaign's Snapchat geofilter. Finally, for data purposes, the copy they included would need to include a set of hashtags.
Ultimately, employees make the most authentic brand ambassadors and this is true across ALL industries. They live and breathe the brand on a daily basis. And tools like Sociabble make it possible for us to collect these shout-outs seamlessly!
So then, diving into what agencies and brands need to know about creating successful social media campaigns… It's all about context! Brands must be mindful of what's going on in the world to avoid coming across as 'out-of-touch.'
And when it comes to measuring success, the KPI in the front of her mind is reach. By reach, she doesn't mean how far a brand's own 'bull-horned' messages go. She means the wider conversation social media users are having about the brand; everything from UGC, discussion on Twitter or Reddit, etc. When brands traditionally participate in ATL advertising like billboards, TVCs and newspaper ads, media kits measure success on ratings, and the number of eyeballs that see these ads. While comments, likes, and shares, are always appreciated and are heavily weighted, the top metric, in her opinion, is reach.
So then, where does she think social will sit in the future marketing mix? Well, she had the opportunity to attend the GDS' CMO Digital Insight Summit in Frankfurt in October 2017, where Warner Music's Manuel Hubault presented some excellent insights on this topic!
The traditional marketing mix is the four P's – product, price, place and promotion. This was developed during a time when supply was varied enough and audiences were compliant. Social media has caused a seismic shift in the marketing mix. Because the marketplace is saturated, the consumer has "wisened up" to traditional advertising. So, in the social sphere, it's now all about the four E's: Engagement, Experience, Exclusivity and Emotion.
YouSee, a Danish music streaming platform, nailed this concept with artist Lukas Graham surprising top fans. The platform selected the group's top fans based on listens, to come talk to them on camera about why they loved their music. The lead singer was there to surprise them, and it was all caught on camera. The bite-sized emotional clips were shared across social for a campaign that had impact across the world, despite being in Danish.
More recently, Skittles in the States is creating a Superbowl ad but showing it to only ONE Skittles super fan – a teenager in California. A TVC spot during the superbowl would normally cost up to $5m! So, instead they nixed the traditional route and are teasing this campaign! While none of us will ever see the final ad, we will get to see the fan's reaction!
When it comes to obstacles, Priya finds it hard to find the talent to keep up with the constant social media changes, and who can write in a way that is true to a brand, and be analytical to report back to key stakeholders regularly. Although we live in a time where anyone can be an Instagram star, leading a brand's presence on a number of platforms strategically requires a specific skillset that's few and far between.
With that in mind, her advice for newbies is to stay 'in-tune' with the industry. One thing that helped her get up-to-speed with everything was to attend conferences. There's a world of knowledge out there! If you're not already set up on The Dots, do so! They host great networking events with top brands that are always looking for bright young things!
What are her thoughts on the ad formats of the future? Well, with audience attention span going from 12 seconds in 2000, to 6 seconds today, and purchase intent falling at the 3-second mark, creating content that gets to the point right away will certainly play a part in the future.
So what are the two types of behaviours users display when looking at Facebook content in particular? Lean Forward and Lean Back.
Lean Forward behaviour describes the moment you have a second between meetings during the day and you browse Facebook. Carousel, canvas and 360 ads match best with this type of behaviour. Lean Back behavior describes the moment right as we're getting into bed and we have a little more time. Facebook Live and longer form videos better match this behaviour. So when it comes to determining what's next, it will definitely be a tailored format addressing both of these behaviours that'll be paving the way.
Finally…  a fun fact about Priya? She has a digital platform that she runs with a couple of friends! Initially, they wanted it to be a space for them to post anonymously about the bad dates they were going on, but it's become so much more than that! It's an antidote for a world where social media over-sharing is a pervasive part of life. She finds the anonymity comforting.
---
You might also like
---
More from Interviews
---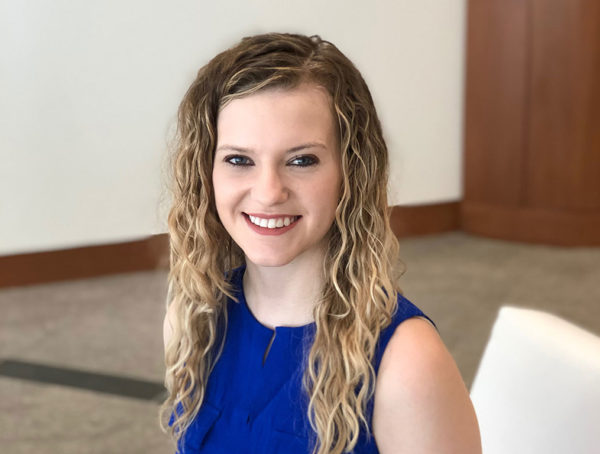 Please welcome this week's 12 Questions Expert Spotlight guest, Social Media Marketing Manager at Forrester (SiriusDecisions Product Line), Claire Kennedy.