This week, we have a special feature for you! So grab a cup of tea, and get comfy!
Social media and the campaigns that drive brand success, are nothing without the people who make things happen!
Each week we profile one innovative industry executive, and get them to answer 12 questions. Then, we share their insight with you!
And while this week is no different, it comes with twice the expertise, from our friends Jayne & Misael at Kitsch Inc. the alternative brands and music specialist full-service agency based in Barcelona!
So this week, you won't get one answer… you'll get two! So let's dig in!
Hello Jayne & Miz!
J: Hey Linleigh, so a bit about me… I've been using social media since the dawn of Myspace, and have lived through its development to what we now know as social media.
After doing a Cinema & Photography degree at Leeds University, I stumbled into the digital marketing industry off the back of my blog (which I've had since 2009!) and personal social media use. Having never thought that it would ever be a real job, it just seemed natural, and have now worked within digital for over 6 years; both in-house for beauty brands as well as some brilliant agencies. I went freelance 3 years ago wanting more flexibility for creativity – just like Miz, who you will meet in a minute.
From there, Miz and I started collaborating on projects within the punk music scene, and shortly realised it only made sense to combine our skills & efforts into one business, hence the birth of Kitsch.inc, gearing up for our 3rd birthday! We now manage digital marketing, social media and events campaigns for a variety of clients, specialising in anything quirky, niche or alternative.
Brilliant! Ok so Miz… it's your turn!
M: Hey Linleigh! So, like Jayne, I grew up interested in HTML because it meant I could edit my MySpace profile. As the true MySpace generation we were, I can also remember having dial up, and can remember the horrible tones it made… all leading me to do an IT Networking Diploma – which I found incredibly boring. In turn, that meant I spent my time teaching myself graphic design, putting on shows, booking tours for my band, and learning how to best use social media to make it all successful.
I never really did any of that with a pre-planned end job in mind, but when I moved to London it all kind of fit together. I ended up being Event & Social Media Manager for Uprawr London and PopBubbleRock London.
After a while of long nights and heavy hangovers, I decided it was time to further develop my skills, so I started taking Brand Ambassador and then Event Management roles for brands such as Nokia, Shloer, Samsung, Nike, The Little Fish Co, The Guardian etc. And I think Jayne pretty much covered the rest from there!
Wow! Alright! Let's get right to it then!
About Social Media In General
1. Which is your favorite social media platform? (please briefly explain why)
J: It's a bit of a tie between Instagram & Pinterest as they are essentially tools that help to fuel creativity. Instagram helped me rediscover my passion for photography after a long time of not taking photos for anything other than my blog. Pinterest on the other hand, is the best place to go if you need a quick mood board when planning a project!
M: For me, it's definitely all about Instagram! I guess it's because I use social media for work, I tend to view most social media channels quite analytically, always asking "what can this channel do for my brand or client?", so when it comes to personal use, I just want something fun, inspiring and stress free. In my opinion, Instagram delivers that best!
2. Which social platform is used most by your brand/agency?
J: We've been so busy working on projects for our clients, that our agency presence is due some love! But whatever we put out for our social media is sure to inspire. Not to mention my love of all things visual and/or off the wall.
M: For me, I absolutely think it's all about finding balance between all the platforms. There's unique fans/clients to be found in each of them; as long as you have the time to edit or create the right content for the channel.
3. In your opinion, what is the future of social media, and which platforms do you think will lead the way?
J: I know everyone is saying it at the moment, but it's all about video. There's so much amazing content coming out of YouTube and it's really interesting to see how social media is changing the film & television industry in particular. We'd also like to see more people thinking about how they can give their brands "real life moments" that complement social media, rather than focus too strongly on digital.
M: I feel like there is such a high focus on social media currently, that a large percentage of things that we know "work" aren't being used in campaigns. For example, I constantly see events being pushed online, with no physical presence to back it. This in turn means that people are shutting off because they start seeing social media channels as a dumping ground for events.
So for me, the future of social media is in making people relate to it again, be excited by what they are seeing, and feel connected or inspired in some way. YouTube & Instagram seem to be the channels that best capture that for me, and largely because content has to keep progressing in order to stay impressive; thus, encouraging people push their skills further to keep up.
About Great Social Media Campaigns
4. Please tell us about the one social media campaign you liked the most this year.
M&J: At the moment we're digging campaigns that have a real life or stunt element. It's great to see brands be brave with their approach, and create something ridiculous that makes people smile.
This week, we loved seeing a Facebook video of a Jaffa Cakes wedding cake backed by the brand. We also adored the way Netflix's Stranger Things used social media. They kept it very in the style of the show (80s, analogue nostalgia but very cool) and did an awesome Facebook 360 video, which has been one of our favourite examples of the medium so far.
We also both like seeing things that pull a community together for a cause. Whether that be creative, charitable, or for fandom, the London Underground crowdfunded cat picture takeover make me smile loads. It's nice to see people doing things to add some joy to people's days. After all, isn't social media supposed to be entirely about creating communities?
5. What about the latest campaign your brand or agency was involved in?
M&J: A lot of our work is "white labeled" for other agencies, so we can't take credit for some of the most awesome stuff we've done this year, although we did get indie band Fairview into Rocksound Magazine and secured beauty coverage with bloggers like London Beauty Queen & Thou Shalt Not Covet. But let's just say our Halloween was busy with a Victorian gothic theme, and some insane stats! Right, now we're working on some Kitsch.inc secret projects which we're hoping will add a new dimension to what we can create for clients and for ourselves. Stay tuned to @KitschInc or our personal profiles (@JayneKitsch & @Miz_Trujillo) to see what we come up with next! We're always creating something, even if we're not shouting about it on social.
6. What is the most important thing brands and agencies must keep in mind, in order to build a successful social media campaign?
J: Don't rely solely on social media to drive a campaign. It's got to be a collaboration between all departments to be really awesome, and if you can bring a real life experience to the table as part of your strategy, then you'll be winning all around. Social media is a tool that all aspects of a business can benefit from.
M: Jayne and I could talk about this forever, but integration is key. There is nothing sadder than building an incredible social media campaign, only to then see a huge poster released without the hashtag or social media @mentions.
7. In your opinion, which is the most important KPI to watch during a social media campaign?
J: It really depends on the client's goal. Some people want followers, some want people talking about them – others just want a really cool PR story. Just make sure you decide what's more important to you from the start, so you can fully make the most of the resources you have.
M: I think this is very dependant on the business type. A brand that has just received a large amount of funding will obviously be interested in impression and how these relate to income. This of course is completely understandable. However, in terms of growth and longevity, I am always looking for positive interaction. People talking to their friends about how incredible a service/product is, is always more beneficial than someone purchasing that service and never telling anyone, talking about it again or coming back.
8. What will be the role of social media in the marketing mix of the future?
J: I'd like more people to see it as a communication tool that offers real interaction and conversation, rather than just talking AT people, which makes it no different from TV and magazine adverts that we are supposed to be moving on from. You need to be ready to use social media as a tool to research and improve all areas of your business too.
M: I'm with Jayne on this one. It's such an incredible moment in history. Customers can actually give real time feedback from all over the world, and clients can actually reach people everywhere. If social media marketing is used in the right way, there is no reason for which companies can't provide the best services, reaching the most people, and having the most effective campaigns ever.
9. What would you say is the biggest obstacle within the field of social media marketing?
J: Competition. Social media is so noisy now, with everyone trying to compete for attention, so it's very difficult to get noticed unless you're doing something special or truly unique. Brands need to be be braver, and take more chances with social and it's flexibility to be spontaneous. It's important to work with a social media team that you completely trust to do the best for the brand, without a million people to sign it off first too.
M: Negativity. We're working on social media channels that are full of negativity, especially with the current political climate. This in turns affects the people we are reaching out to, but also ourselves. We spend so much time engulfed in these channels, that it's easy to get stuck in ruts or get down without even noticing.
10. If you had to give one piece of advice to someone who has just started out in the industry, what would it be?
J: Keep your skills broad. That's what we're doing. There is so much competition in this industry now, and at all levels, as it's such an accessible career for people of certain generations. This is especially true since some of the older generation (a lot of them business owners) are still trying to understand the concept of social. This industry is moving fast too, so you've got to be ready to evolve and find your place quickly, as no one knows how it will change next.
M: Find your niche, the quirkier and stranger it is, the better. The more you and your content stands out, the better. The market is incredibly saturated, and there's a lot of pressure to work for very little or nothing at all when you start out, so the more of an expert you are in your field, the easier you will find it to make a mark and be needed.
11. In your opinion, which is the "ad format of the future"?
J: Whilst we're saturated in social media and digital right now, I'm starting to see some glimmers of hope from more analogue practises within niches like photography, art and journalism which are looking super intriguing right now. Social media isn't what it used to be. It's becoming as challenging to compete within – like TV advertising – so I think we'll see more people going back to basics to stand out instead. Get to the streets and really talk to your customer face to face instead of relying solely on digital.
M: Absolutely, I think I've covered this already, but integrating analogue with digital in a seamless and mostly effortless way will definitely be the next big thing.
Fun Fact
12. Finally, tell us one thing someone would NOT be able to find about you from looking at your social media profiles.
J: Erm. I don't think there's much as I've been online for so long there's probably all kinds of embarrassing stuff about me on the internet that I've forgotten is there. Luckily for me, I've changed my screen name and email address so many times since the age of 13 that it would take a detective (or Nev and Max from Catfish) to find it all.
M: I think being in a band has made me pretty open about everything, but I doubt people know that I wear the baggiest sweatpants possible whilst driving around on tour, mainly because they are incredibly comfy.
Stay tuned for next week's interview, and thank you Jayne & Miz for the interview! 
---
You might also like
---
More from Interviews
---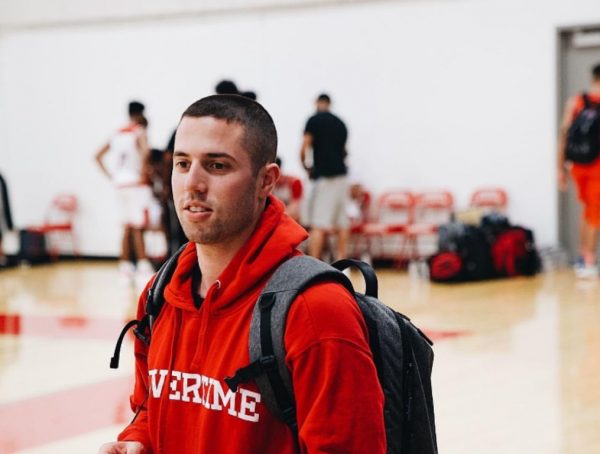 Please welcome this week's 12 Questions Expert Spotlight guest, Head of Social Media at Overtime, Thomas Weingarten.Thomas is an all-in …